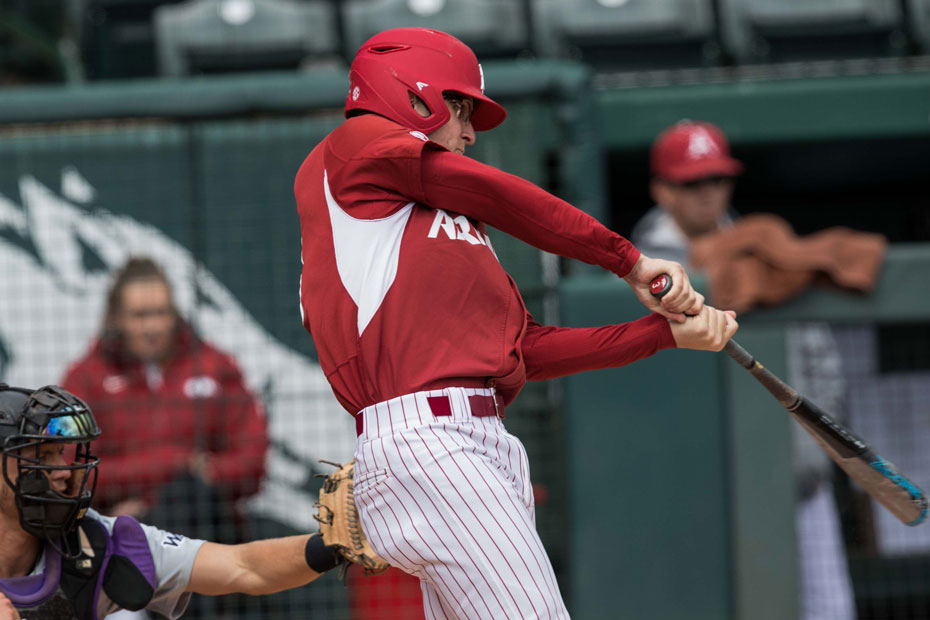 Hogs Set For Big Series At Home With LSU
FAYETTEVILLE, Ark. – The 14th-ranked Razorbacks have their sights set on their biggest series to date as No. 13 LSU visits Baum Stadium for a three-game series starting on Friday at 6:30 p.m. This is the first top 15 regular season matchup at Baum Stadium for Arkansas since the 2013 season when second-ranked LSU visited Fayetteville to take on the 10th-ranked Hogs.
Arkansas is one of the newest teams in the top 15 rankings this year after winning two of three games at Alabama last week with the help of some stellar pitching on Friday night from Blaine Knight and some clutch hitting on Sunday from Carson Shaddy.
The Hogs have yet to lose a conference series this season as they are 24-6 on the year overall and 7-2 in Southeastern Conference play, matching their wins in SEC play from a year ago.
Knight has been one of the best Friday night starters in the conference over the last three weeks as he has yet to lose an outing and has only given up a combined four runs, while striking out 25 and walking one. His strikeout-to-walk ratio this year (24.00) is not only the best in the conference, but it continues to be the best in the nation.
Offensively, Arkansas has continued to get production from the top and bottom of its lineup. Jake Arledge continues to lead all Hog hitters with a .362 average, but junior Luke Bonfield has started to heat up as of late. Since SEC play began, Bonfield is hitting .361 with two three-hit games to his resume, one each against Missouri and Alabama.
Follow Live
The entire series will be available online only on SEC Network+ via the WatchESPN app. Alex Perlman (PXP) and Troy Eklund (Analyst) will call the action for all three games. Phil Elson (PXP) and Rick Schaeffer will call the game for the Razorback Sports Network on the radio.
TV Schedule
Game 1 – Arkansas vs. LSU – 6:30 p.m. (SEC Network+) – WATCH
Game 2 – Arkansas vs. LSU – 6 p.m. (SEC Network+) – WATCH
Game 3 – Arkansas vs. LSU – 1 p.m. (SEC Network+) – WATCH
Probable Starters
Fri. | 6:30 p.m. | (ARK) RHP Blaine Knight (4-1, 2.23 ERA, 48/2 K/BB) vs. (LSU) RHP Alex Lange (3-3, 3.73 ERA, 55/11 K/BB)
Sat. | 6 p.m. | (ARK) RHP Trevor Stephan (4-2, 2.92 ERA, 50/10 K/BB) vs. (LSU) LHP Jared Poche' (6-1, 1.15 ERA, 31/10 K/BB)
Sun. | 1 p.m. | (ARK) TBA vs. (LSU) RHP Eric Walker (3-0, 3.03 ERA, 43/10 K/BB)
Hogs Hot Start
With their two wins on Wednesday against Grand Canyon, the Razorbacks sit at 24-6 on the year and 7-2 in conference play. The 24 wins is the best 30-game start for Arkansas since going an identical 24-6 to start the 2010 season. That year, the Hogs won 33 of their first 39 games. The seven conference wins this year matches their entire SEC win total from a year ago and have done it with a collective effort from the lineup that is batting .290 as a team and a pitching staff that has a 3.32 combined ERA.
K-zorbacks
The Razorback pitching staff has been nearly lights out this season. Coming off an 18-strikeout performance against Grand Canyon during the midweek, Arkansas now has 317 strikeouts as a staff, which leads the SEC. The 18 strikeouts on Wednesday tied the school record (2009, Missouri State) for most strikeouts in a game and this year's Hogs have notched 18 games with 10 or more strikeouts.
NCAA Strikeout Per Nine Innings Leaders
| Rank | Team (Innings) | K/9 Innings |
| --- | --- | --- |
| 1. | Arkansas (266.0) | 10.7 |
| 2. | USF (262.0) | 10.7 |
| 3. | UConn (229.1) | 10.7 |
| 4. | Oklahoma (283.0) | 10.2 |
| 5. | UL-Lafayette (270.1) | 10.0 |
Welcome To The Party
Junior infielder Jared Gates had to wait a little longer to make his Division I debut this season after transferring from Iowa Western Community College. Gates suffered a broken hamate bone in his right hand one week before the season opener. Since returning against New Orleans (March 22), Gates is hitting .333 with two doubles and a home run. Gates has started six games at third base and is currently on a four-game hitting streak. During that span, the junior is hitting .467 with two multi-hit games, including a three-hit game against Alabama (March 31).
#ProHogs On Opening Day Rosters
Eight former Razorbacks are on Opening Day rosters as the 2017 Major League Baseball season gets underway this week. Outfielder Andrew Benintendi highlights the class as he's scheduled to start what will be his first full rookie season for the Boston Red Sox. Four players will be with new teams as Logan Forsythe starts his first year with the Dodgers, Craig Gentry with the Orioles, Blake Parker with the Angels and Drew Smyly with the Mariners. The eight former Razorbacks on MLB rosters is the second-most in the SEC.
#ProHogs in MLB
| Name | Team | Draft Year |
| --- | --- | --- |
| Barrett Astin | Cincinnati Reds | 2013 |
| Andrew Benintendi | Boston Red Sox | 2015 |
| Logan Forsythe | Los Angeles Dodgers | 2008 |
| Craig Gentry | Baltimore Orioles | 2006 |
| Dallas Keuchel | Houston Astros | 2009 |
| James McCann | Detroit Tigers | 2011 |
| Blake Parker | Los Angeles Angels | 2006 |
| Drew Smyly | Seattle Mariners | 2010 |
For more information on Razorback Baseball, follow @RazorbackBSB on Twitter.