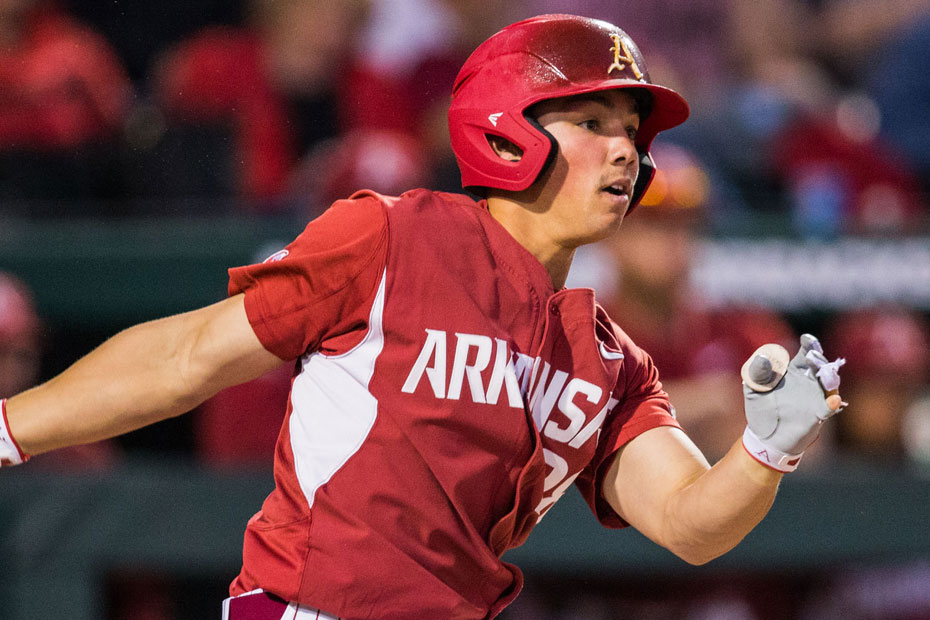 Hogs Slug Way To Series Win Over Missouri
COLUMBIA, Mo. – The offense came out swinging Sunday for No. 24 Arkansas, scoring nine runs on 12 hits with three home runs to defeat No. 18 Missouri, 9-8, and win its second conference series in a row.
The Hogs had a 9-3 lead going into the eighth inning, but Missouri came back to score four runs in the eighth and one run in the ninth to cut the lead to one. Senior pitcher Cannon Chadwick was able to hold off the Tigers just enough, striking out three over the final two innings including the final batter.
Arkansas is now 20-5 on the year and 5-1 in Southeastern Conference play with the win. It's the quickest the Razorbacks have reached the 20-win plateau since the 2012 team did it in 22 games. Missouri falls to 21-3 overall and 4-2 in conference play.
Dominic Fletcher, Grant Koch, and Carson Shaddy each provided the power with a home run in the game, while Koch came away with the high RBI total after a three-run home run in the fourth inning. Fletcher had a solo home run in the second inning, which got the scoring going. Shaddy's long ball came later as the lone run in the fifth.
With their home runs today, all three Razorbacks continue to lead the team with six home runs or more. Koch leads all Hogs with eight homers on the year and is now tied for the SEC lead.
Sunday's game was the fourth time this year that Arkansas hit three or more home runs in the same game. The Hogs now have 36 home runs on the year, which also leads the league.
It wasn't just Fletcher, Koch, and Shaddy that provided the offense for Arkansas. Seven different players recorded at least one hit in the game and four recorded two hits or more. Fletcher led all players with a 3-for-4 day at the plate including his sixth homer of the year.
Redshirt senior Josh Alberius earned his second win in as many appearances, giving up just one earned run over three innings and scattering four hits. Kevin Kopps came in to pitch in the middle of the fourth inning an no-hit the Tigers until the eighth, racking up four strikeouts in the process.
Moments That Mattered
Missouri opened the scoring with a single run in the first, but Arkansas had a great response in the next half inning by putting up a three-spot starting with the solo home run by Fletcher. The Hogs followed with three straight hits to bring another run home, forcing Missouri to pull its starter in just the second inning.
Jake Arledge and Chad Spanberger started another rally in the fourth with back-to-back singles, then Luke Bonfield reached on an error to bring a run home. Koch followed with his eighth home run of the year to break the game open and make it 7-1 Razorbacks. It was Koch's third three-run home run this year and Arkansas' second home run of the game.
Arkansas looked to be on its way to a comfortable victory after taking a 9-3 lead into the eighth inning, but Missouri started to chip away at the lead, scoring four to cut it to 9-7. After Kopps gave up a lead-off double to Brett Bond and then a single to Alex Samples, head coach Dave Van Horn decided to go to the bullpen and bring in Chadwick.
Chadwick hadn't given up a hit or a walk in four straight appearances before Sunday's game, but Missouri was able to work two walks and take advantage of a wild pitch that allowed two runs to score.
Missouri still trailed by two going into the bottom of the ninth, but Chadwick brought his best stuff when it mattered even after another run came home to make it 9-8. The senior got two quick outs to start the frame, but the Tigers scratched across another run after a walk, single, and a wild pitch. Chadwick settled down and struck out Connor Brumfield looking with a runner stranded on second.
Razorback Quotables
"We've had a couple games this year that we haven't let get away. Last year, those games were gone. It was like we couldn't stop the bleeding or slow it down, even with a good lead. We knew they (Missouri) weren't done over there and we were starting to run out of pitching and recycle some guys, it's interesting. The game cane turn on one pitch here or there. When you're on the road, a lot of times you don't get breaks, but we got breaks today." – Head coach Dave Van Horn on his team being able to close out games compared to last year
"We don't play for one run all the time. We'll bunt sometimes or hit and run, but we try to hit the ball in the gap. We had three home runs today and I don't know how many we have on the year, but it's a good amount. We've been able to produce some big innings." – Head coach Dave Van Horn on his team's offensive production
"The biggest difference is, mainly, attitude. When things go south like they did in the last two innings today, you just have to believe in yourself and that's what we were preaching the whole time. It comes about with having some older guys like me, Bonny (Luke Bonfield), and Chad (Spanberger). We didn't really have that last year and this year, we do." – Carson Shaddy on Arkansas' ability to finish tough games
Up Next
The Razorbacks return home for a single midweek game against Grambling State on Wednesday at Baum Stadium. First pitch is scheduled for 6:30 p.m. and will be broadcast on SEC Network+. The game can also be heard on the Razorback Sports Network with Phil Elson calling the action.
For more information on Razorback Baseball, follow @RazorbackBSB on Twitter.