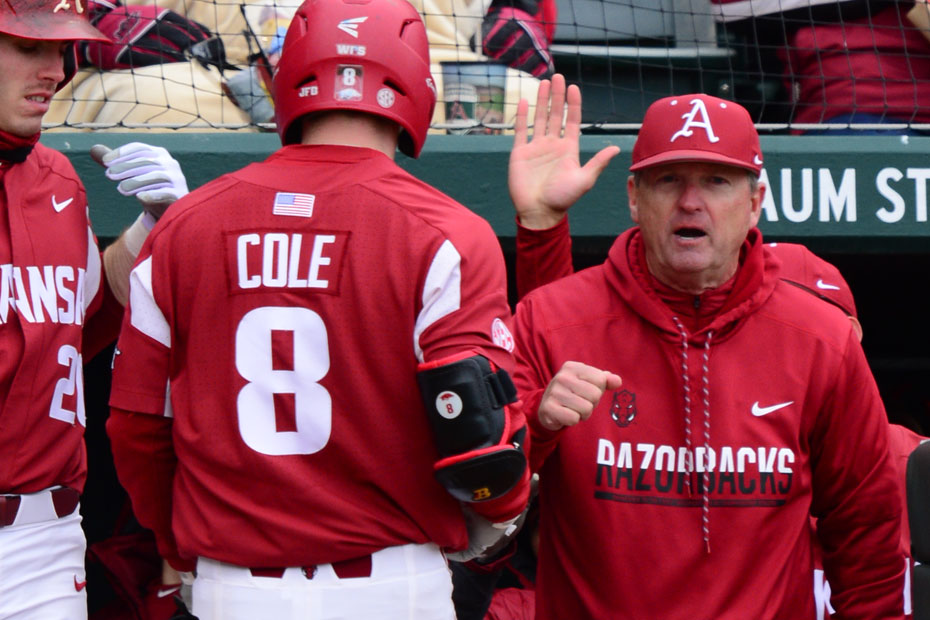 Hogs To Finish Off Homestand With Missouri State
FAYETTEVILLE, Ark. – As winners of eight of their last nine games and four-straight midweek games, the No. 2 Arkansas Razorbacks will look for another midweek win when they take on Missouri State Tuesday night at Baum Stadium. First pitch with the Bears is set for 6:30 p.m. and will be televised on SEC Network+.
This is the first time the two teams have met since last year's NCAA Fayetteville Regional and the Hogs have come out winners in two of the last four matchups. Tuesday will be the 80th meeting all-time between the two teams and Arkansas leads the all-time series 53-26. With head coach Dave Van Horn at the helm, the Razorbacks have gone 17-9 against the Bears.
Freshman pitcher Caleb Bolden will be making his third consecutive midweek start after pitching five innings last week against Grambling State. Bolden is 3-0 on the year with a 2.81 ERA and has struck out at five batters or more in all three of his midweek starts. Bolden has yet to walk more than two batters in an outing lasting more than three innings and is holding opponents to a .256 average.
FOLLOW LIVE
Tuesday's game will be broadcast via SEC Network+, the online-only arm of the SEC Network on WatchESPN.com and the Watch ESPN app. Brett Dolan (PxP) and Troy Eklund (Analyst) will have the call.
As always, Arkansas' Sportscaster of the Year Phil Elson will call all the game on the radio for the Razorback Sports Network from IMG and he'll be joined by former Razorback Bubba Carpenter. That radio broadcast is also available on the Razorback Gameday app.
IMPORTANT LINKS (ALL TIMES CENTRAL)
Tue, April 17 – Arkansas vs. Missouri State – 6:30 p.m. – LIVE STATS | WATCH (SECN+)
PROBABLE STARTERS
TUE: ARK RHP Caleb Bolden (2.81 ERA, 3-0, 21 SO, 10 BB) vs. MSU RHP Austin Knight (4.97 ERA, 1-0, 25 SO, 17 BB)
RAZORBACK PRIME 9
>> Freshman Caleb Bolden is making his fourth start of the year Tuesday against Missouri State. Last week against Grambling State, Bolden went five innings, striking out six, while not allowing an extra base hit in his third win of the year.
>> After hitting two more home runs last weekend against South Carolina, Arkansas is now tied for the lead in the SEC and ranks second in the nation with 58 home runs, six ahead of its SEC-leading pace from last year.
>> In 20 games this year, Arkansas has totaled 10 or more hits. In those games, the Hogs are 16-4 with 15 of those wins coming at Baum Stadium.
>> Sophmore Matt Cronin picked up his ninth save of the season Saturday against South Carolina, moving him to second in the SEC in saves. After saving three games last week, Cronin is now just four saves away from the Arkansas single-season saves record set by current volunteer coach Colby Suggs, who saved 13 games in the 2013 season.
>> Senior Carson Shaddy is now hitting .368 on the year, which is fourth-best in the SEC, and the top average on the team. Shaddy also leads the team with nine home runs, after hitting a home run in both games of last week's doubleheader
>> At the midway point of SEC play, Carson Shaddy is slugging .872 in conference games, which trails only Florida's Jonathan India (1.000).
>> Arkansas ranks second in the SEC with 33 double plays, but hasn't turned one since April 7 against Auburn. In nine games this year, the Hogs have turned a double play two or more times.
>> The Razorbacks are 11-7 in games decided by two or less runs this year. With Thursday's 3-2 loss to South Carolina as the only drawback, Arkansas has won four of its last five one-run games.
>> In Sundays double header against South Carolina, Arkansas pitchers combined for 14 scoreless innings, allowing on four total hits, and walking zero batters.