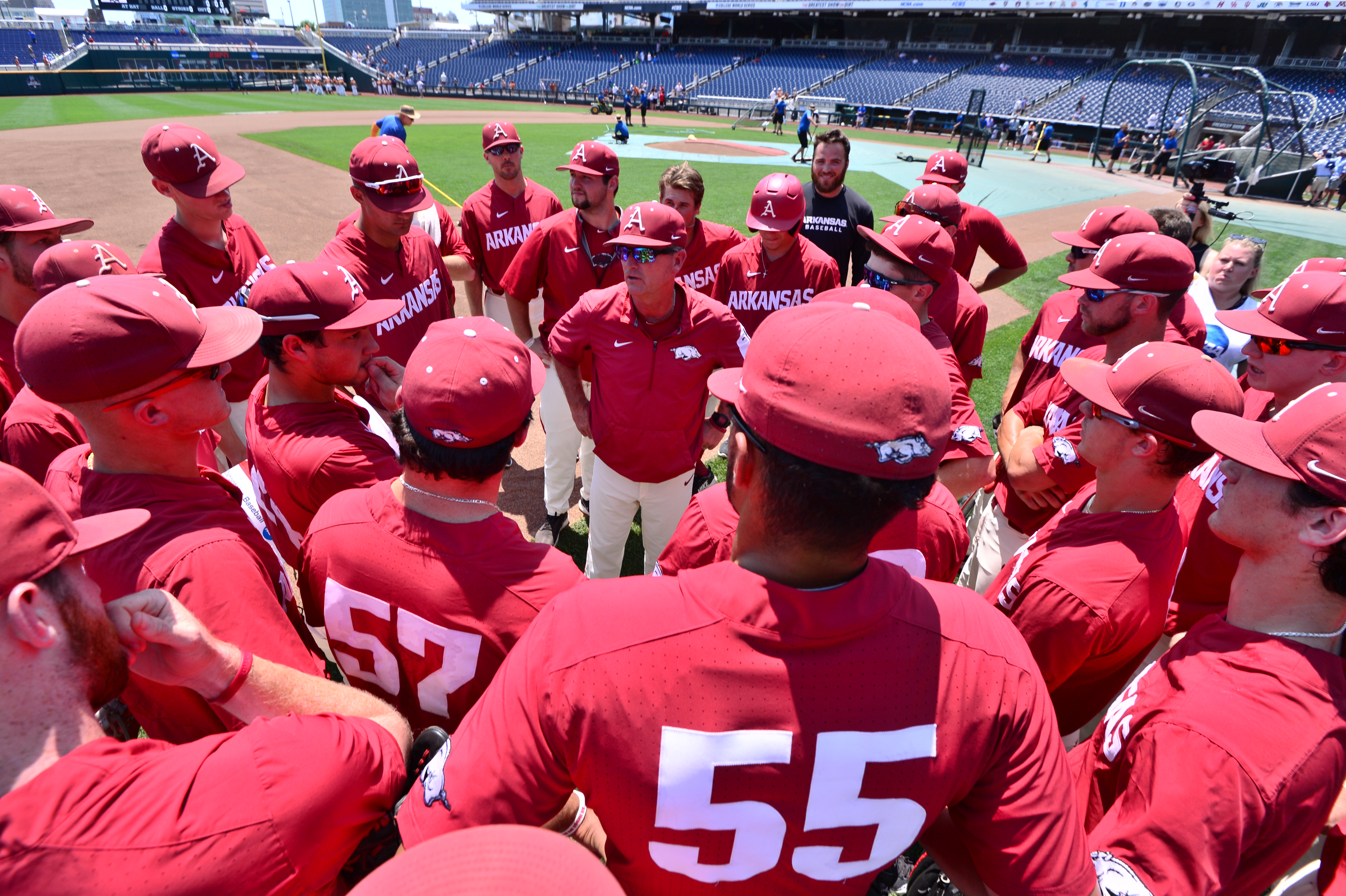 Hogs To Lock With 'Horns In College World Series Opener
College World Series Guide | CWS Press Conference | Opening Ceremonies Photo Gallery
OMAHA, Neb. – The fifth-seeded Arkansas Razorbacks open their ninth College World Series in program history on Sunday when it takes on former Southwest Conference rival Texas in its opener at 1 p.m. CT in TD Ameritrade Park.
ESPN will carry the game and the winner will face either top-seed Florida or nine-seed Texas Tech on Tuesday.
Matchup: No. 5 Arkansas vs. No. 15 Texas
TV: ESPN >> WatchESPNApp
Talent: Karl Ravech (PXP), Kyle Peterson (Analyst), Eduardo Perez (Analyst), Laura Rutledge (Reporter)
Radio: Razorback Sports Network from IMG
Probable Starters for Game One: (ARK) RHP Blaine Knight (12-0) vs. (TEX) RHP Nolan Kingham (8-4)
After locking up the top-eight seed for the NCAA Tournament, the Razorbacks were able to stay home through the regionals and super regionals, winning five of six games by a combined score of 52-22. Having the home field advantage was also a major key to the Hogs' success as more than 10,000 fans filled up Baum Stadium during each of Arkansas' postseason games, including 11,000 or more during the Super Regionals.
Last week, Arkansas and South Carolina faced off for the seventh time this year when the two teams played game three of the Fayetteville Super Regional. It was the most times Arkansas has faced a team in one season in program history. The Razorbacks slugged their way to Omaha, beating the Gamecocks, 14-4, for its second-largest victory ever in a Super Regional game. Senior Carson Shaddy hit his third home run of the NCAA Tournament as part of a five-run first inning and was one of 11 hits in the game.
Shaddy has been, arguably, Arkansas' best hitter coming into the College World Series, hitting .341 for the year with a team-leading .653 slugging percentage. Last week, Shaddy led all hitters, going 5-for-10 (.500) at the plate with two home runs, a double, and nine RBIs.
DVH By The Numbers
For the seventh time in his coaching career and fifth time in his Arkansas tenure, head coach Dave Van Horn is back in Omaha. The Razorbacks are 4-8 in the College World Series games under Van Horn. The skipper picked up his 600th win at Arkansas in a 5-2 win over San Diego State on Feb. 25 and currently has 1,224 career wins in his 30-year career. Over his 16 seasons at Arkansas, DVH has led the Razorbacks to five College World Series appearances, six Super Regionals, 15 NCAA Tournament berths, one SEC overall title, four SEC Western Division championships and a total of 639 wins.
Sunday's Probable Starter – RHP Blaine Knight
Junior right-hander Blaine Knight will, once again, get the ball, for the Hogs as he has been the dominant pitcher throughout the regular season and into the postseason. Knight, who was named a First Team All-American by D1Baseball.com and the National College Baseball Writers' Association (NCBWA) earlier this week, carries a perfect 12-0 record into Omaha and needs one more to tie the program record for wins a season. Knight has worked six innings or more in each of his last seven outings and has picked up the decision in six of those games.
Hello, Old Friend
Going into the College World Series, Arkansas has faced the eight-team field 10 times in the regular season, seven coming in its own bracket alone. The Razorbacks swept a midweek series against Texas in March by a combined score of 20-9 and hitting a combined .359. Against Florida, split its four regular-season games with one game occurring in the SEC Tournament. Finally, against Texas Tech, Arkansas had its two-game midweek series cut down to one game due to weather, but the Hogs struck out the Red Raiders 17 times in the 5-1 victory on April 24.
RAZORBACK PRIME 9
>> Arkansas has played in the NCAA Tournament in 15 of the last 16 years, reaching the College World Series five times during that span (2004, 2009, 2012, 2015, 2018).
>> This year marks the ninth time Arkansas has advanced to the College World Series in program history and fifth time under head coach Dave Van Horn. Arkansas has made CWS appearances in 1979, 1985, 1987, 1989, 2004, 2009, 2012, 2015, and now 2018.
>> The Razorbacks look to top the program-best National Runner-up finish in 1979. Since the title game appearance, Arkansas has never won more than two games during a trip to Omaha.
>> Arkansas is slated to face Texas (42-21) in its opening contest. The Razorbacks also join Florida (47-19) and Texas Tech (44-18) in their half of the College World Series bracket.
>> Arkansas is 79-64 (.552) all-time in the NCAA Tournament, including 15 tournament wins in the last five years.
>> The Hogs are 7-2 in postseason play this year, going 2-1 in the SEC Tournament, 3-0 in the Fayetteville Regional and 2-1 in the Fayetteville Super Regional.
>> Arkansas is 11-16 all-time in the College World Series and 4-4 in CWS openers.
>> Arkansas last faced Texas in the College World Series in 2004, falling 13-2 in its opener. It has faced the Longhorns four times in the world series (1979, 1985, 1987, 2004), tying for the most it has faced any other team.
>> The Razorbacks won a share of the SEC Western Division title this year by finishing with an 18-12 conference record. It's Arkansas' first division title since 2011 and fourth under Dave Van Horn.­­­
For more information on Razorback Baseball, follow @RazorbackBSB on Twitter.