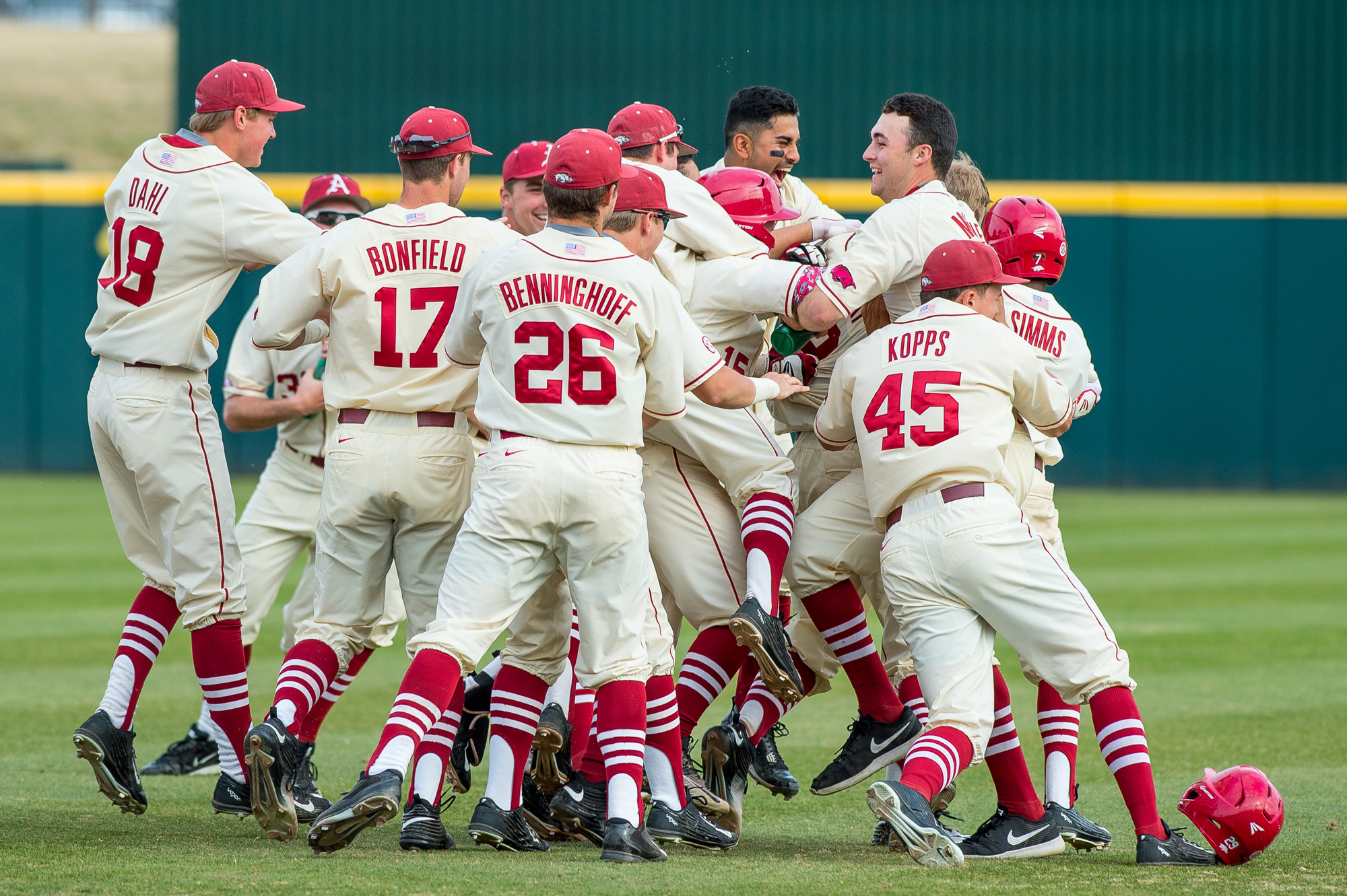 Hogs Walk-Off Winners Sunday
Box Score | DVH Postgame | Players Postgame
FAYETTEVILLE, Ark. – 12th-ranked Arkansas didn't need extra innings Sunday afternoon at Baum Stadium, getting a walk-off walk from senior Cullen Gassaway with the bases loaded in the ninth inning to send the Razorback crowd home happy with a 3-2 and series victory over Eastern Illinois.
"It was a solid ball game today. Probably the best part of the game, besides getting a win, was seeing Keaton McKinney pitch so well. The first inning was a little bit shaky, but it finally turned a little bit for us there. You know we did a good job of staying calm in the dugout and trying to fight through it today."
Arkansas (10-2) was down 2-1 for the majority of the game before tying it up in the bottom of the seventh on a sacrifice fly by Jake Arledge to score Michael Bernal. In the ninth, Tucker Pennell led off the frame with a single up the middle and was pinch run for by Darien Simms. The Hogs got a good sacrifice bunt by Eric Cole to move the runner to second and later third base on a wild pitch.
Eastern Illinois' (1-10) pitcher, Jason Euler, walked three batters in the inning including the final batter in Gassaway that brought home the winning run. After the sacrifice bunt, Arledge walked and then Eagan was intentionally walked to load the bases. Gassaway only saw five pitches in his winning at-bat as Euler could not find the strike zone allowing the winning run to score without a batted ball.
"In that situation, I was just looking for a fastball or any pitch really that was elevated that I could backspin and get the guy in," Gassaway said. "I didn't really get anything close to that, so I kept taking and it worked out."
Sophomore starting pitcher Keaton McKinney was practically lights out for the first time this season as he went seven strong innings, allowing only four hits with two runs scored, one being earned and allowing only one walk. His performance wasn't his first victory of the year but it was his longest of his three outings this season, helping an Arkansas bullpen that put in a lot of innings in Saturday's 12-inning loss.
"He seemed more confident to me as the game went on," Arkansas head coach Dave Van Horn said. "He felt like he could throw all three of his pitches for strikes when he needed too, he mixed it up pretty well. I would have to say he definitely got more confident as the game went on."
"This was a big one for me," McKinney said. "I needed to help the team get a win today and had to bounce back from my last start. I worked hard with Coach (Dave) Jorn and with our strength coach, Mike Strouhal, just getting back in there, working really hard. Coming in extra early, working on sticks is what Coach Jorn likes us to do, just repeating my delivery. I felt a lot better today. I am just going to keep getting better and working hard, just hope I can keep competing and help my team get a W."
McKinney had some trouble finding his spots early as the Panthers scored the game's first run in the first after three-straight hits. However, he was able to settle down after the tough first inning and had a stretch where he retired 15 of the 17 batters he faced between the third and seventh innings.
Junior James Teague relieved McKinney in the eighth inning and shut the door on any possible Eastern Illinois comeback, facing seven batters and striking out two over the final two innings.
For the most part, the offensive end for the Hogs was a little quieter Sunday than on most days. Only Pennell recorded a two-hit ball game, going 2-for-3 with a run scored and a walk for his third two-hit game this season. Pennell was a key component of Arkansas scoring the game-tying run in the seventh and the game-winning run in the ninth as his single and double both got rallies going that led to key runs.
The Razorbacks benefitted from four Eastern Illinois errors, two of which came in the bottom of the third on one play. With Pennell on first, Eric Cole hit a ground ball to second that was bobbled by the Panther second baseman, Cale Hennemann. Still with enough time to get the out at first, Hennemann rushed the throw to first and allowed Cole to advance to second as the ball sailed into the stands.
Pennell was able to reach third on the play and then Arledge was hit by a pitch in the next at-bat to load the bases for Eagan. Eagan walked on five pitches to cut the Eastern Illinois lead to 2-1. Eagan tied his career-high with three walks in the contest. His last three walk game coming against the same Eastern Illinois team last season.
Arkansas has a quick turnaround this week as Gonzaga comes to Baum Stadium for a two-game midweek series starting on Tuesday. First pitch for both games is set for 3 p.m. and both will be televised on SEC Network+.