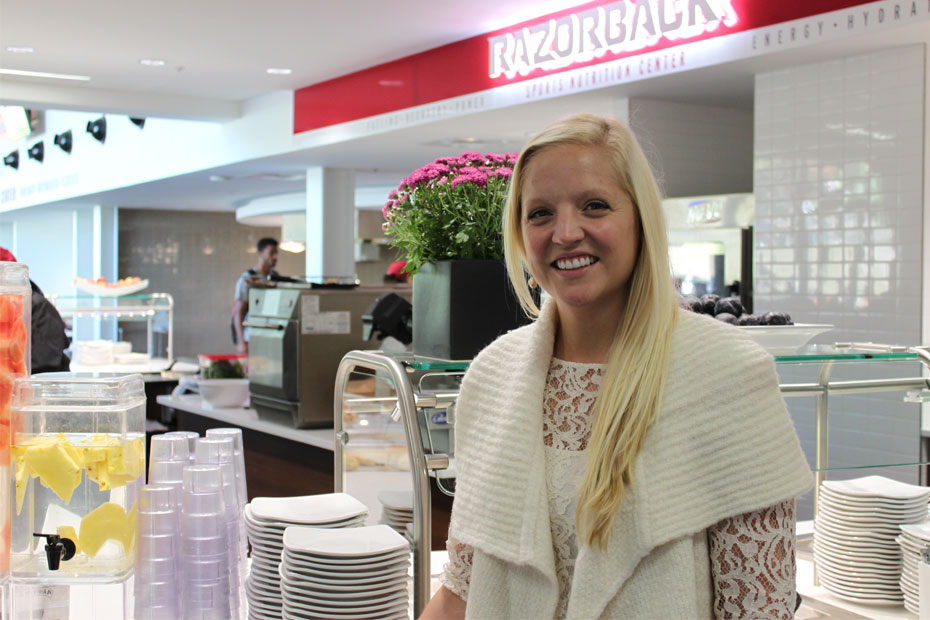 Horsfall Named Director of Sports Nutrition
FAYETTEVILLE, Ark. – The University of Arkansas Athletics Department recently welcomed Karla Horsfall as the Director of Sports Nutrition.
As Director of Sports Nutrition, Horsfall will lead the sports nutrition program for the athletics department, including programming within a new, state-of-the-art fueling facility that opened in August 2015. Horsfall will provide education to student-athletes, supervise the sports nutrition team and work collaboratively as an active member of the Department's sports performance team. In addition, she will effectively guide innovative nutrition programming for 19 varsity sports, while providing clinical support for individual student-athletes.
Horsfall served as the Sports Nutrition Coordinator at the University of Wisconsin-Madison prior to joining the Razorbacks. While working in Madison, she developed and maintained the Performance Nutrition Education Curriculum for all 23 varsity sports including conducting team nutrition seminars and presentations, maintaining a performance nutrition website and other social media portals, and providing informational handouts.
In addition, Horsfall developed and implemented a Performance Nutrition Budget, oversaw the athletics department's nutritional supplement program, coordinated individual student-athlete nutrition consults, acted as a liaison between team staff and the department's Food and Beverage staff to ensure training table meals met the program goals and assisted with the design of a 1,500 square foot Performance Nutrition space that included a recovery station, food prep kitchen and nutrition supplement storage.
Horsfall has also worked at Interra Health as a contract health screener and as a student-assistant in the Wisconsin-Madison Athletics Department.
She earned her bachelor's degree in dietetics from Wisconsin in 2009 and her master's certificate in Dietetic Internship from Iowa State in 2014.