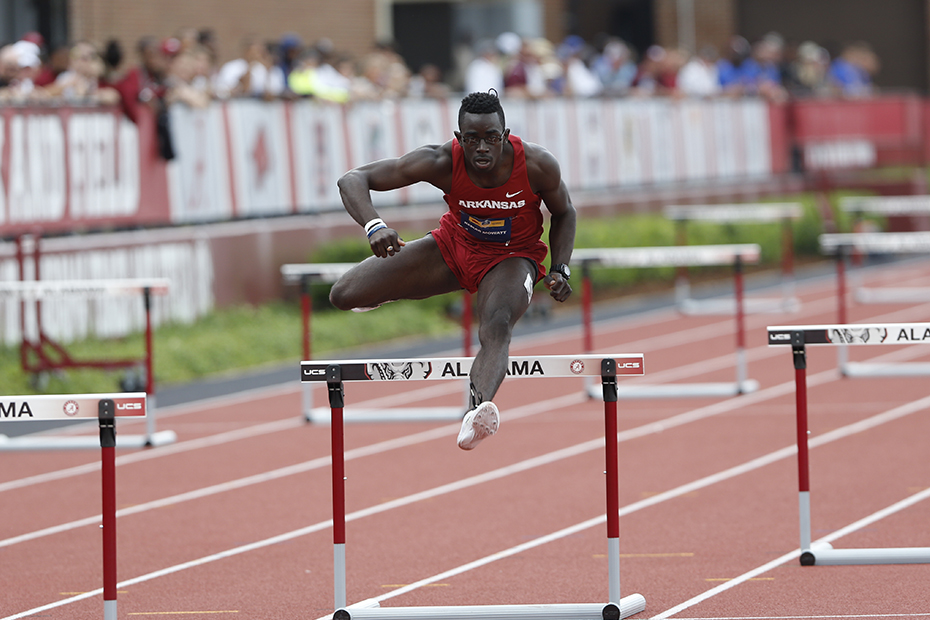 IAAF Day 2 - Mowatt Takes 15th in 400mH Semifinal
DOHA, Qatar – Arkansas alum and NCAA All-American hurdler Kemar Mowatt concluded his 2019 track & field season Saturday afternoon in the semifinals of the men's 400-meter hurdles at the IAAF World Championships.
Mowatt of Jamacia, who entered the semifinals on the heels of a 49.63 that he registered in the prelims yesterday afternoon, finished sixth in his heat running 49.32 to take 15th-overall in the competition.
This is the second appearance for Mowatt at an IAAF World Championship meet following a fourth-place finish in 2017 at the IAAF World Meet in London.
For more information on Arkansas track and field including in-meet updates, follow @RazorbackTF on Twitter.
Arkansas' IAAF
Championships Schedule
Date
Time (CT)
Athlete (Country)
Event (Round)
Friday, Sept. 27
9:30 a.m.
Sandi Morris (USA)
Tina Sutej (Slovenia)
Women's Pole Vault (Flights)
12:35 p.m.
Kemar Mowatt (Jamaica)
Men's 400-meter hurdles
(Heats)
Saturday, Sept. 28
10:05 a.m.
Kemar Mowatt (Jamaica)
Men's 400-meter hurdles (Semi-Final)
1:10 p.m.
Dominique Scott-Efurd (South Africa)
Women's 10,000-meters (Final)
Sunday, Sept. 29
12:40 p.m.
Sandi Morris (USA)
Tina Sutej (Slovenia)
Women's Pole Vault (Final)
Monday, Sept. 30
12:05 p.m.
Omar McLeod (Jamaica)
Men's 110-meter hurdles (Heats)
2:40 p.m.
Kemar Mowatt (Jamaica)
Men's 400-meter hurdles (Final)
Tuesday, Oct. 1
10:50 a.m.
Stanley Kebenei (USA)
3000-meters Steeplechase (Heats)
Wednesday, Oct. 2
9:35 a.m.
Nikki Hiltz (USA)
Women's 1,500-meters (Heats)
10:25 a.m.
Dominique Scott-Efurd (South Africa)
Women's 5,000-meters (Heats)
12:05 p.m.
Omar McLeod (Jamaica)
Men's 110-meter hurdles (Semi-Final)
3:00 p.m.
Omar McLeod (Jamaica)
Men's 110-meter hurdles (Final)
Thursday, Oct. 3
1:00 p.m.
Nikki Hiltz (USA)
Women's 1,500-meters (Semi-Final)
Friday, Oct. 4
12:40 p.m.
Kiara Parker (USA)
Women's 4-x-100-meter relay (Heats)
1:45 p.m.
Stanley Kebenei (USA)
Men's 3,000-meter steeplechase (Final)
Friday, Oct. 5
9:15 a.m.
Janeek Brown (Jamaica)
Women's 100-meter hurdles (Heats)
12:55 p.m.
Nikki Hiltz (USA)
Women's 1,500-meters (Final)
2:05 p.m.
Kiara Parker (USA)
Women's 4-x-100-meter relay (Final)
Friday, Oct. 5
11:02 a.m.
Janeek Brown (Jamaica)
Women's 100-meter hurdles (Semi-Final)
12:50 p.m.
Janeek Brown (Jamaica)
Women's 100-meter hurdles (Final)