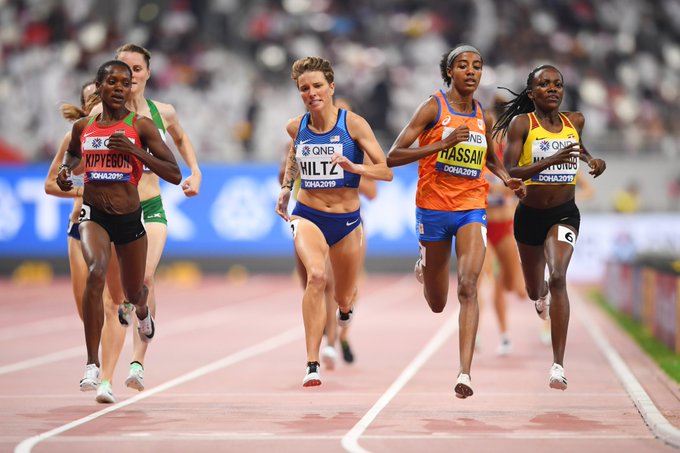 IAAF Day 6 – Hiltz Advances to Semifinal in 1500m
DOHA, Qatar – A trio of former Razorbacks including Nikki Hiltz, Dominique Scott-Efurd and Omar McLeod were in action Wednesday afternoon at the IAAF Track & Field World Championships from Khalifa Stadium.
Hiltz was the first one on the track on day six of the IAAF Championships, running in the prelims of the women's 1,500-meters. Hiltz, who punched her ticket to the world championships with a third-place finish at the USATF Championships back in July running a personal-best 4:03.55, saw her season continue as she advanced to the semifinal running 4:04.00 that finished as the third-best in her heat and the third-best of the round. Hiltz will run in the semifinal of the 1,500-meters Thursday afternoon at 1 p.m. CT.
WOMEN'S 1500-METER RESULTS
Next up was Scott-Efurd in the prelims of the 5,000-meters. Representing South Africa, Scott-Efurd crossed the line in 15:05.01q taking eighth in her heat and 14th-overall. She'll return to the track Saturday at 1:25 p.m. CT for the final of the 5,000-meters.
WOMEN'S 5,000-METERS RESULTS
The reigning Olympic and World Champion at 110-meter hurdles, Omar McLeod was the final competitor for the Razorbacks Wednesday afternoon. McLeod breezed through the semifinal to the final running 13.08 that tied his season-best and led the round. In the final, McLeod was in second-place for most of the competition before stumbling over the final barrier and crashing to the ground. McLeod is still in contention to run as a member of Jamacia's 4×100-meter relay later in the meet.
MEN'S 110-METER HURDLE RESULTS
For more information on Arkansas track and field including in-meet updates, follow @RazorbackTF on Twitter.
Arkansas' IAAF
Championships Schedule
Date
Time (CT)
Athlete (Country)
Event (Round)
Friday, Sept. 27
9:30 a.m.
Sandi Morris (USA)
Tina Sutej (Slovenia)
Women's Pole Vault (Flights)
12:35 p.m.
Kemar Mowatt (Jamaica)
Men's 400-meter hurdles
(Heats)
Saturday, Sept. 28
10:05 a.m.
Kemar Mowatt (Jamaica)
Men's 400-meter hurdles (Semi-Final)
1:10 p.m.
Dominique Scott-Efurd (South Africa)
Women's 10,000-meters (Final)
Sunday, Sept. 29
12:40 p.m.
Sandi Morris (USA)
Tina Sutej (Slovenia)
Women's Pole Vault (Final)
Monday, Sept. 30
12:05 p.m.
Omar McLeod (Jamaica)
Men's 110-meter hurdles (Heats)
2:40 p.m.
Kemar Mowatt (Jamaica)
Men's 400-meter hurdles (Final)
Tuesday, Oct. 1
10:50 a.m.
Stanley Kebenei (USA)
3000-meters Steeplechase (Heats)
Wednesday, Oct. 2
9:35 a.m.
Nikki Hiltz (USA)
Women's 1,500-meters (Heats)
10:25 a.m.
Dominique Scott-Efurd (South Africa)
Women's 5,000-meters (Heats)
12:05 p.m.
Omar McLeod (Jamaica)
Men's 110-meter hurdles (Semi-Final)
3:00 p.m.
Omar McLeod (Jamaica)
Men's 110-meter hurdles (Final)
Thursday, Oct. 3
1:00 p.m.
Nikki Hiltz (USA)
Women's 1,500-meters (Semi-Final)
Friday, Oct. 4
12:40 p.m.
Kiara Parker (USA)
Women's 4-x-100-meter relay (Heats)
1:45 p.m.
Stanley Kebenei (USA)
Men's 3,000-meter steeplechase (Final)
Friday, Oct. 5
9:15 a.m.
Janeek Brown (Jamaica)
Women's 100-meter hurdles (Heats)
12:55 p.m.
Nikki Hiltz (USA)
Women's 1,500-meters (Final)
2:05 p.m.
Kiara Parker (USA)
Women's 4-x-100-meter relay (Final)
Friday, Oct. 5
11:02 a.m.
Janeek Brown (Jamaica)
Women's 100-meter hurdles (Semi-Final)
12:50 p.m.
Janeek Brown (Jamaica)
Women's 100-meter hurdles (Final)