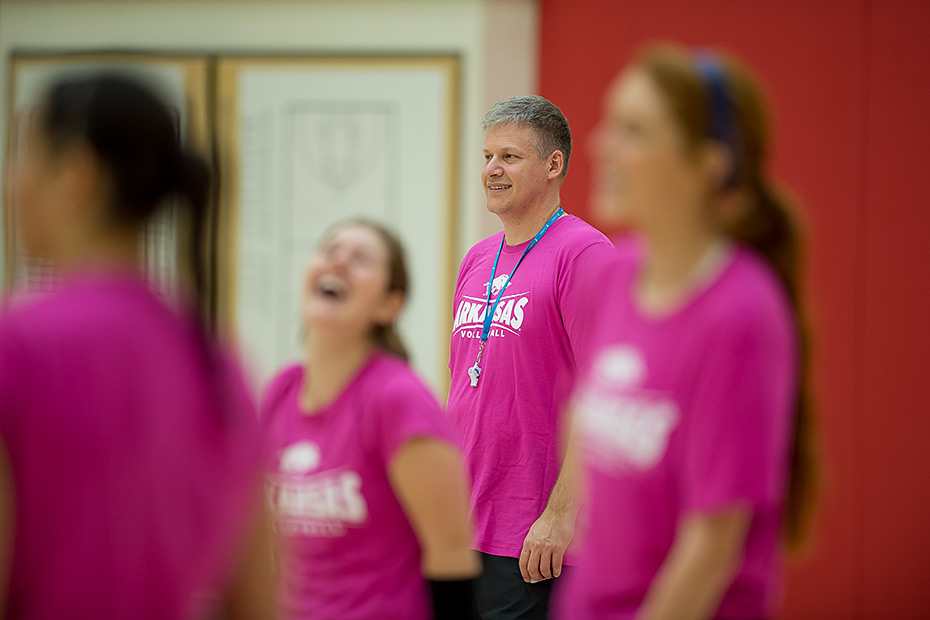 Introducing Jason Watson: Building Relationships
This five-part series on Arkansas Razorbacks head volleyball coach Jason Watson will serve to introduce him to Razorback fans, alumni, and the community. We'll cover his extensive volleyball background, his plans on how to build a winning culture, how he'll engage the community, his vision of leading the program back to the NCAA Tournament, and building his staff. Let's get started.
FAYETTEVILLE, Ark. – What motivates you? What are your natural talents, and what skills do you have that can be developed? How do you respond to feedback? Do you perform better or worse when certain management or coaching techniques are used on you?
For head coaches, these questions represent only a tiny fraction of what they need to figure out about each of their individual players as they build their teams – and they need the answers well before the start of a season.
How coaches motivate, develop players, and determine how to squeeze every last possible drop of potential out of their team is a never-ending task each season. But it all starts with how they choose to approach interacting with, and leading, their team.
Jason Watson said the stereotypical model of the gruff, all-knowing, omniscient coach who leads from atop an ivory tower isn't the culture he wants to build at Arkansas.
Instead, Watson said the culture he's working to establish is to lead beside his players and to avoid the broken model of the "dictator coach" in his gym.
"I read, a long time ago, a book called Positive Coaching by Bill Thompson and in it, he said more than anything that coaching is about relationships," Watson said. "And I believe that's true, but over the years, I've learned coaching isn't just about relationships, it's about trust. You have a group of student-athletes that you're asking to make changes and to put aside their self-interests for the good of the team, and because of that, there's an enormous amount of vulnerability – they're going to be uncomfortable. So for me, as a coach, I need to share in that process with them. They need to see vulnerabilities in me, they need to see that we have shared experiences, and because of that, you can build an enormous amount of trust."
Watson believes that presenting himself to his players as an imperfect human being, who still strives to learn and improve personally and professionally despite his role as the team's head coach, will produce positive dividends for his student-athletes.
"I need to be able to learn and grow, and I've done that over the years," Watson said. "It's been fascinating to see myself evolve. I'm a much better coach now than when I started at Arizona State, and leagues ahead of when I started at BYU. And that's the goal – the goal for me is to be better in five years than I am now. This idea that I've got it all figured out, and that as coaches we can't be wrong and that we're invulnerable … I don't think all of this creates an environment of trust among your student-athletes."
Watson said that an environment of shared imperfection with an overall goal of constant skill improvement is what the volleyball program will trend with moving forward.
"Right now, in our gym, our end goal is for our student-athletes to become better volleyball players," Watson said. "And not in the sense of some outcome-based goal, either. The goal is to be better volleyball players and to understand the processes that need to take place in order to get there. If you come to our practice, you're not going to hear any kind of coaching that's based upon the outcome of a skill; rather, you're going to see a lot of feedback that's given to how a student-athlete did on a skill or exercise rather than what happened. That's our process-driven approach."
Obtaining buy-in from his Millennial players is another important aspect of coaching that Watson said is critical toward his process of cultivating a new brand of Razorback Volleyball.
Much has been written about Millennials – the term commonly applied to those aged 18-33 and born within the years 1981 to 1996 – and how their viewpoints on politics, culture, and society are changing the world around them. Unlocking the best methods how to motivate, develop, lead, and recruit Millennials will be one of Watson's top items on his to-do list at Arkansas.
With his experience recruiting and leading successful teams at BYU and Arizona State, Watson definitely has the credentials and experience for unlocking this generation's vast potential for talent.
"This is a generation that I don't think takes things at face value anymore," Watson said. "They need to know 'why' and you need to take the time to explain it to them. I think if you want them to do something, if you want them to change their technique, or interact with others in a different way, then you need to be able to explain 'why.' If you can explain 'why' in an articulate and transparent way, then they'll buy-in and see things your way. So rather than standing in front of them and lecturing the team on the game and how we're going to do things, we're going to stand beside them as partners. I feel like that's a really good model on how to build this program."
The next installment of Introducing: Jason Watson will explore how he's successfully incorporated the community and alumni into his volleyball teams and how that partnership translated into record attendance numbers at BYU and ASU.