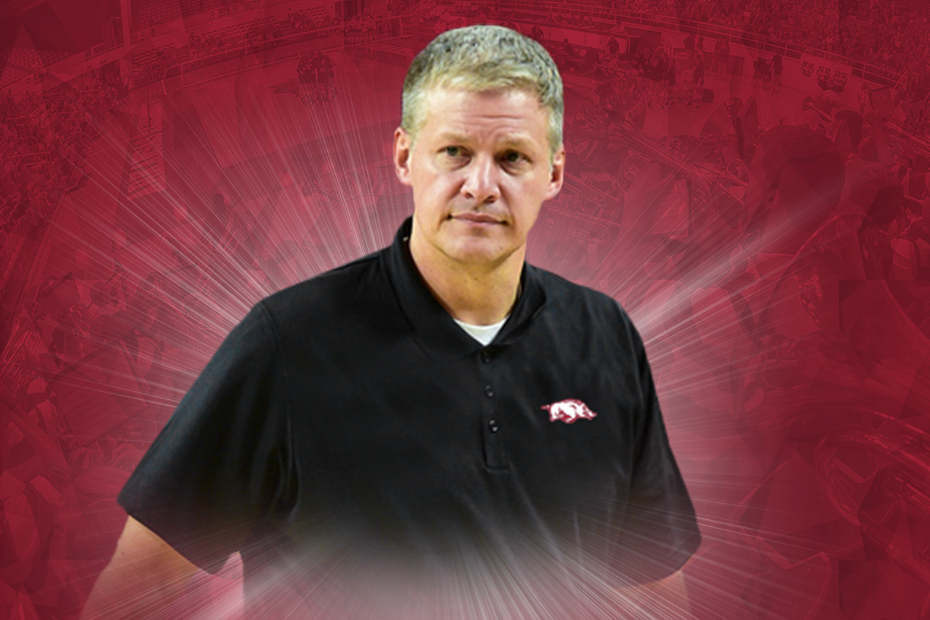 Introducing: Jason Watson
This five-part series on Arkansas Razorbacks head volleyball coach Jason Watson will serve to introduce him to Razorback fans, alumni, and the community. We'll cover his extensive volleyball background, his plans on how to build a winning culture, how he'll engage the community, his vision of leading the program back to the NCAA Tournament, and building his staff. Let's get started.
FAYETTEVILLE, Ark. – Jason Watson isn't perfect – in fact, he'll be the first person to proudly tell you so. He'll also tell you that he doesn't know everything, and he won't pretend that he does, either.
This unique quality – embracing imperfection and using it as a catalyst for learning and growth both personally and professionally – is what drives Watson to achieve and experience success. It also shapes how he interacts with and develops student-athletes into world-class volleyball players.
His philosophic and process-based approach toward coaching are precisely why senior Arkansas athletic administrators view Watson as a true hiring coup for the Razorbacks. Granted, Watson has an impressive head coaching resume: 200 career wins, seven NCAA Tournament appearances, 20 All-Conference and five AVCA All-American selections. But, it's Watson's understanding of the human condition, rejection of outcomes-based coaching, and soft-spoken but intellectual approach toward the game of volleyball that led the Razorbacks to convince him to leave an established program at Arizona State University in a competitive volleyball conference and assume a similar helm here at Arkansas.
Watson's passion for constant learning and growth, as well as the opportunity to lead a volleyball team in a rising conference with tremendous recruiting potential are the leading factors that led him to accept the Razorbacks' head coaching offer earlier this year.
"I had a nice situation at ASU," Watson said. "But an opportunity to be at a state's flagship institution, a chance to play within a historic facility like Barnhill Arena that we can call our own, and all of the university's resources that help support coaches and student-athletes are all nice win-win situations for me and my family. I like to put my signature on things and grow and develop student-athletes, and I like to challenge myself and be a little uncomfortable. I think growth comes from all of that, so I feel humbled to be the volleyball coach here. Every day I come in to work is a humbling experience."
Hailing from Homebush, Australia, a suburb of Sydney about ten miles from the city's iconic Opera House, Watson's journey in volleyball began with a dream common among young Aussies: To play cricket for Australia.
"It turns out I wasn't very good at cricket," Watson said. "So, I had to find something else. I got into volleyball in the seventh grade because it was very popular in Homebush. I went into the sport and fell in love with it, especially the team and tactical components. I really enjoyed who I was with at the time, along with my coaches, and it just went from there."
When one door closes, others open. For Watson, those open doors would eventually lead toward a successful head coaching career after playing men's volleyball as an All-American student-athlete at Brigham Young University.
Assistant coaching stints at Arkansas State, Kansas State, and Montana State would follow. And, in 2005, Watson would experience tremendous success at BYU, where he earned Mountain West Conference Coach of the Year honors during his first season with the Cougars. Later at ASU, he took an underachieving, but promising program to the NCAA Tournament in each of his final four seasons with the team.
"During my interview process, there was a picture being painted that it's time for volleyball at Arkansas," Watson said. "I was told, 'It's time for [the Razorbacks] to make an investment; it's time for us to do something.' As we talked more and more, I felt this could be really special. My wife and I left Fayetteville thinking, 'How can I not take this job and be a part of this?' This could be better than my already great situation and that was very important to me. I didn't want to just leave [ASU] for anywhere – I wanted to leave for a place that could be better. The pieces are all here for that to happen."
His latest challenge in Arkansas is to now take charge of the program and replicate the success he's experienced in Provo, Utah and Tempe, Arizona. He's one of the best in the business and he already has a plan in motion: He intends to tweak instead of rebuild; lead, but not dictate; and reject perfection.
"In our gym, we have a lot of players who want to be perfect," Watson said. "They want to be perfectionists and that's not possible. You can't be perfect. Nobody's played a perfect game of volleyball. But what is possible, is for you to give perfect effort and channel that effort toward making changes, fixing mechanics and all the processes we're striving for right now. That's the only thing we're telling [our student-athletes] they can't be … they can't be perfect."
With his impressive credentials, positive outlook, and solid strategy for how to make Razorback Volleyball perennial NCAA Tournament contenders, Watson seems to be the right man for the task on hand.
"I don't have all the answers," Watson said. "But I'm committed to finding out better ways of doing things and finding answers to questions."
The next installment of Introducing: Jason Watson will explore how he's working on creating a new, winning culture for Razorback Volleyball.