Isaac Carney addition completes Razorbacks 2022 signing class
FAYETTEVILLE – An incoming freshman joining the Razorback track and field program is Isaac Carney, a middle-distance runner from Tulsa, Oklahoma, who completes the 2022 incoming class for Arkansas.
Overall, the new talent arriving offers potential for a plethora of conference and national points from a combination of 14 transfers and five prep newcomers, who cover a variety of event areas for the Razorbacks with sprinters, hurdlers, jumpers, throwers, middle-distance and multi-eventers.
In addition, Arkansas added throws coach John Newell to the staff this summer.
Competing at the IMG Academy in Bradenton, Florida, the past two seasons, Carney was part of four school records in relay events – three indoor relays (4 x 200, 4 x 800, and distance medley) and one outdoor relay (4 x 800) – and earned seven All-America accolades.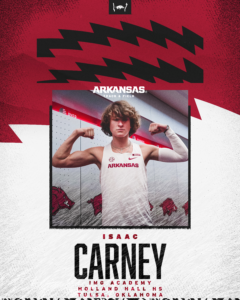 This summer, Carney competed in the Nike Outdoor Nationals at Hayward Field as he anchored the 4 x 400 relay to a fifth-place finish to earn All-American status. Indoors, Carney was a member of the 4 x 400 relay which placed sixth at the 2022 New Balance Indoor Nationals to collect All-American status.
In individual events, Carney established career best times of 1:53.36 in the 800m, placing fourth in the 2022 Florida Relays, after posting a previous best of 1:53.88 in 2021. Prior to competing with the IMG Academy, Carney attended Holland Hall High School in Tulsa. He ranked as the top sophomore at 800m in the state of Oklahoma for the indoor and outdoor seasons.
Following is the list of new Razorbacks joining Arkansas for the 2022-23 season.
ARKANSAS RAZORBACKS | 2022 SIGNING CLASS 
Christopher Bailey (Tennessee) | Sprints
Career best 45.25 (400m), member of NCAA Indoor relay bronze, SEC relay champion
Tai Brown (Kentucky) | Hurdles
Career bests 7.72 (60H), 13.50 (110H), 4-time SEC finalist, 2019 PanAm U20 110H silver medalist
Isaac Carney (Tulsa, Oklahoma) | Mid-Distance
Career best 1:53.36 (800m), part of four school records in relay events at IMG Academy
Shakwon Coke (Barton CC) | Jumps
Career bests 26-9.25 (8.16), 53-1.5 (16.19), 2021 NJCAA National Field Athlete of the Year, 6-time NJCAA champion
Wyatt Green (Katy, Texas) | Mid-Distance
Anchored Cinco Ranch 4 x 800 relay to Texas Relays title, member of 4 x 400 relay that finished 2nd in district and 4th in area
Jaydon Hibbert (Kings College HS, Jamaica) | Jumps
2022 World U20 champion in triple jump, broke meet record with career best 56-8 (17.27), a two-foot improvement
Lance Lange (Kentucky) | Sprints
Produced career bests of 6.61, 10.08, 20.08, six All-America honors, eight-time SEC medalist
Tristan LaVan (Central Arkansas) | Sprints
Career best 46.21 (400m), ASUN conference individual gold & silver medalist, relay silver and bronze medalist
Carey McLeod (Tennessee) | Jumps
Career bests 27-4.5 (8.34), 56-4 (17.17), 2022 NCAA long jump silver medalist, 2020 National Field Athlete of the Year
Ralford Mullings (Arizona State) | Throws
Career bests 214-6 (65.39), 59-6.25 (18.14), NCAA bronze medalist in discus, Pac-12 silver medalist
Wayne Pinnock (Tennessee) | Jumps
Career bests 26-5.5 (8.06), 6.62 (60m), 2022 NCAA & SEC long jump champion indoors & outdoors
Kason O'Riley (Oklahoma) | High Jump
Career best 7-2.25 (2.19), Big 12 silver medalist, 2021 Nike Outdoor Nationals champion
Isaiah Sategna (Fayetteville HS) | Hurdles, Jumps
Twice named Gatorade Arkansas Track & Field Athlete of the Year, set state records in 110H, 300H, and long jump
Yariel Soto (Tennessee) | Decathlon
Career bests 7,677 (decathlon), 5,832 (heptathlon), 2x SEC bronze medalist
Rojé Stona (Clemson) | Throws
Career best 213-7 (65.11), 63-6 (19.35), NCAA silver medalist in discus, 3x ACC medalist
Austin Wallace (Milwaukee) | Decathlon
Career bests 7,355 (decathlon), 5,557 (heptathlon), 3x Horizon League champion
Marcus Weaver (Wisconsin-Eau Claire) | Decathlon, Javelin
2021, 2022 Division III National Field Athlete of the Year, became only person in meet history to win decathlon and javelin at 2021 NCAA Division III Championships, repeated feat in 2022
Jordan West (Tennessee) | Throws
Career bests 66-8.5 (20.33), 185-8 (56.59), SEC Champion shot put, 2 All-America honors, 4x SEC medalist
Grant Williams (Celina, Texas) | Hurdles
300H Texas State 4A champion, bronze medalist USATF U20 400m hurdles (50.82), and semifinalist at World U20 Championships, where he ran in prelims on USA 4 x 400 relay