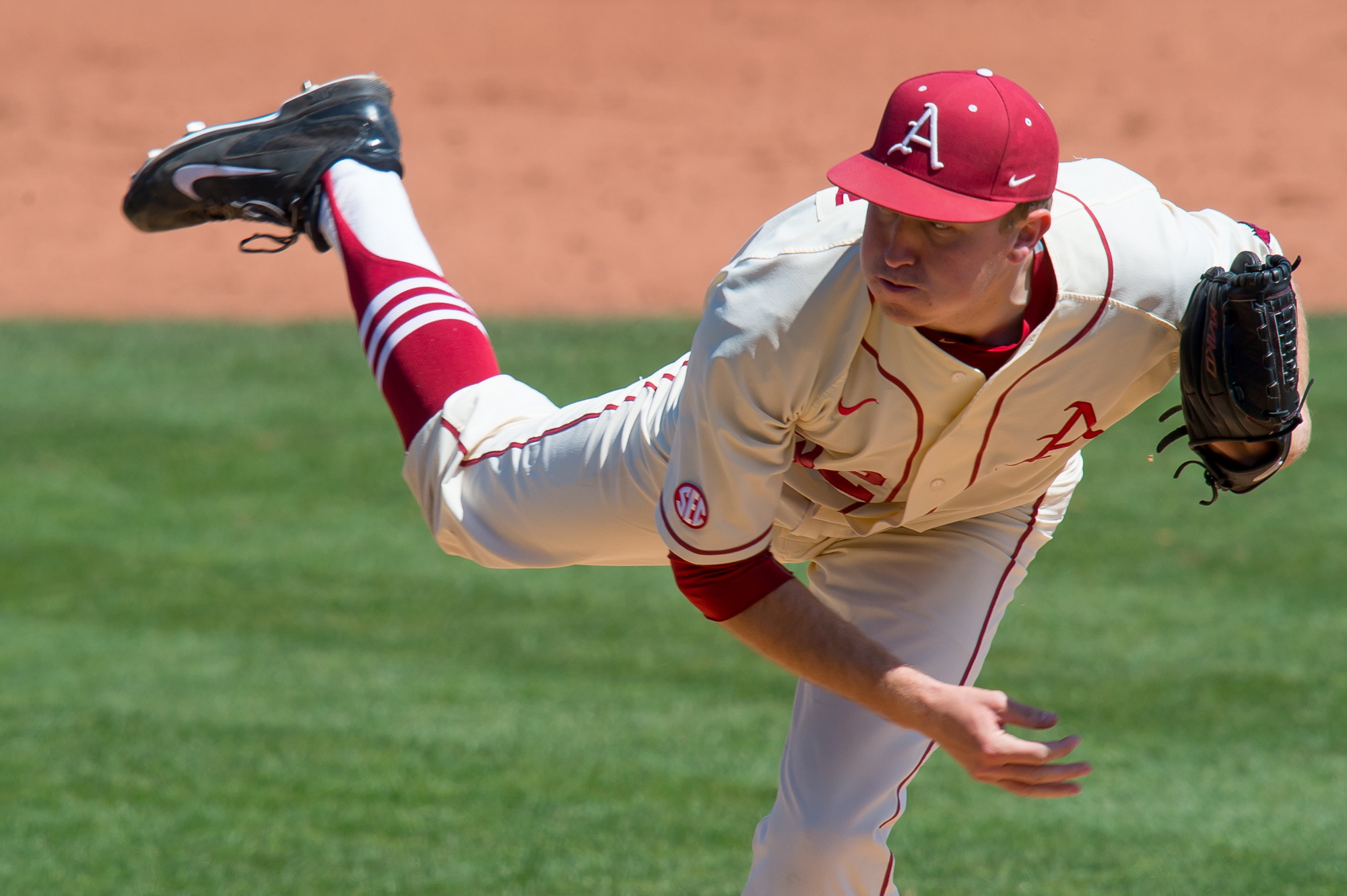 Jackson's Performance Carries Hogs Over Kentucky
LEXINGTON, Ky. – The Arkansas baseball team earned the series win over No. 12 Kentucky Saturday afternoon after, yet, another great performance on the mound by the Hog pitching staff and some timely hits by the offense. Zach Jackson went a complete seven innings in the first game of Saturday's double-header, helping Arkansas (25-15, 7-11) get the 2-0 victory.
Clark Eagan's solo home run in the 5th of game 2 broke a 3-3 tie and looked to be what was going to push Arkansas over the top for the sweep, but the Wildcats (24-15, 10-8) rallied for 2 runs in the seventh and final inning to take the 5-4 victory.
Eagan finished game 2 with 2 hits, his second multiple-hit game of the series and his home run was his first since Feb. 28 against No. 23 Texas Tech in the Houston College Classic. The Wisconsin-native now has 3 home runs on the year and leads the team with 50 hits, compiling a .316 batting average.
Just one day after the dominating performance from junior pitcher Dominic Taccolini, Jackson followed suit with his own near spotless performance, striking out a career-high eight batters and allowing just two hits in a career-long outing. It was his third win of the year and first for him as a starter this season.
Luke Bonfield's RBI double in the fourth was all Arkansas needed in the first game. Chad Spanberger followed with an RBI groundout for insurance.
With the seven-inning shutout for Jackson and the scoreless first inning by Keaton McKinney, Hog pitchers held opponents to no runs over 21-straight innings, going back to the Creighton game on Tuesday.
MOMENTS THAT MATTERED
Zach Jackson had made 11 appearances this season before making his first start of the year back on April 9. Tabbed as the closer at the start of the season, Jackson took on the starter's role two weeks ago and came through Saturday with, arguably, the best outing of his career. Jackson threw career-highs in innings pitched (7) and tied his career-high in strikeouts (8).
Sophomore Carson Shaddy came through with the single to lead off the fourth inning of game one, starting the Arkansas rally that led the two deciding runs. Shaddy finished that game 2-for-3 with a run scored, his 14th game this season with two hits or more.
UP NEXT
The Razorbacks return home to Baum Stadium for its next four games and starts that homestand with a single midweek game against Oklahoma State on Tuesday. First pitch will be at 6:35 p.m. and will be broadcast on SEC Network+.
For more information on Razorback Baseball, follow @RazorbackBSB on Twitter.