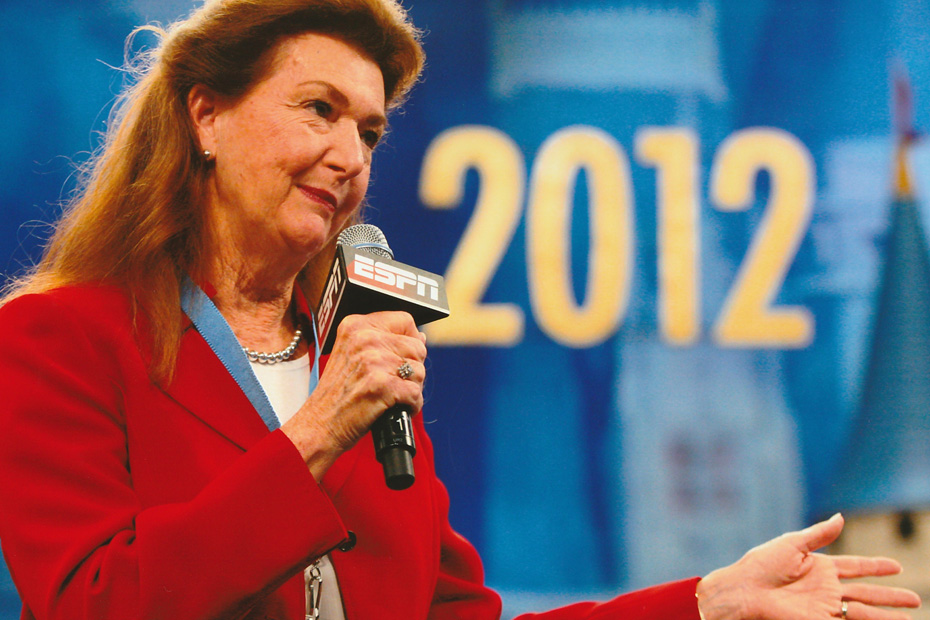 Jean Nail Announces Her Retirement as Director of Spirit Squads
FAYETTEVILLE, Ark. – After more than 34 years as the University of Arkansas' Director of Spirit Squads, Jean Nail has announced her retirement from Razorback Athletics. Nail will serve in her current capacity until the end of the men's and women's basketball seasons before transitioning to an advisory role with Razorback Athletics through June 30, 2016.
Nail first came to Arkansas in 1981 and since that time has coordinated the selection and performance schedule of the Razorback cheerleaders, Pom squads, RBI girls and mascots. Through the years, Nail's squads have been nationally recognized and won numerous competitive awards.
"I have been honored and blessed to be a part of the Razorback spirit program for the last 34 years,' Nail said. "I love being a part of the lives of all of our cheerleaders, pom squad members and mascots. It has been rewarding to watch them mature from sometimes uncertain freshmen to strong, vibrant, talented young men and women who graduate from the University of Arkansas and move on to their future endeavors. I hope I have been a small part of helping them along the way and there is no doubt that they have given me great insight and joy. I could never retire without saying thank you to all the Razorback fans. You are the strongest, most faithful, passionate fans in the nation. You are what makes the Razorback program truly special."
"Jean Nail has been the heart and soul of the Razorback Spirit Squads for more than 34 years," Vice Chancellor and Director of Athletics Jeff Long said. "She has been the guiding force in providing our program nationally recognized spirit squads and mascots who actively engage Razorback fans in cheering on our teams as well as spreading good will throughout the state and nation. But most importantly, Jean has positively influenced the lives of hundreds of young men and women who have been a part of our spirit squads program. We are grateful for her extraordinary service and her never yielding passion for the Razorbacks. We wish Jean and Mike the best in her approaching retirement and thank her for the countless hours she has invested and dedicated to the Razorbacks."
As Director of Spirit Squads and the Razorback Mascots, Nail and her staff pace their student spirit leaders through daily practices in preparation for the Razorback football, men's and women's basketball, baseball, volleyball, gymnastics and tennis events.  The groups also appear at various university functions and many community service events throughout the year.  They are active in summer camp seminars and national competitions.
During her tenure, Nail has helped implement many new programs including the innovative addition of a dance team (RBI girls) at Razorback Baseball games and the introduction of four new mascots to the Razorback Family. Nail spearheaded efforts to diversify the Razorback mascot family to appeal to all ages of fans including the addition of Sue E., Pork Chop, Ribby and Boss Hog to Arkansas' traditional Big Red mascot.
In 2012, Nail was honored with the Colonel Moeller Administrator of the Year Award by the Universal Cheerleading Association
A Fayetteville native, Nail is married to Mike Nail who retired in 2010 after 29 years as the play-by-play "Voice of the Basketball Razorbacks."   Nail has two degrees from the University of Arkansas including receiving her bachelors degree in kinesiology in 1986 and her masters degree in special education in 1987.
Jean and Mike have two daughters, Michelle (Mrs. Doug) Kehn and Elsa Nail, and are the proud grandparents of John Michael and Aubrey Anne Kehn.
In honor of Nail's extraordinary service to the Razorbacks, the Athletics Department is establishing the Jean Nail Fund within the Razorback Foundation. Proceeds raised through the fund will supplement the spirit squad program's budget and directly benefit the men and women participating in the University of Arkansas' spirit squads and mascot programs. For more information on the fund, contact Kale Gober, Assistant Athletic Director of Development at (479) 575-4823 or by e-mail at gober@uark.edu.