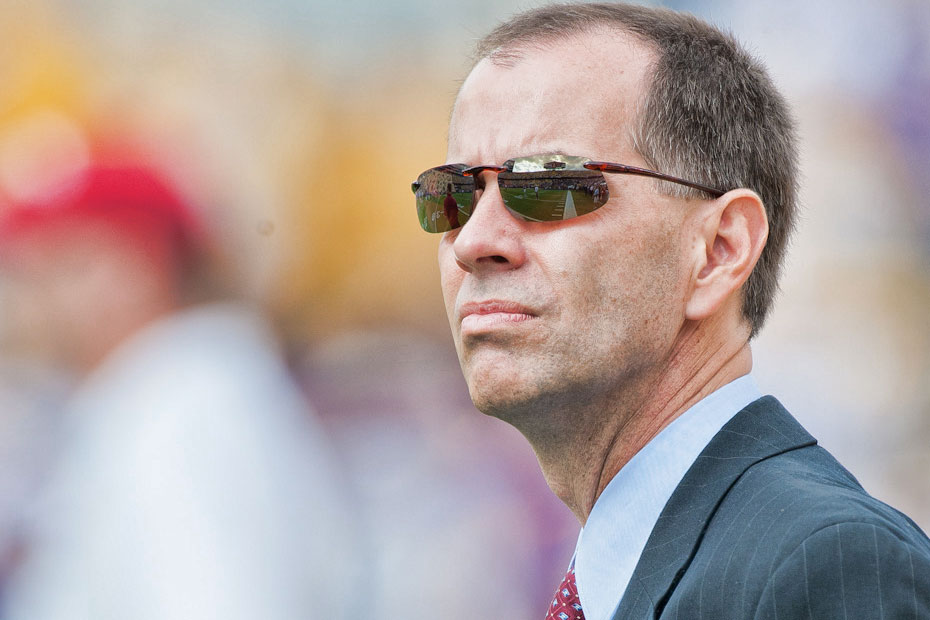 Jon Fagg Named to SEC Compliance, Enforcement and Governance Working Group
FAYETTEVILLE, Ark. – University of Arkansas Senior Associate Athletic Director Jon Fagg has been named by Southeastern Conference Commissioner Greg Sankey to a working group to review and discuss issues concerning compliance with NCAA regulations and effective operation within the NCAA governance process, it was announced on Monday.
Sankey announced last July at the SEC's annual Football Media Days that he would convene the SEC Working Group on Compliance, Enforcement and Governance, a collection of campus leaders to review and discuss NCAA issues. Fagg is one of nine individuals from campuses across the SEC who will comprise the working group.
"In his eight years at the University of Arkansas and throughout his career, Jon has been working on the forefront on issues related to compliance and governance within intercollegiate athletics," Vice Chancellor and Director of Athletics Jeff Long said. "His selection to this important working group is recognition of his informed perspective on national issues, including those impacting our institution and the Southeastern Conference. We are pleased that Jon will be representing the University of Arkansas in this proactive dialogue on the future of intercollegiate athletics."
Fagg is a member of the senior management group and assists the Vice Chancellor and Director of Athletics in the daily administration of the department. Fagg serves as the sport administrator for men's basketball. He also has oversight of the department's compliance program and office of development. Previously, Fagg oversaw the Razorbacks' Office of Student-Athlete Success, which encompasses academic support, student-athlete development and career development services for Razorback student-athletes.
Fagg came to Arkansas in 2008, after spending seven years at North Carolina State. Prior to his tenure at North Carolina State, Fagg spent three years as the assistant athletics director for compliance at Fresno State. He also served one year as director of compliance for the Big South Conference. His first athletics administrative experience came at Mars Hill College where he handled compliance duties as well as serving as an assistant coach for the football team for three seasons. His coaching experience also includes a stint as an assistant coach at Davidson and as a GA coach at his alma mater, the University of Arizona.
"This working group will work to renew and strengthen the commitment the Conference membership made more than 12 years ago to a culture of compliance in the SEC," Sankey said.  "These campus leaders will review and update the principles which formed the foundation of that commitment and establish effective procedures for the SEC's participation in the new NCAA governance structure."
Jere Morehead, President of the University of Georgia, will serve as chair of the working group. Remaining members of the working group joining Fagg are Dr. Stuart R. Bell, President, University of Alabama;  Mitch Barnhart, Director of Athletics, University of Kentucky;  Ray Tanner, Director of Athletics, University of South Carolina;  Dr. Michael Sagas, Faculty Athletics Representative, University of Florida;  Ron Rychlak, Faculty Athletics Representative, University of Mississippi;  Samantha Huge, Senior Woman Administrator, Texas A&M University;  Rich McGlynn, Executive Associate Athletics Director (Compliance), Auburn University.
"Compliance with NCAA regulations and the development of processes for effective participation by the SEC in NCAA governance are critical to the future of this Conference," Morehead said.  "This working group is a proactive initiative to put the SEC in position to be a leader for many years to come in the development and enforcement of NCAA rules and regulations while solidifying our culture of compliance with those rules."
The working group will develop new strategies for renewing and strengthening the Conference-wide commitment to NCAA compliance while continuing to fulfill the Conference competitive objectives.
Also, the group will review the updated enforcement model, which is expected to include dialogue with the NCAA Vice President for Enforcement; establish best practices for enforcement within the SEC; and update minimum penalties established by the Conference for certain Level III and Level IV rules violations.
In addition, the group will develop strategies intended to enhance the Conference legislative process, including development of a proactive legislative agenda to be advanced by the SEC.  The group will analyze the new NCAA governance structure and its implications for the SEC, with the purpose of developing meeting schedules, committee participation, policy development and effective communication strategies.
The group will also seek to improve interaction among the Autonomy conferences as part of the NCAA legislative and governance process and address other related issues as determined by the working group.
Updates will be provided to key SEC leadership groups at regular intervals, with an initial report submitted for review and discussion by the SEC membership in the spring of 2016 with the working group expected to conclude its work prior to the SEC's Spring Meetings in 2017.