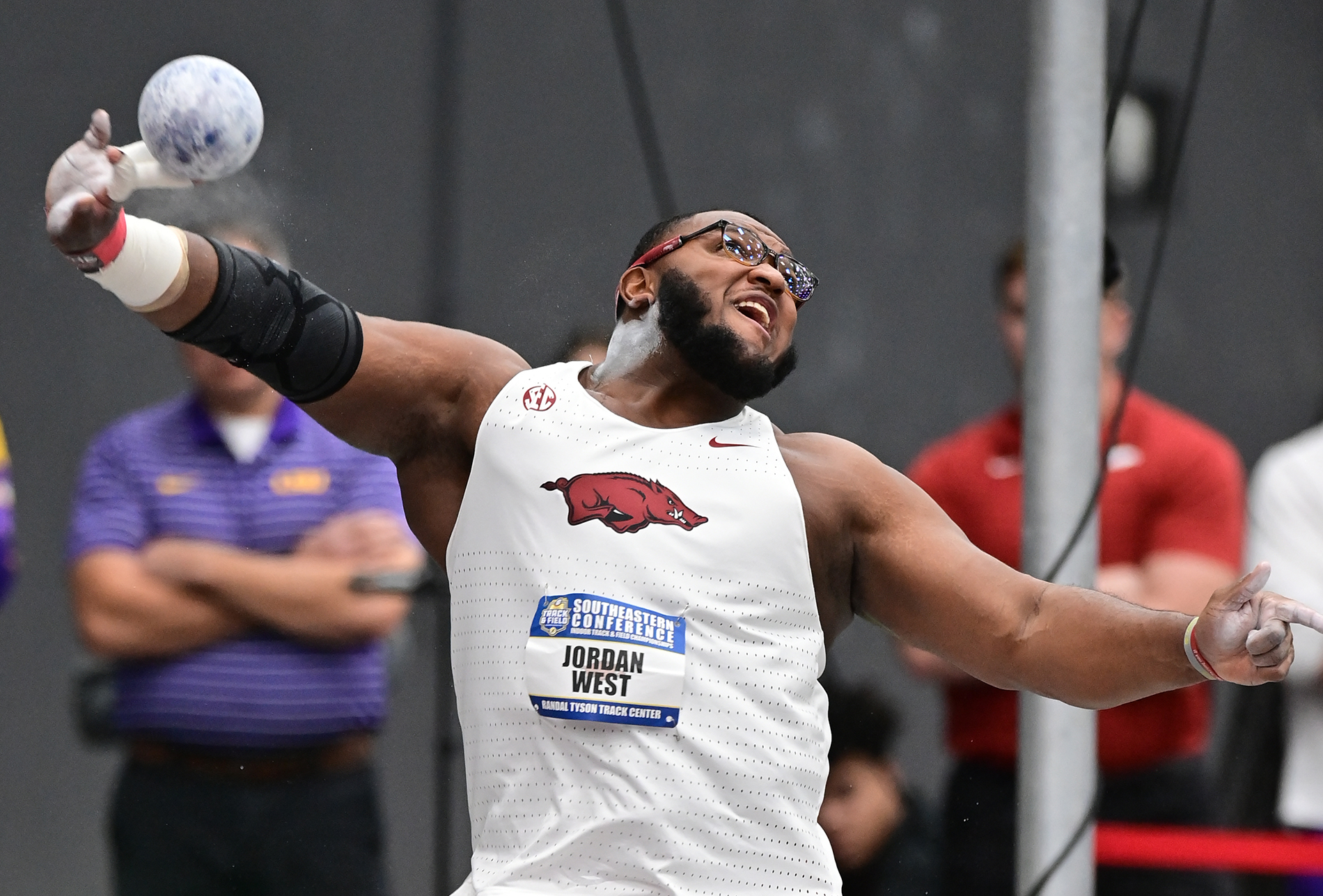 Jordan West breaks 40-year-old Arkansas shot put record
FAYETTEVILLE – A heave of the shot put by Razorback Jordan West during the SEC Championships this past weekend traveled a distance of 66 feet, 7 inches (20.29) to break the Arkansas school record set in 1983 by Scott Lofquist by half an inch.
Lofquist's effort of 66-6.5 (20.28) produced 40 years ago during the Southwest Conference Indoor Championships in Fort Worth, Texas, delivered a rare win over SMU's Michael Carter, who lost only one conference title and one NCAA title among seven SWC and seven NCAA victories.
"The shot put record is kind of more special to me because Mike Carter only lost two championships in four years," said Lofquist. "The two people that defeated him were myself and UCLA's John Brenner, which kept him from completing a perfect record in championship meets."
Lofquist held the oldest indoor field event record in Arkansas history and second oldest indoor record overall, with the Arkansas mile record of 3:55.4 set by Niall O'Shaughnessy in 1977 serving as the oldest indoor mark.
"It was special," noted West. "For a record that old you usually don't see that person around too often. With Mr. Lofquist being here in the building it was very fun. He was here during the Razorback Invitational and Tyson Invitational as well.
"It's definitely fun to have him still around and so active in the community and with the program. I appreciate him being here and having set that mark so high."
Lofquist recalled talking with Dick Booth, who coached him during his time as a Razorback, at an indoor meet three years ago in Fayetteville and telling the legendary coach that he didn't want his school records to out-live him and that he would like to see them broken.
Booth replied unless there is some recruiting miracle, he didn't see it happening.
This past year, with the assistance of the transfer portal, the recruiting miracle happened for the Razorbacks in the throws with three additions to the program.
"Then I was just hoping I would be there when the record was broken," stated Lofquist. "I was and it was great. It's something I'm very excited about. It's a joy that I got to experience it.
"It's a double thing in that I was able to put something on the board that lasted 40 years at the greatest track and field school, ever. Then, the fact that it lasted that long and the fact that I was still able to see it go. It comes from a place of pride, humility, and blessing all at the same time."
The shot put mark by West which broke the UA record came in the fifth round of the SEC Indoor Championships as he repeated a silver medal finish at the indoor conference meet, improving upon his best of 66-5.76 (20.26) set earlier this indoor season.
West, a transfer from Tennessee, entered the 2023 season with an indoor PR of 65-10.25 (20.07). Joining him in scoring key points for the Razorbacks in the shot put as well as producing career best marks were Rojé Stona (65-6 | 19.96) and Ralford Mullings (61-7 | 18.77), who transferred to Arkansas from Clemson and Arizona State, respectively.
Stona collected the bronze medal at the SEC Indoor while Mullings placed seventh as the trio totaled 16 points in the event. Stona is currently No. 3 and Mullings No. 6 on the UA all-time list.
"Coming into the SEC meet we were only supposed to score 10 or 11 points," said West. "To score 16 was definitely needed for the team. It's also a big confidence boost going into outdoors and nationals."
In wrapping up the indoor season, West and Stona have qualified for the 16-person field in the shot put at the NCAA Indoor Championships held in Albuquerque, New Mexico, on March 10-11.
"It's amazing knowing that there are going to be points on the board at a national championship in the throws," noted Lofquist. "I expect the pair of Arkansas throwers to earn All-America honors at the national meet. Just having someone earn All-America honors in the throws at Arkansas is so nice to see now."
In a previous visit to Albuquerque this indoor season, West delivered a victory over Arizona State's Turner Washington, who has won the NCAA Indoor shot put title the past two years. It was the first loss for Washington during the indoor season since February 29, 2020.
"It's definitely going to be a lot of good energy with the top throwers in the nation there, all looking to score maximum points for their team," stated West. "I know how important it is for our team to score a lot of points and do well. So, I'm going into this week with a purpose and a goal.
"It's Razorback 2.0. It's been fun to put the pieces back together that were part of the Arkansas program and hopefully have a run at nationals."
Lofquist has an older school record outdoors in the discus with a throw of 205-4 (62.60) from 1982, which is the oldest UA record outdoors. However, he has already heard of recent practice throws beyond that mark from the current group of Arkansas throwers.
"Well, 62 meters is a big toss, and we have throwers with a PR of 65 meters," West said. "At the beginning of the outdoor season we aren't looking to break school records, but to have solid throws and qualify for regionals. If it goes down, it goes down."
In the discus, Mullings has a career best of 214-6 (65.39) while Stona has a best of 213-7 (65.11).
A member of very talented Razorback teams in the 80s, Lofquist followed his SWC victory in 1983 with a bronze medal at the NCAA Indoor meet as Arkansas placed third in team scoring. Then for the next 12 consecutive years, the Razorbacks were indoor national team champions.
"My teammates included Wallace Spearmon, Sr., Mike Conley, Frank O'Mara and that whole crew," said Lofquist. "It was almost like that amount of talent did not deserve to be on one team.
"When I ever go look at the record boards and see my name at the top of it with some of the company that I had with the Conley's and O'Mara's of the world, it's very prideful and very humbling at the same time."