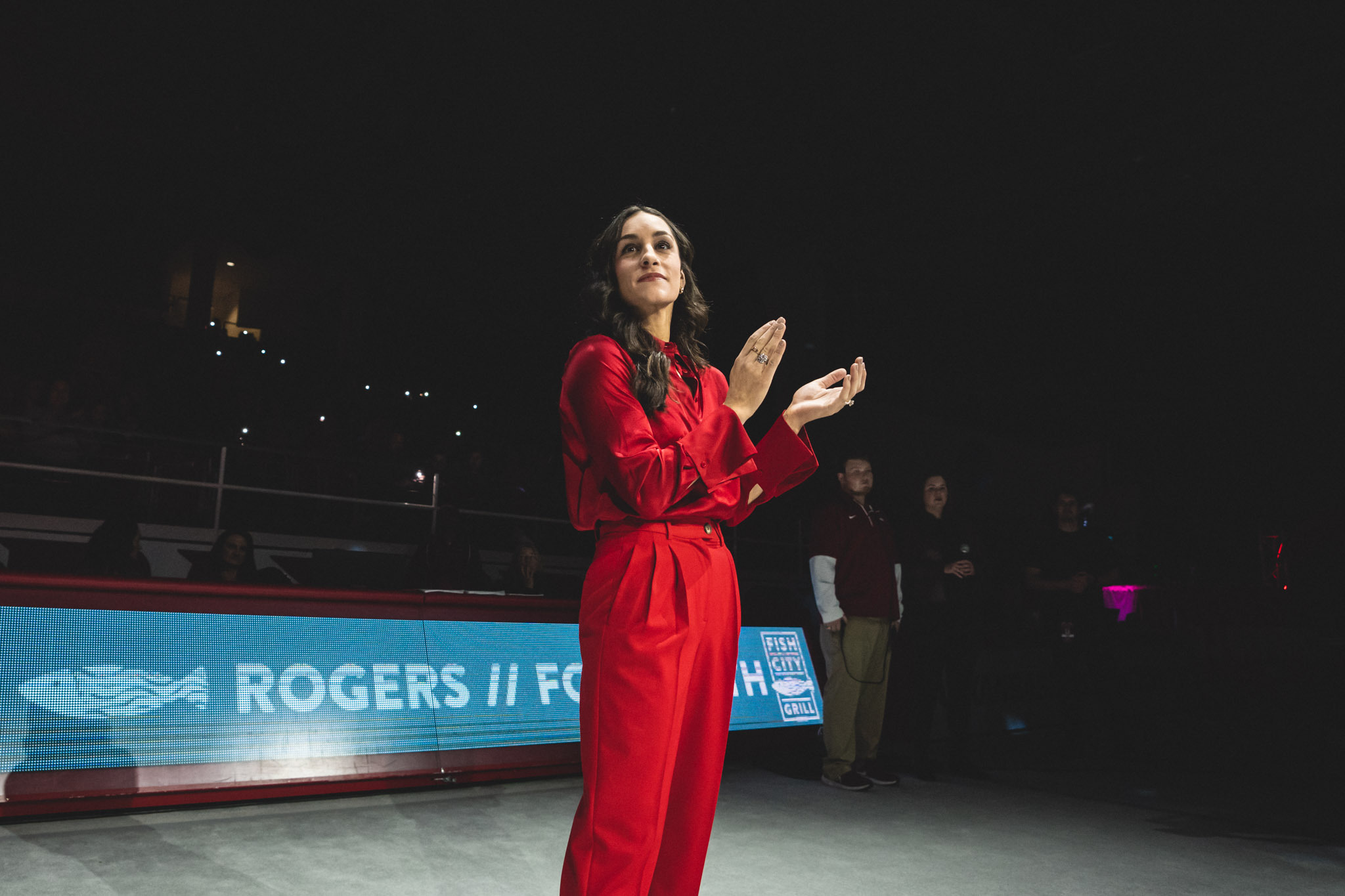 Jordyn Wieber signs new agreement
Following a successful 2023 campaign that featured record-breaking individual and team scores, meet and season attendance records and yet another trip to the NCAA Gymnastics Regionals, University of Arkansas Head Gymnastics Coach Jordyn Wieber has signed a new employment agreement that positions her to stay at the helm of the GymBacks through the 2028 season.
"Since arriving in Fayetteville, Jordyn Wieber has continued to elevate our gymnastics program within the Southeastern Conference and nationally," Vice Chancellor and Director of Athletics Hunter Yurachek said. "In the past four seasons, our program has qualified for NCAA competition each season, achieved numerous program records and produced multiple All-Americans. The success of our program has also fostered the growth of gymnastics throughout our state. From a sold-out Barnhill Arena to record-setting crowds at Bud Walton Arena, it is evident that the excitement for Razorback Gymnastics has never been higher. I look forward to seeing what is next on the horizon for Razorback Gymnastics under Coach Wieber's leadership."
The new three-year agreement runs from July 1, 2023 to April 30, 2026 and includes a series of scheduled salary increases and up to two one-year agreement extensions based on NCAA Gymnastics Regional appearances. Additional incentive payments will be based on the team's success in SEC and NCAA competition, the graduation rate of gymnastics student-athletes as well as the recognition of Coach Wieber as conference and/or national coach of the year honors.
"I am so grateful to Hunter Yurachek and the University of Arkansas for the opportunity to continue to lead this program," Head Gymnastics Coach Jordyn Wieber said. "I have so much pride in being a Razorback and working with my staff to lead our student-athletes. I am so proud of what we have accomplished so far, but I am equally excited for the future. We are focused and eager to continue building this program and achieving excellence for many years to come."
In her fourth season as head coach in 2023, Wieber guided the GymBacks to a 19th consecutive NCAA Gymnastics regional appearance. The team set a new regional team score record of 197.275, and a new regional floor record of 49.500. The team finished the year ranked 17th in the country, maintaining the program's 18-year streak of finishing in the top 20 nationally.
Graduate transfer Norah Flatley and freshman Lauren Williams both earned berths to the NCAA Championships as individuals, extending Wieber's unblemished national appearance streak in each eligible year. Flatley earned her fourth All-America honor at the event on balance beam with a score of 9.9375, which is the best-ever score by a Razorback as an individual beam qualifier. Arkansas'196.825 at SEC Championships in 2023 was a new program best, and the Hogs also earned SEC highs on vault (49.425) and bars (49.175).
Five GymBacks earned All-SEC or All-SEC Freshman honors at the meet: Norah Flatley (VT, FX, AA), Lauren Williams (VT, FX), Reese Drotar (UB), Frankie Price (VT) and Cami Weaver (VT), which was the most since 2018 and second-most ever for Arkansas. The GymBacks also broke several records and hit new milestones in the regular season, with a new program score record of 197.475 against LSU on Jan.
27, a new program vault record of 49.525 against Kentucky on Feb. 17, and a new program beam record of 49.525 against Missouri on Feb. 24. Arkansas posted five scores above 197 for the second time in program history in the 2023 slate, the first in 2021, also under Wieber.
The GymBacks continued to grow their fanbase setting new single meet (11,031), home single season (36,619), and average attendance (7,324) records in 2023, the latter two ranking sixth and seventh in the country. Arkansas also sold out Barnhill Arena for the first time in program history on Jan. 27, 2023, when 7,147 fans were in the building to watch the Hogs take down the LSU Tigers.
In her tenure at Arkansas, Wieber has coached three regular-season All-Americans in Sophia Carter (2020), Maggie O'Hara (2021) and Kennedy Hambrick (2020, 2021). Under her guidance in and out of the gym, the GymBacks were awarded the Arkansas Athletics Lee Spencer Cup for the first time ever in 2022, which is awarded to the team that earns the most points in the areas of personal and career development, community engagement, and academic and athletic excellence.
Prior to her arrival in Fayetteville, Wieber served as an assistant for legendary UCLA coach Valorie Kondos Field, helping lead the Bruins to the 2018 NCAA Championship. Wieber coached the Bruins on floor exercise, an event in which UCLA finished the 2018 and 2019 regular seasons ranked No. 1 in the nation.
A member of the "Fierce Five" United States squad that won team gold at the 2012 Olympics, Wieber was also a two-time U.S. all-around champion (2011 and 2012) and the 2011 World all-around champion. Her illustrious elite career included three medals (all-around and team gold, beam bronze) at the 2011 World Championships and four U.S. senior national titles (all-around, bars and floor in 2011 and all-around in 2012). Wieber earned her degree in Psychology from UCLA in 2017.
For more information regarding Razorback Athletics, please visit ArkansasRazorbacks.com.