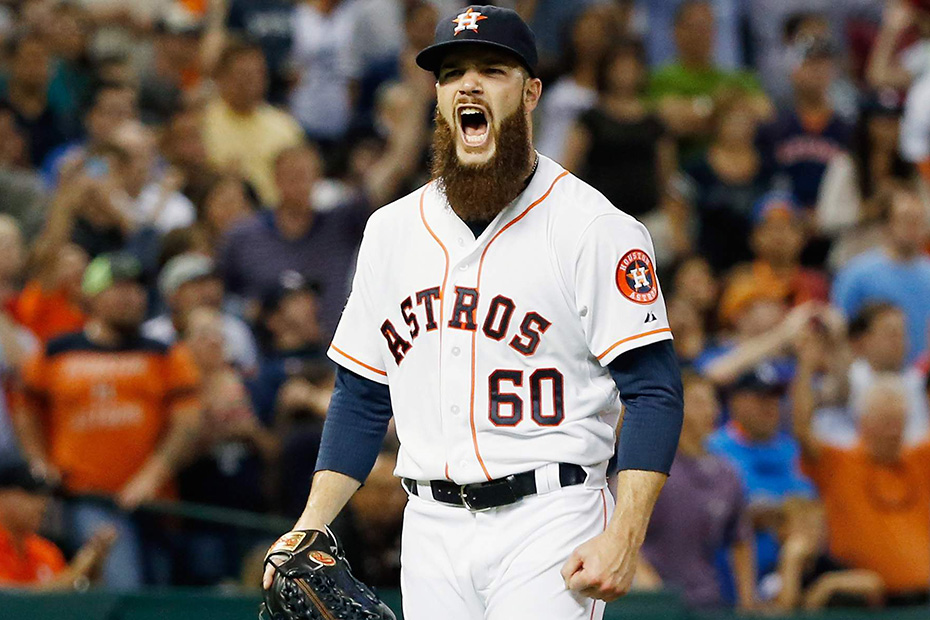 Keuchel Wins Cy Young Award
FAYETTEVILLE, Ark. – Former Razorback Dallas Keuchel has won the American League Cy Young Award, the Baseball Writers' Association of America and Major League Baseball announced Wednesday night on MLB Network.
The left-hander was the AL's most dominant pitcher for the past season, winning three AL Pitcher of the Month honors, starting the All-Star Game and finishing with the AL lead in wins above replacement (7.2) and innings pitched (232.0). Keuchel helped the Houston Astros win the AL Wild Card, advancing to the postseason for the first time since 2005.
Keuchel was outstanding in the Astros' one-game wild card playoff match. He gave up just three hits and struck out seven in six innings of work, helping Houston shut out the New York Yankees, 3-0, and advance to the AL Divisional Series.
Postseason awards have followed Keuchel this month as the southpaw also earned his second straight AL Gold Glove Award as the best fielding pitcher in the American League. Earlier this week, Keuchel won the Warren Spahn Award given annually to baseball's best left-handed pitcher. He was also recognized by league players who voted to select Keuchel as the recipient of the Players Choice Award for American League Outstanding Pitcher.
Keuchel becomes the second Razorback to ever win a Cy Young Award, joining fellow southpaw Cliff Lee, who won the AL Cy Young Award in 2008.
A three-year letterwinner for Arkansas, Keuchel went 9-3 with a 3.92 ERA for the Razorbacks in 2009. He helped the team advance to the College World Series in Omaha, Neb. for the sixth time in school history.
Keuchel will be recognized on the field for his accomplishments at Saturday's Razorback football game against Mississippi State at Donald W. Reynolds Razorback Stadium. Tickets are still available for Saturday's football game and can be purchased online at ArkansasRazorbacks.com or by calling 1-800-982-HOGS.
The #OmaHogs will begin their 2016 season on Feb. 19 at Baum Stadium against Central Michigan.
For more information on Arkansas baseball, follow @RazorbackBSB on Twitter.