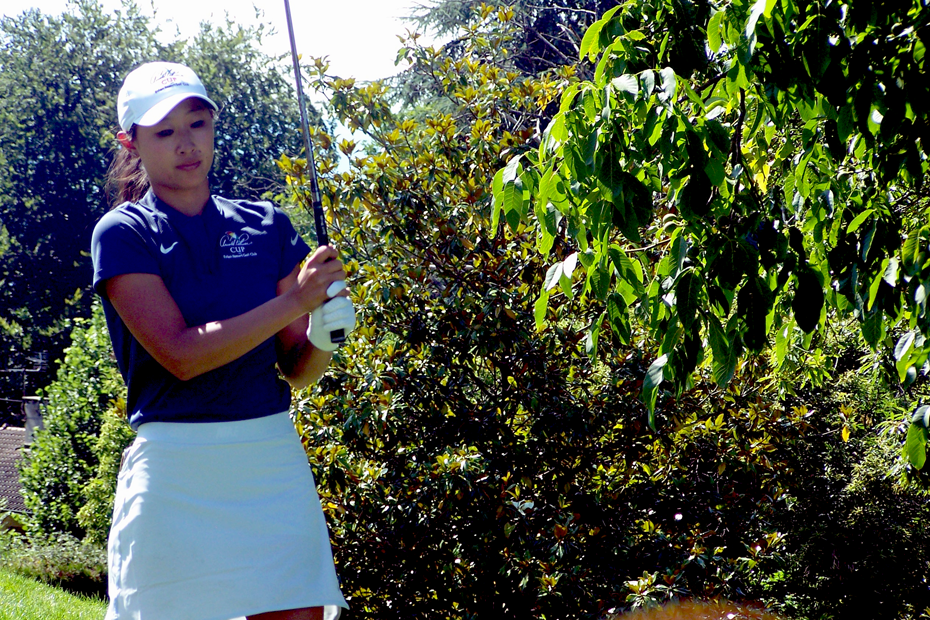 Kim Wins Twice In Palmer Cup Match Play
Round 2 Results | Round 3 Results
EVIAN-les-BAINS, France – University of Arkansas senior-to-be Dylan Kim notched two match play wins helping the United States extend its lead in Palmer Cup action at Evian Resort Golf Club on Saturday.
Kim helped the Americans take a 20.5-15.5 advantage with Team USA needing just 30 points to retain the cup. The International team needs to 30.5 to reclaim the cup.
Morning play began with mixed foursomes and Kim teamed up with Justin Suh to defeat Maddie Szeryk and Andy Zhange, 5&3. Kim and Suh won the first hole and never trailed in the match. Despite the win by Kim, the International Team closed the gap, winning seven of the 12 morning matches.
Team USA rebounded in the afternoon Four-Ball session where Kim was again victorious. She paired with Emila Migliaccio to defeat Jaravee Boonchant and Pimnipa Panthong, 1-up. The match was all square through the first three holes before Kim and Migliaccio won the fourth hole of the round. They held the lead through 13 holes when Panthong and Boonchant squared the match with an eagle. Kim and Migliaccio answered winning No. 15 and hanging on for the victory.
Recently graduated men's golfer Alvaro Ortiz was also a winner on Saturday. He and Razorback senior-to-be Maria Fassi dropped their first match in the morning, but Ortiz returned in the afternoon pairing with K.K. Limbhasut to defeat Stephen Franken and S.M. Lee of Team USA 5&4. The duo opened on the 10th hole of the golf course and overcame a quick hole win by the Americans. Ortiz and Limhasut squared the match on the fourth hole of the round and took the lead on No. 17. They also won No. 18 moving to 2-up. They put together a streak of three holes in a row winning Nos. 3, 4, and 5 to clinch the match.
Alana Uriell, who graduated in May, dropped both of her matches, first 2-up and the afternoon match by a score of 5&3. Fassi and Ortiz were defeated in the morning, 5&4, and Fassi dropped her afternoon contest by the same score.
Play concludes on Sunday with singles match play action. See below for the complete schedule and tee times.
More Information
Keep up with all of the latest news and information and get behind the scenes looks into our program on our social media accounts. Follow us on Twitter at @RazorbackWGolf and check out our Facebook page "Razorback Women's Golf." Stats, news and player information can be found at ArkansasRazorbacks.com.
— ADD RESULTS —
Evian Resort Golf Club
July 7
USA 12.5, International 11.5
Mixed Foursomes Results
Match 13:
Jovan Rebula/Albane Valenzuela, International def. Jennifer Kupcho/Matthew Wolff, United States, 4&2
Match 14: Lauren Stephenson/Braden Thornberry, United States halved Jiwon Jeon/Lorenzo Scalise, International
Match 15: Chandler Phillips/Lilia Vu, United States halved Hurly Long/Patty Tavatanakit, International
Match 16: Stefano Mazzoli/Dewi Weber, International def. Andrea Lee/Collin Morikawa, United States, 1-up
Match 17: Shintaro Ban/Mariel Galdiano, United States def. Viktor Hovland/Olivia Mehaffey, International, 1-up
Match 18: Ronan Mullarney/Chloe Ryan, International def. Jamie Freedman/Sahith Theegala, United States, 1-up
Match 19: Dylan Kim/Justin Suh, United States def. Maddie Szeryk/Andy Zhang, International, 5&3
Match 20: KK Limbhasut/Pimnipa Panthong, International def. Brad Dalke/Alana Uriell, United States, 2-up
Match 21: Luis Gagne/Ainhoa Olarra, International def. Kristen Gillman/Davis Riley, United States 2-up
Match 22: Harry Hall/Wenyung Keh, International def. Zach Bauchou/Sophia Schubert, United States, 3&1
Match 23: Stephen Franken/Emilia Migliaccio, United States def. Maria Fassi/Alvaro Ortiz, International, 5&4
Match 24: Jaravee Boonchant/Fredrik Nilhen, International halved SM Lee/Kaitlyn Papp, United States
Arnold Palmer Cup
Evian Resort Golf Club
July 7
USA 20.5, International 15.5
Third Round Four-Ball Pairings
Match 25: Jennifer Kupcho/Lilia Vu, United States def. Jiwon Jeon/Chloe Ryan International, 2&1
Match 26: Stefano Mazzoli/Lorenzo Scalise, International def. Braden Thornberry/Matthew Wolff, United States, 4&3
Match 27: Olivia Mehaffey/Maddie Szeryk, International def. Mariel Galdiano/Andrea Lee, United States, 1-up
Match 28: Shintaro Ban/Collin Morikawa, United States def. Luis Gagne/Andy Zhang, International, 2&1
Match 29: Sophia Schubert/Lauren Stephenson, United States def. Albane Valenzuela/Dewi Weber, International, 3&2
Match 30: Justin Suh/Sahith Theegala United States def. Hurly Long/Ronan Mullarney, International, 1-up
Match 31: Wenyung Keh/Patty Tavatanakit, International def. Jamie Freedman/Alana Uriell, United States, 5&3
Match 32: Zach Bauchou/Chandler Phillips, United States def. Hary Hall/Jovan Rebula, International, 3&2
Match 33: Dylan Kim/Emilia Migliaccio, United States def. Jaravee Boonchant/Pimnipa Panthong, International, 1-up
Match 34: KK Limbhasut/Alvaro Ortiz, International def. Stephen Franken/SM Lee, United States, 5&4
Match 35: Kristen Gillman/Kaitlyn Papp, United States def. Maria Fassi/Ainhoa Olarra, International, 5&4
Match 36: Brad Dalke/Davis Riley, United States def. Viktor Hovland/Fredrik Nilehn, International, 1-up
Sunday Singles Pairings
Final Round Singles Pairings
Match 37: 7:30 am (#1) Maria Fassi, International vs. Sophia Schubert United States
Match 38: 7:30 am (#10) Viktor Hovland, International vs. Brad Dalke, United States
Match 39: 7:40 am (#1) Lorenzo Scalise, International vs. Chandler Phillips, United States
Match 40: 7:40 am (#10) Olivia Mehaffey, International vs. Jamie Freedman, United States
Match 41: 7:50 am (#1) Patty Tavatanakit, International vs. Kaitlyn Papp, United States
Match 42: 7:50 am (#10) Andy Zhang, International vs. Sahith Theegala, United States
Match 43: 8:00 am (#1) Stefano Mazzoli, International vs. Collin Morikawa, United States
Match 44: 8:00 am (#10) Jiwon Jeon, International vs. Andrea Lee, United States
Match 45: 8:10 am (#1) Maddie Szeryk, International vs. Lilia Vu, United States
Match 46: 8:10 am (#10) Luis Gagne, International vs. Stephen Franken, United States
Match 47: 8:20 am (#1) KK Limbhasut, International vs. Justin Suh, United States
Match 48: 8:20 am (#10) Dewi Weber, International vs. Jennifer Kupcho, United States
Match 49: 8:30 am (#1) Pimnipa Panthong, International vs. Alana Uriell, United States
Match 50: 8:30 am (#10) Alvaro Ortiz, International vs. Zach Bauchou, United States
Match 51: 8:40am (#1) Fredrik Nilehn, International vs. Braden Thornberry, United States
Match 52: 8:40 am (#10) Chloe Ryan, International vs. Emilia Migliaccio, United States
Match 53: 8:50 am (#1) Wenyung Keh, International vs. Kristen Gillman, United States
Match 54: 8:50 am (#10) Harry Hall, International vs. SM Lee, United States
Match 55: 9:00 am (#1) Ronan Mullarney, International vs. Shintaro Ban, United States
Match 56: 9:00 am (#10) Albane Valenzuela, International vs. Lauren Stephenson, United States
Match 57: 9:10 am (#1) Jaravee Boonchant, International vs. Mariel Galdiano, United States
Match 58: 9:10 am (#10) Jovan Rebula, International vs. Davis Riley, United States
Match 59: 9:20 am (#1) Hurly Long, International vs. Matthew Wolff, United States
Match 60: 9:20 am (#10) Ainhoa Olarra, International vs. Dylan Kim, United States