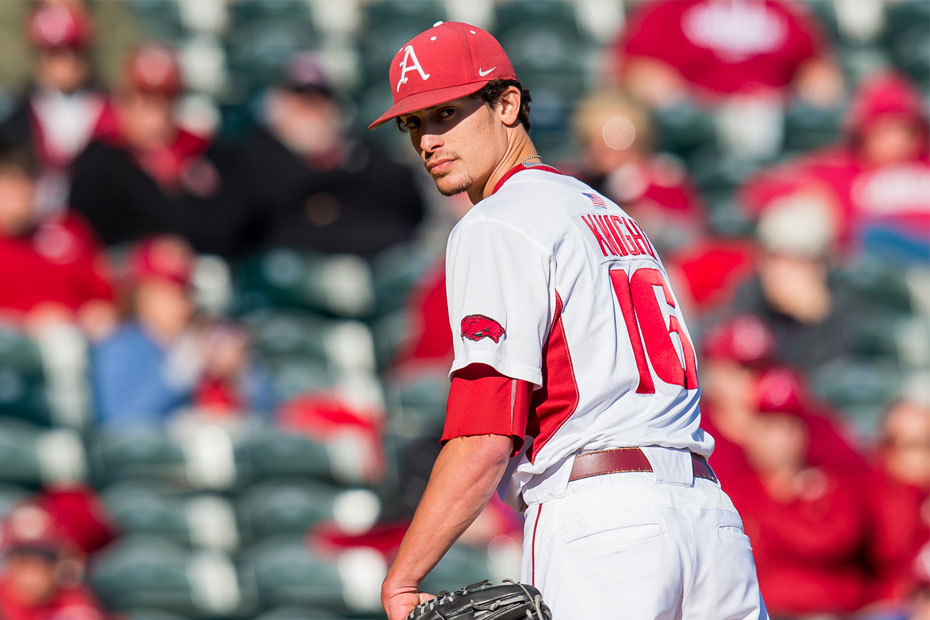 Knight Masterful In Series Opening Win Over Tide
TUSCALOOSA, Ala. – Sophomore right-hander Blaine Knight gave up a single run to the Alabama Crimson Tide in the first inning Friday night at Sewell-Thomas Stadium. For the following seven innings, he not only kept the Tide off the scoreboard, but he retired 22 of the final 23 batters he faced, helping Arkansas to a 7-1 series-opening victory and his third win in a row.
Knight has been stellar since the start of Southeastern Conference play and Friday night was no different. Going a career-long eight innings against Alabama, Knight allowed just one run on three hits with seven strikeouts and no walks. It's his fifth outing this season that he hasn't allowed a walk and third outing of six or more innings without a walk.
Over his three starts in SEC play, Knight has earned the victory in each game, allowing a combined three earned runs and striking out a combined 24 batters with only two walks.
Offensively, the Razorbacks scattered a season-high 17 hits against Alabama pitching with each starter recording at least one hit in the game.
Jake Arledge, Luke Bonfield, and Jared Gates each turned in three-hit performances. Gates, who was hitless coming into the game and had missed a majority of the season due to a hand injury, was firing on all cylinders Friday, going a perfect 3-for-3 at the plate, all singles, with a run scored.
Bonfield was 3-for-5 on the night with three RBIs and a home run. The New Jersey native launched his fifth home run of the year in the third inning, a two-run shot that not only got the Razorbacks on the board, but gave them a lead they never relinquished.
Moments That Mattered
Knight had to battle through some early adversity when the first batter he faced in the game, Cobie Vance, hit a high chopper down the third base line for a double. Vance later scored on a Hunter Alexander single to make it 1-0 Alabama after the first inning.
That was it for the Crimson Tide offense the rest of the way. Knight set down 19 straight batters into the eighth inning before the next player reached. Tanner DeVinny broke that streak with a double to deep centerfield, but that was the only thing Alabama could muster the rest of the way.
Knight becomes the second Razorback pitcher this season to retire 19 consecutive batters in an outing, two less than the school record. Saturday starter Trevor Stephan retired 19 in a row to start a game against Rhode Island back on March 10.
Even with the early deficit, the Hog hitters responded with five runs on 10 hits off Alabama starter Jake Walters. Starting with Bonfield's two-run blast in the third, Arkansas tallied two more in the fourth and one in the fifth before Walters was pulled.
Walters' control went awry in the fourth when Gates was hit by the first pitch of the inning. Jax Biggers followed with a four-pitch walk to turn over the lineup. Arledge followed with a perfectly executed sacrifice bunt to move both runners before a passed ball and an RBI single from Bonfield upped the score to 4-1 in favor of the Razorbacks.
For Bonfield, the left fielder has had one of the hot bats for Arkansas lately as he is now hitting .429 in conference play to lead all Hog hitters with 12 hits and two home runs.
In Friday night's game Arkansas' 1-6 hitters went 11-for-29 (.379) with six RBIs and a home run. The 7-8-9 hitters of Eric Cole, Jack Kenley, Gates and Biggers were no slouch either, going 6-for-12 (.500), half of those hits coming off the bat of Gates.
Razorback Quotables
"He's been really good the last few weeks. Ever since conference play started, he's proven that he can give us seven or eight quality innings. Early in his career, it was more like five innings before we had to be on alert. He's turned it around at the start of SEC play this year and it's been three of the same type outings. He gave up a run early, but they (Alabama) have a good hitting team. He didn't panic, he just came out, gave us a quick second inning and gave us a chance." – Head coach Dave Van Horn on Blaine Knight's outing
"I feel like he really started working his breaking ball. He had them out there looking for it and then he started pumping in the fastball. He just mixed it up really well. He threw everything for a strike and that's kind of what he does. It's pretty easy to play defense behind a guy like that." – Head coach Dave Van Horn on Blaine Knight's ability to keep hitters off-balance
"We went in with a game plan that we were going to stick with fastballs early in the count. We figured they were going to jump on them, we just didn't know how they were going to take an approach. We switched over to going breaking ball early in the count after that first inning and it worked out." – Blaine Knight on what worked for him in the game
SEC Network+ Wrapup

Up Next
The Razorbacks and Crimson Tide will continue their series on Saturday with game two of the three-game set starting at 7 p.m. at Sewell-Thomas Stadium. The game will be broadcast on the SEC Network and also on the radio on the Razorback Sports Network.
For more information on Razorback Baseball, follow @RazorbackBSB on Twitter.