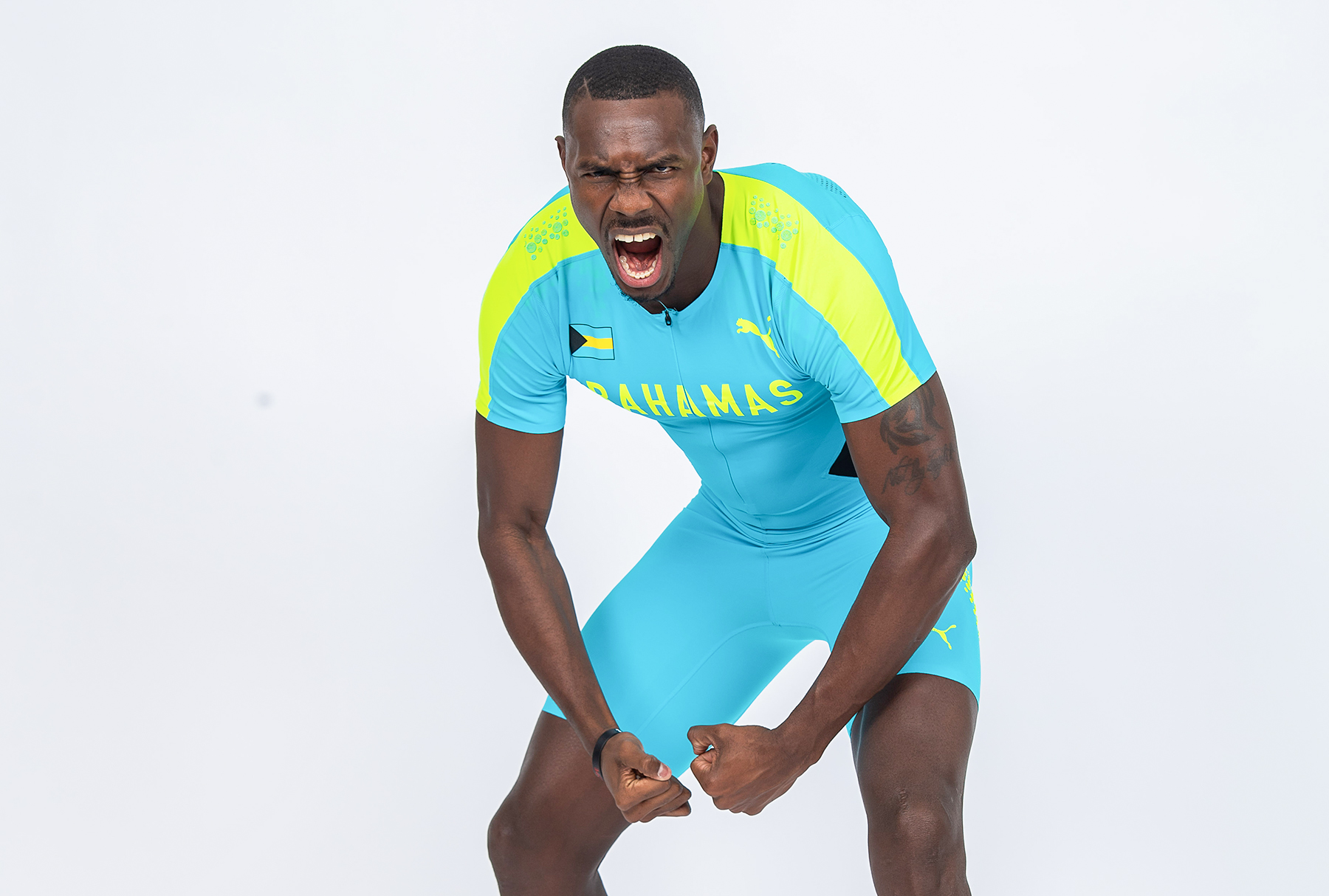 LaQuan Nairn wins Bermuda long jump title on final leap
DEVONSHIRE, Bermuda – A final round leap of 27 feet, 3.75w inches (8.32) moved Arkansas alum LaQuan Nairn from third to first to claim the long jump title at the USATF Bermuda Grand Prix held at Flora Duff Stadium on Sunday.
The all-conditions best by Nairn, who has a personal best of 26-11.75 (8.22), moved him ahead of Steffin McCarter, a Texas alum, and Will Williams, a Texas A&M alum. Jarrion Lawson finished fourth with a mark of 26-3w (8.00).
Only the leading three jumpers were able to take a sixth attempt and they did so in reverse order with leader McCarter going first followed by Williams and then Nairn had the final attempt overall.
Prior to his winning effort in the final round, Nairn's best mark was a 26-3.75w (8.02) from the opening round. He added a full foot to that mark to claim the victory over a 27-0w (8.23) by McCarter, who registered the same distance in round five and round six, while Williams finished third with a best of 26-10w (8.18) from the first stanza.
Lawson hit the same mark of 26-3w twice in the first two rounds, both wind-aided.
Tara Davis-Woodhall, who trains in Fayetteville, also produced a final round victory in the women's long jump with a leap of 23-4w (7.11) to move ahead of the 23-1.25w (7.04) effort by Quanesha Burks from round three.
The aiding wind on Davis-Woodhall's winning mark was 2.1 as she has the top mark this season under all-conditions. Prior to the final round, Davis-Woodhall had a best of 23-0.75w (7.03), which she hit twice in rounds two and three.
On Friday, competing at the U.S. Paralympic Championships in Chula Vista, California, Arkansas alum Hunter Woodhall claimed victories in the T62 division for the 100m (11.36) and 400m (49.14).
Woodhall has been named to the United States team that will compete in Paris this July at the World Para Athletics Championships.
Racing on Friday in New York at Icahn Stadium on Randall's Island, Razorback alum Shafiqua Maloney won her section of the 800m in 2:04.40
Competing in the hammer at the University of Arizona on Thursday, Arkansas alum Erich Sullins set a career best of 244-7 (74.56) to finish fourth in the Tucson Elite Throws meet. His previous best was 236-6 (72.10).
Sullins series included four attempts that bettered his previous career best. The marks included 238-6 (72.71), 244-7 (74.56), 238-4 (72.65), 230-7 (20.30), 232-2 (70.78), 240-2 (73.22).