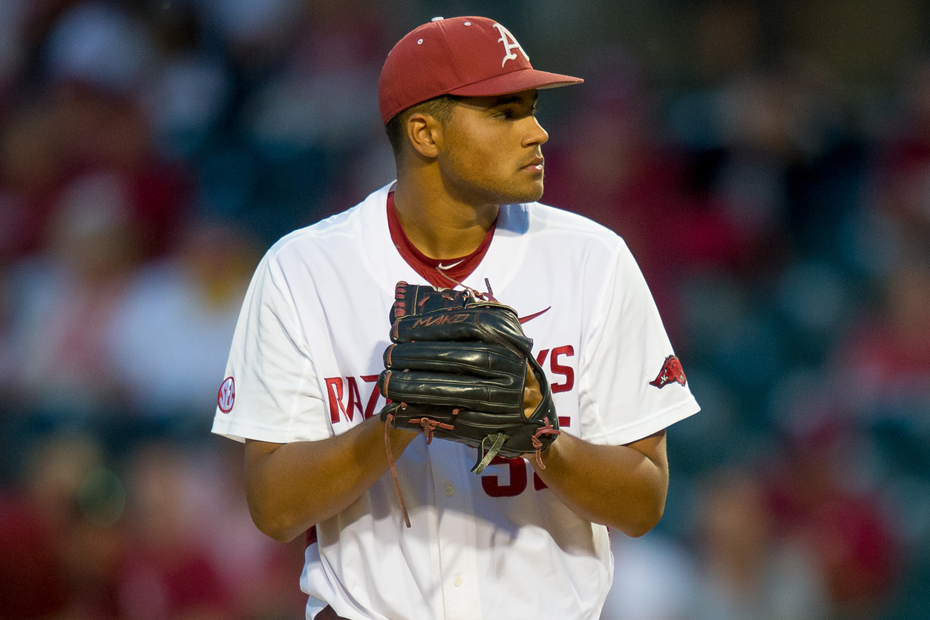 Late Comeback Falls Short For Hogs
FAYETTEVILLE, Ark. – A three-run third inning and a four-run fourth inning for Alabama (28-21, 13-12) were too much to overcome for Arkansas (26-23, 7-18) on Friday night at Baum Stadium, as its late-inning comeback fell just short in an 8-6 loss in the series opener.
Alabama starter Geoffrey Bramblett picked up the win, his fifth of the year, after holding the Hogs to just two runs along with three strikeouts over six innings. Dominic Taccolini dropped his second-straight game to fall to 5-4 on the year.
Freshman Grant Koch and junior Clark Eagan each finished the game with two hits each. Both of Koch's hits were doubles, while Eagan hit his fifth home run of the year in the seventh inning, his second home run in four games.
MOMENTS THAT MATTERED
Even after Alabama took an early lead in the first on a solo home run, the Razorbacks responded with their own run in the first and then another in the second as freshman Cody Scroggins delivered the RBI single up the middle to give Arkansas the 2-1 lead. It was Scroggins third RBI in his last two games.
Alabama hit a home run in the third and fourth inning, respectively, to take an 8-2 lead, forcing Arkansas head coach Dave Van Horn to go to the bullpen early. With Taccolini out of the game, freshman Isaiah Campbell came in to slow the Crimson Tide offense.
Campbell threw a season-high five innings and only gave up one hit and one walk to hold the Tide scoreless from the fifth inning on and retired the final nine batters he faced.
Arkansas' comeback bid began in the seventh inning with Eagan's solo home run. Carson Shaddy followed with an RBI triple to make it a four-run game. Shaddy now has two triples this season and Arkansas as a team has 13 triples.
In the eighth, Arkansas added two more runs off the bat of Chad Spanberger, who singled home two runs to make it 8-6. The hit by Spanberger was his fourth in four games and the two RBIs marked his fourth multi-RBI game of the year.
RAZORBACK QUOTABLES
"That was a good job by our team fighting back there. There were a lot of bright spots. Isaiah Campbell came in and did a tremendous job. He got us through the fourth inning, all the way into the ninth. They (Alabama) brought in one of their inning-eater-type guys and we got a couple of runs off him. Then, they brought in a better guy and we got a couple off him. They ended up having to bring in their closer. It was a nice job by our offense. Hopefully, that will help us out later in the weekend." – Dave Van Horn
"Well, the dugout was into it. Getting out of the inning after the play that (Carson) Shaddy made was really important. (Michael) Bernal did a nice job, (Grant) Koch did a nice job. There were a lot of bright spots. It's just hard to recover down six runs to a pitcher who throws nothing but strikes." – Dave Van Horn
"I felt really good. After LSU, it was kind of back to what I've been doing this season. I just wanted to come in, throw strikes and keep us in the game and that's what I did. It was my first time all season going more than four innings. Giving up no runs. That's always a big thing to keep your confidence up." – Isaiah Campbell
"He was hitting spots. That's all we can ask for. I think coming in to a situation like that, all you can do is throw strikes. He was executing the pitches Coach (Dave) Jorn was calling and it was big." – Grant Koch on Isaiah Campbell
UP NEXT
Game two of the series between the Razorbacks and the Crimson Tide will be played Saturday at Baum Stadium. First pitch is slated for 6 p.m. and will be broadcast on SEC Network+. Prior to the game, Tucker Pennell, Rick Nomura, Cullen Gassaway, Doug Willey and Michael Bernal will all be honored for Senior Day.
For more information on Razorback Baseball, follow @RazorbackBSB on Twitter.