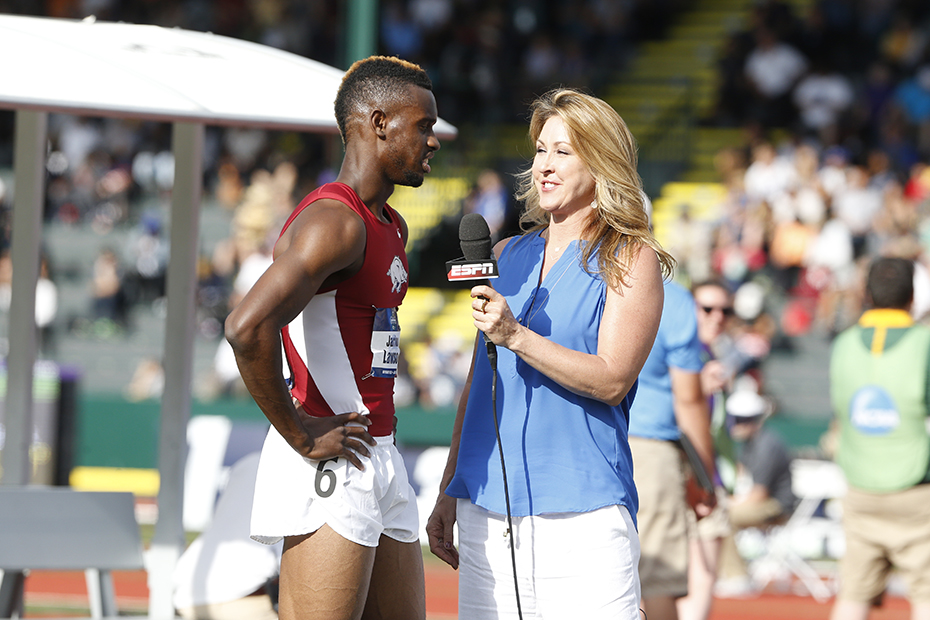 Lawson Continues Big Moves with Pro Contract
FAYETTEVILLE, Ark. – On the heels of a historic NCAA performance to cap his Razorback career earlier this month, six-time national champion and 19-time All-American Jarrion Lawson has signed a professional contract to represent ASICS. In a deal reported Thursday by ESPN, the endorsement package signed by Lawson is the largest for a male track athlete on the ASICS roster. Full terms of the deal were not disclosed.
Thursday's report continues a recent string of big news for Lawson who last week was named one of three finalists for the Bowerman Award and grabbed an ESPY nomination for best collegiate male athlete. The Bowerman Award is presented annually to the top male and female performers in college track and field. With his ESPY nomination, Lawson became the first-ever track and field nominee since the award's inception in 2002.
Vote for Lawson > Bowerman (ends July 1) | ESPY (ends July 13)
In his final competition wearing the Razorback on his chest, Lawson wowed the national audience by winning the 100- and 200-meter titles along with a victory in the long jump—the Jesse Owens Triple—at the recently completed NCAA Outdoor Championships at Hayward Field in Eugene, Oregon. He accounted for 31.5 of Arkansas' 56 points at the national meet in becoming the first man to win three individual NCAA titles at a single meet since Owens in 1936.
Lawson is battling finalists Donavan Brazier (Texas A&M) and Edward Cheserek (Oregon) in the Bowerman Award fan vote which will count as one collective tally in the process of determining this year's winner. In ESPY consideration, Lawson is joined in the field by Derrick Henry (Alabama football), Buddy Hield (Oklahoma baseball), Jordan Morris (Stanford soccer) and Alex Dieringer (Oklahoma State wrestling).
Lawson will debut his ASICS gear in a return to Hayward Field for the 2016 Olympic Trials which begin July 1 and run through July 10. He will have three opportunities to secure a spot on Team USA as an entrant at 100 meters, 200 meters and in the long jump. More information including event schedules are available through the USATF Olympic Trials home page.
Jarrion Lawson on his new contract
"It was important to me to find a brand that fits me well. From the very first conversation I had with Asics they showed much interest in me and were really easy to get along with. I feel like they have my best interest in mind and will support me through my career. It's honestly everything and prayed and asked God for. I consider it a privilege and a blessing to be able to represent Asics and I couldn't be more excited to get to work."
For continued coverage and more information about Arkansas track and field, follow @RazorbackTF on Twitter.