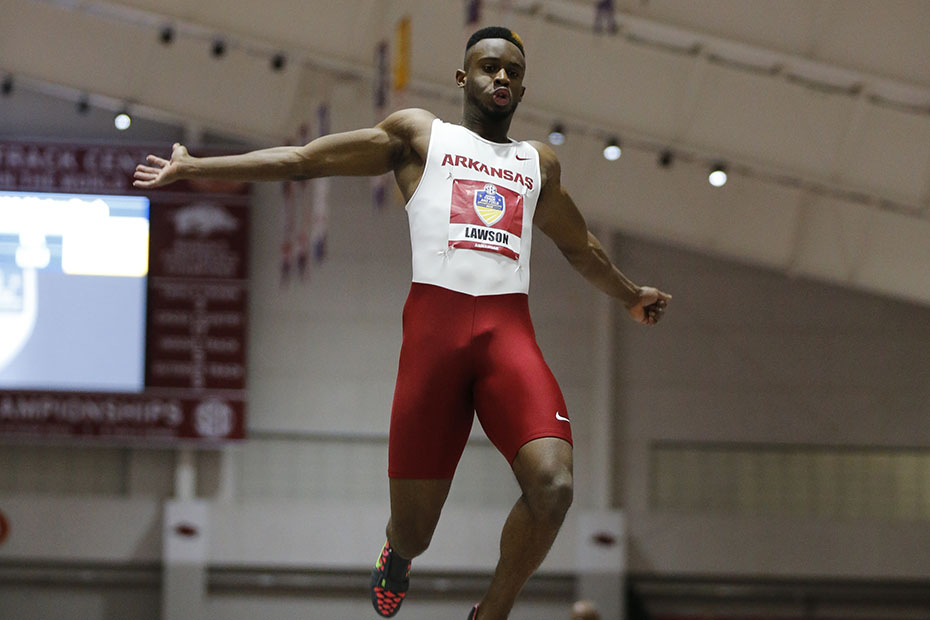 Lawson Holds Firm on Bowerman Watch List
NEW ORLEANS – Following the completion of the NCAA indoor season the Bowerman Watch List Committee announced its most recent selections as the track and field world gears up for the outdoor season. Arkansas senior Jarrion Lawson finds himself in the thick of the race for the prestigious trophy.
The Bowerman emerged in 2009 as the top award in collegiate track and field presented annually to the most outstanding male and female athletes in the country. Past recipients of the trophy include Olympians and World championship medalists.
One of the most dynamic talents in track and field Lawson has amassed 15 All-American honors in multiple events during his collegiate career. The veteran Razorback has garnered attention for his impressive long jumping ability and sprint speed which was showcased at the NCAA Indoor Championships. Lawson secured his third national crown coming in the form of the long jump. Waiting until his final attempt, Lawson bested the field with a clearance of 7.95m/26-1. Riding the momentum from his long jump title, Lawson, returned to the track in the 60 meter dash and raced to a time of 6.60. The new personal record propelled him to a fifth place finish.
Lawson played a critical part at the SEC Indoor Championships helping the Razorbacks claim their 33rd indoor conference title. With a long jump of 8.11m/26-7.25, Lawson captured an individual SEC gold medal finishing nine inches clear of second place. The senior also competed in the 60-meter dash coming in fourth with a time of 6.68 seconds and bringing in 15 points in the two events for the Razorbacks.
A product of Texarkana, Texas Lawson was a vital member for the Razorbacks in the indoor season and looks to build upon his accomplishments in the coming outdoor season. Lawson holds the best long jump mark among current collegiate competitors with 8.39m/27-6.5 which earned him the national indoor title in 2014.
The Bowerman Men's Watch List
Devon Allen, Oregon
Ronnie Baker, TCU
Donavan Brazier, Texas A&M
Edward Cheserek, Oregon
Ryan Crouser, Texas
Myles Hunter, Minnesota State
Jarrion Lawson, Arkansas
Nick Miller, Oklahoma State
Clayton Murphy, Akron
Zach Ziemek, Wisconsin
Also Receiving Votes: Zack Bilderback, Texas; Jake Blakenship, Tennessee; Cameron Burrell, Houston; Christian Coleman, Tennessee; Alex Young, Southeastern Louisiana.
Next Men's Watch List: Thursday, April 21
For more information on Arkansas track and field including in-meet updates, follow @RazorbackTF on Twitter.