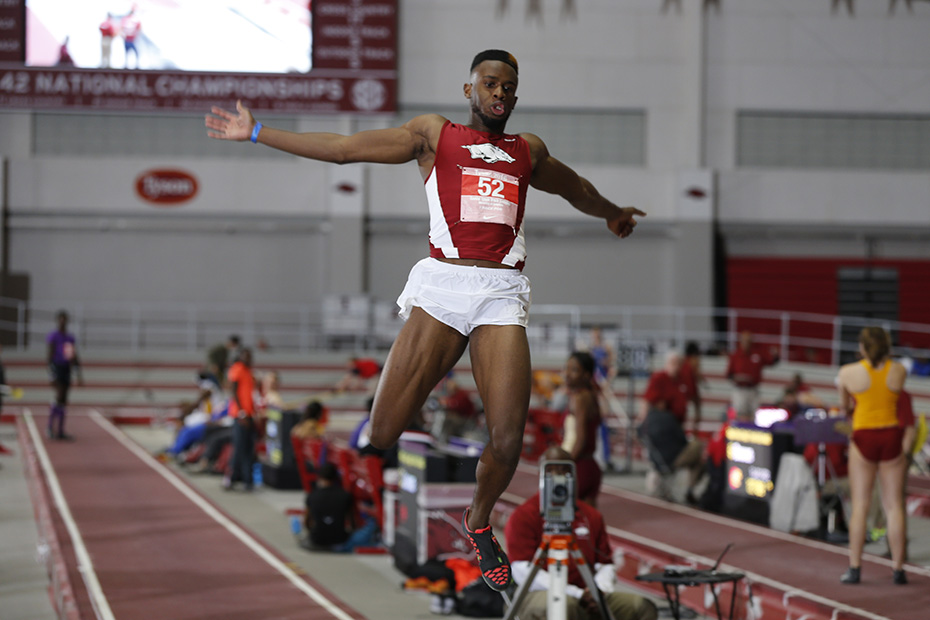 Lawson Maintains Bowerman Recognition
NEW ORLEANS – The Bowerman Men's Watch List released its Pre-NCAA Indoor Championships edition and once again Arkansas Phenom Jarrion Lawson found himself in the mix with 10 of the best track and field athletes in the nation.
The Bowerman emerged in 2009 as the top award in collegiate track and field presented annually to the most outstanding male and female athletes in the country. Past recipients of the trophy include Olympians and World championship medalists.
Recently Lawson, a former NCAA Champion, helped the Razorbacks capture their 21st SEC indoor title and 100th conference title overall. Lawson took home his own individual SEC gold medal in the long jump with a distance of 8.11m/26-7.25 finishing nine inches clear of second place. The senior also competed in the 60-meter dash coming in fourth with a time of 6.68 seconds.
Originally from Texarkana, Texas Lawson has been a key cog for the Razorbacks all season long picking up three qualifying positions for the NCAA Indoor Championships. Lawson holds the best long jump mark among current collegiate competitors with 8.39m/27-6.5 which earned him the national indoor title in 2014. The 12-time All-American heads into next weekend's NCAA competition as the co-leader in the long jump with a season's best mark of 8.17m/26-9.75.
One of the most dynamic talents in track and field Lawson has also garnered attention for his sprint speed. His 6.62 performance at the Razorback Invitational earned Lawson a share of the Arkansas's 60-meter dash record and entry into indoor nationals. An integral part of the 4×400 meter relay as well, Lawson guided the Razorbacks to another national qualifying time of 3:05.35.
The Bowerman Men's Watch List
Devon Allen, Oregon
Ronnie Baker, TCU
Jake Blankenship, Tennessee
Donavan Brazier, Texas A&M
Edward Cheserek, Oregon
Ryan Crouser, Texas
Brannon Kidder, Penn State
Jarrion Lawson, Arkansas
Nick Miller, Oklahoma State
Maicel Uibo, Georgia
Also Receiving Votes: Zack Bilderback, Texas; Najee Glass, Florida; Garrett Scantling, Georgia; Eric Sloan, Southern California; Izaic Yorks, Washington.
Next Men's Watch List: Thursday, March 17
For more information on Arkansas track and field including in-meet updates, follow @RazorbackTF on Twitter.