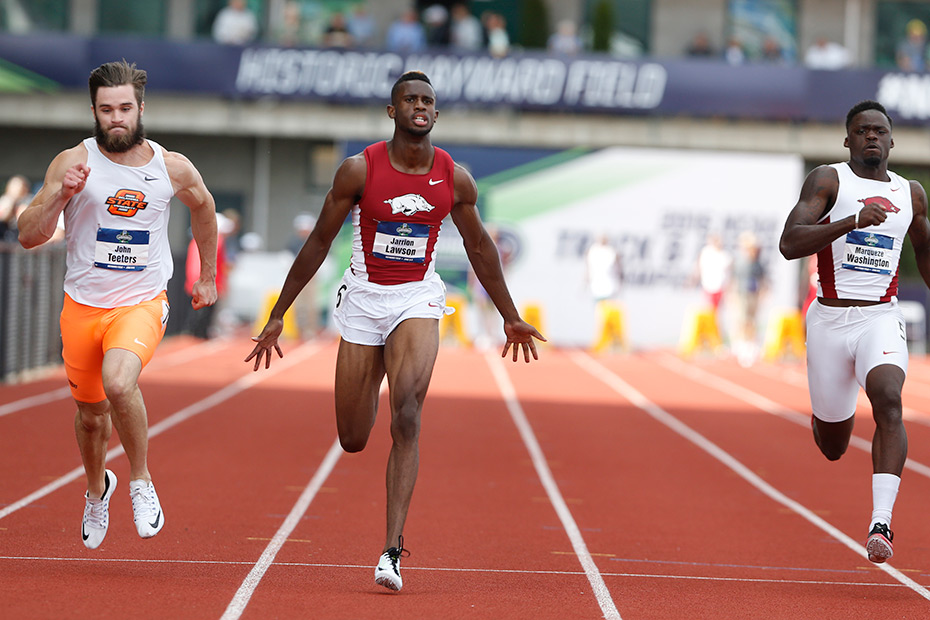 Legendary Performance
EUGENE, Ore. — Jarrion Lawson accomplished a feat Friday evening that hasn't been done in 80 years: Win three individual events at an NCAA Outdoor Championship.
The only student-athlete to equal Lawson's victories in the 100-meter dash, the 200 and long jump was track and field legend Jesse Owens in 1935 and 1936.
In addition to these accolades, Lawson is also the first Razorback champion in the 100 in program history, the only Razorback to ever win both a track and field national title and the first collegian since 2011 to win gold on the track and in the field since Florida State's Ngoni Makusha in 2011.
The Texarkana, Texas, native also became the fourth long jumper in Razorback history to win both the NCAA indoor and outdoor titles in the event.
The senior captain powered Arkansas to a second-place finish at the 2016 NCAA Outdoor Championship in Eugene, accounting for a team- and individual-best 31.5 points.
Lawson is also in consideration for claiming The Bowerman, the top award in collegiate track and field presented annually to the most outstanding male and female athletes in the country.
For more information on Arkansas track and field including in-meet updates, follow @RazorbackTF on Twitter.