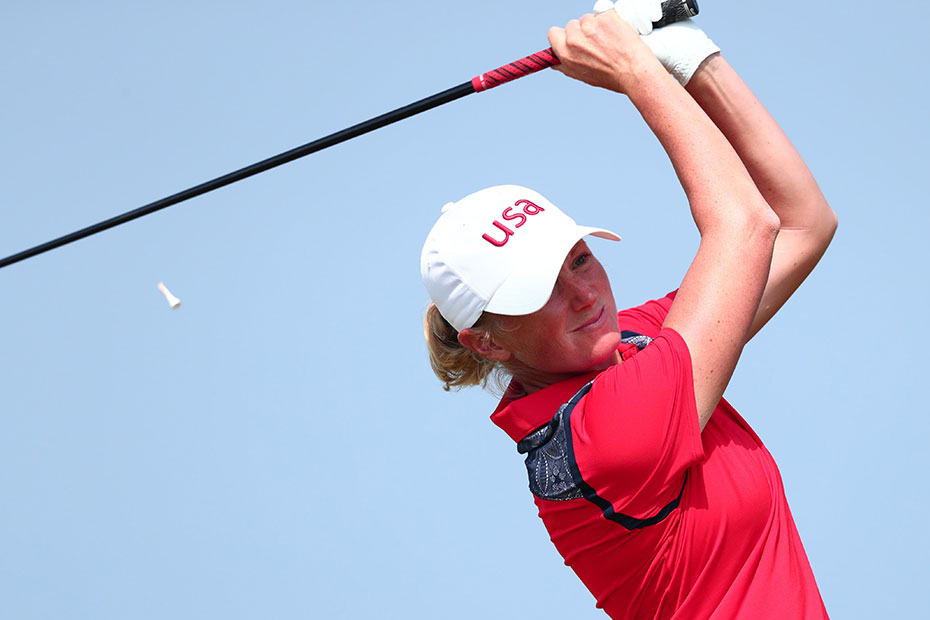 Lewis Honored As An SEC Legend
FAYETTEVILLE, Ark. – There are many words to describe former University of Arkansas All-American golfer Stacy Lewis – passionate, fierce competitor, loyal, intelligent, driven. Today we add the word legend as Lewis was named to the 2019 Southeastern Conference Women's Legends Team.
The 2019 SEC class of Legends honors former student-athletes, coaches and administrators at the conference women's basketball tournament, March 6-10, in Greenville, S.C. Lewis was honored at a banquet on Wednesday and was recognized at halftime of the Razorbacks' second round game at the SEC Tournament.
At Arkansas
Lewis played for the Razorbacks from 2005-08 and won the program's only NCAA Individual title. The four-time All-American and All-SEC selection earned 2005 SEC Freshman of the Year honors, 2008 SEC Player of the Year honors and won a pair of conference individual titles. Other collegiate honors include winning the 2007 Dinah Shore Trophy, being selected to the SEC Community Service Team twice, earning the 2008 SEC Women's Golf Scholar-Athlete Award, four SEC Academic Honor Roll and two ESPN The Magazine Academic All-America honors. Lewis graduated from Arkansas in 2008 with a degree in finance.
After Arkansas
Lewis went on to a professional career that includes 12 wins, two majors' victories, four Solheim Cup appearances and a fourth-place finish at the Olympics. Lewis earned a pair of Rolex Player of the Year honors, the GWAA Player of the Year, the LPGA Official Money List title and two Vare Trophy's.
More impressive than anything Lewis has done on the golf course are the things she has accomplished off the links. Lewis found herself in what she considered a slump – several runner-up finishes but no trophy for more that two years. Despite the pressure Lewis put on herself to win, her thoughts were not on the Cambia Portland Classic in September of 2017. Instead, Lewis' thoughts were on her husband, her family and her hometown of Houston as they endured the devastation that Hurricane Harvey dished out earlier that week.
Heading into the event, Lewis decided to pledge her check – no matter what that might be – to the relief efforts. News of her commitment went viral as did the number of people instantly cheering for a Lewis victory. The cards lined up and Lewis, who made some big shots on the final day, played to the win.
Lewis' thoughtfulness sparked action by others who also wanted to help with the hurricane effort. Her sponsor, KPMG, matched Lewis' contribution and other sponsors and friends added to the gift. The money raised was a significant boost to a neighborhood in Houston, but Lewis did more, showing up while pregnant to assist with the rebuilding efforts.
The Houston relief effort by Lewis is just one of the many ways the Razorback alum has used her success to make things better for others. She and husband Gerrod Chadwell, welcomed their first child in November.
KPMG stepped up again in support of Lewis and honored her entire contract, regardless of the number of events she played in. It was an unprecedented move by her sponsor and one that other sponsors quickly copied. Unknowingly to Lewis, she had now become a force for change in how female athletes could now have a family and still provide for their family financially.
Lewis has returned to the golf course this spring with baby in tow. She continues to live her life in a way that impacts those around her in a positive way. The University of Arkansas is proud she is a Razorback.
NCAA Championships
The University of Arkansas and Blessings Golf Club are the proud hosts of the 2019 NCAA Women's and Men's National Championships. The women's event begins May 17 and is immediately followed by the men's championship beginning May 24. For more information or to volunteer for the event, log on to www.NCAAGolf19.com.
More Information
Keep up with all of the latest news and information and get behind the scenes looks into our program on our social media accounts. Follow us on Twitter at @RazorbackWGolf and check out our Facebook page "Razorback Women's Golf." Stats, news and player information can be found at ArkansasRazorbacks.com.