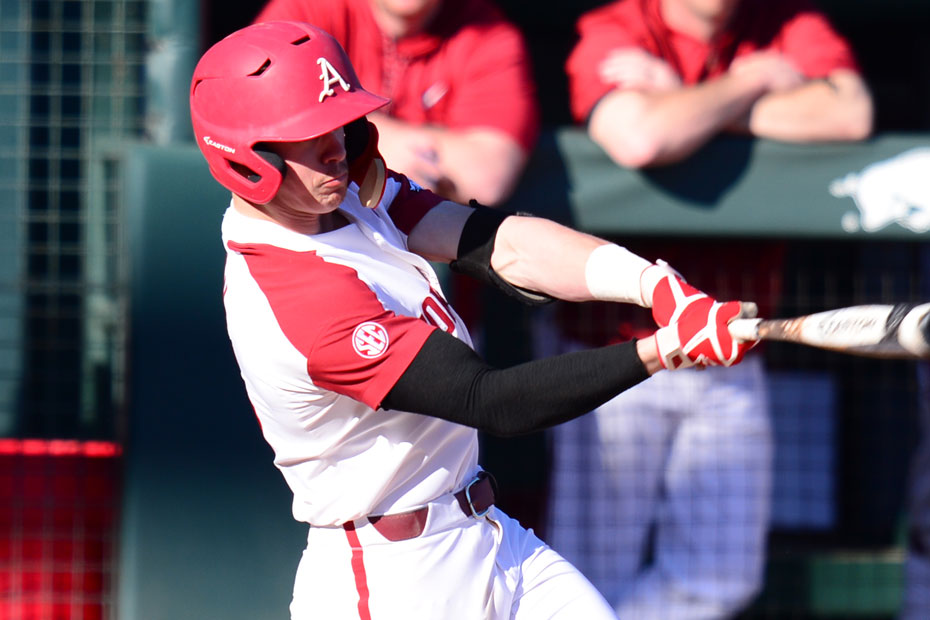 Long Ball Propels Arkansas To Series-Opening Win
FAYETTEVILLE, Ark. – With home runs from Dominic Fletcher, Eric Cole, and Casey Martin, coupled with another strong pitching performance from Blaine Knight, the No. 7 Arkansas Razorbacks cruised to a 7-3 win to open its series with Alabama Friday night at Baum Stadium.
Arkansas (30-13, 11-8 SEC) and Alabama (23-21, 5-14 SEC) matched each other run for run in the first two innings before the Hog offense flexed its muscles in the middle innings. Fletcher's home run in the third was part of a two-run inning that broke a 2-2 tie. It was his fifth of the year and one of three hits he had in the game as he went 3-for-4 with a run scored and a double.
With the win, the Razorbacks reach the 30-win plateau, making them one of only five teams in the SEC with 30 wins or more at this point in the season. It's also the 24th win at Baum Stadium this year and fifth-straight at home.
The Hitting
Four different Razorbacks recorded multi-hit performances in Friday night's game, while the team, combined, had 11 hits. It was the 26th game this year that the Razorback offense has recorded 10 or more hits in a game and the Hogs are 20-6 in those games.
The Hogs jumped on Alabama starting pitcher Sam Finnerty early in the first inning, scoring two runs before the first out. Martin provided the first RBI of the game with an infield single to the shortstop, followed by Alabama fielding error that led to the second run.
Martin went on to go 2-for-4 at the plate with two RBIs, his 15 multi-hit game of the year. He homered to lead off the fifth inning, a straight-away rocket to the centerfield portion of the Hog Pen, and build Arkansas' lead to 5-3. It was his ninth long ball of the year and second in conference play.
Arkansas went on to hit three home runs on the night, driving in four of their seven runs from the big swings. Dominic Fletcher continued his hot streak with a home run of his own in the third inning, his fifth of the season. Fletcher extended his hitting streak to six games with his three hits on Friday and is hitting .478 during that stretch.
Eric Cole, who took over as the lead-off batter Friday, went 2-for-5 with two runs scored and two RBIs, his ninth multi-RBI game of the year. His team-leading 10th home run of the year came in the sixth inning to push the Hogs ahead 7-3. Two innings later, he nearly homered again, this time from the other side of the plate, but fell just a couple of feet short of the wall.
The Pitching
Junior Blaine Knight gutted out a strong performance on the mound, going six innings strong with only three runs on three hits allowed to stay undefeated at 7-0. He also struck out six, giving him six appearances with six or more strikeouts this year.
Knight hit a milestone in the first inning when he struck out Cobie Vance to start the game for his 200th strikeout of his Razorback career. Knight joins just 12 other Razorback pitchers that have thrown 200 or more strikeouts in their careers. Overall this season, Knight has racked up 63 strikeouts. He struck out 96 a year ago and 46 as a freshman.
Tonight's outing was Knight's ninth of five innings or more. He has only gone short of five innings twice this year and has yet to give up more than three runs in each of his last three starts.
After Knight completed a nine-pitch sixth inning, he gave way to junior Jake Reindl, who finished the game with a three-inning save, his third save of the year. Reindl struck out four and scattered three hits over his scoreless outing. He's only allowed two runs over his last 16.2 innings and has also only allowed nine hits over that same span.
With his third save under his belt, he joins Matt Cronin as the only Razorback pitchers with multiple saves on the year and tonight's was Reindl's first coming in conference play.
Razorback Quotables
"Well, he looked like he wasn't hurt. He legged out a hit that got the inning going a little bit more. Hit a ball in there between the shortstop and third basemen and beat it out, showed how quick he was. Obviously, defensively, he turned a super double play, showed some really good arm strength, quickness. That play in the hole to his left was really nice. Oh yeah, he hit a ball about 400 feet. I would say he had a pretty good game." – Head coach Dave Van Horn on Casey Martin's return
"The diving play, it's almost like he makes one every series, or every other day. He's a very good defender. That ball was hit extremely hard by a left-handed hitter and the ball started backing up and coming back to him. He got inside that ball and hammered it, it started slicing and Dom made a great break on it." – Head coach Dave Van Horn on Dominic Fletcher
"Defense has definitely gotten better. Yeah, we got off to a slow start with it, but every team gets off to a slow start in some form or fashion of the game. We're picking it up, and like I said before Dom (Fletcher) is the best centerfielder in the country. I really didn't think he was going to get to that ball. I thought it was in for a hit, I started backing up a base and he came up with it which was huge. Big thanks to him, and he's going to keep doing it." – Blaine Knight on improved defense
"Usually, off the bat, I'll know if I can catch it or not, that one I didn't think I had a chance at it just kind of stayed up just long enough for me to get my glove underneath there." – Dominic Fletcher on his diving catch
"A lot people say defense wins championships, and I felt like tonight we were really good defensively overall. Outfield, infield, pitching, hitting, it was all good." – Casey Martin on Razorback defense
Up Next
Arkansas and Alabama return to the field for game two of the three-game series tomorrow at Baum Stadium. First pitch is set for 6 p.m. and will be televised online on SEC Network+.
For more information on Razorback Baseball, follow @RazorbackBSB on Twitter.