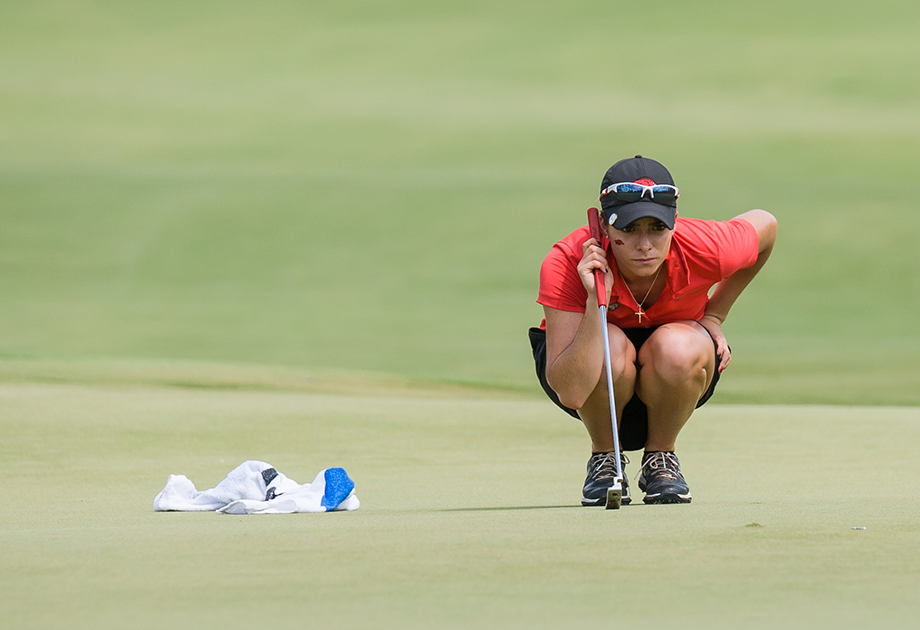 Lopez Goes Low
BRADENTON, Fla. – University of Arkansas junior Gabriela Lopez fired a two-under 70 and is tied for third place after first round action at the 2015 NCAA Women's Golf Championship in Bradenton, Fla., Friday.
Lopez's two-under was good enough for a share of the lead when she came off the Concessions Golf Course after the morning flight and she reminded in the top three at the end of the night when weather suspended the first round.
As a team, the No. 8 Razorbacks opened with a 310 in round one and were 11th of the 12 teams in the morning flight.  Play was delayed for the second flight for nearly an hour due to lightning and was stopped for a second time at 6:48 p.m. local time.  The NCAA suspended play for the remainder of the round at a7:15 p.m. with 12 teams still on the course.
Play will resume in the morning as teams finish round one.
Lopez and the Razorbacks opened their round on the 10th hole and played the first nine holes two-under.  Lopez bogeyed the 11th hole but got the stroke back with a three on the par four 12th hole, her third hole on the day.  Lopez pared the next two holes and picked up her second birdied on No. 15 with a three on the par four 363-yard hole.
She added her third birdie on the 17th hole to move to two-under.  Lopez really settled into her round on the 18th hole, the ninth hole of her afternoon.  It is a par four 358 yard hole leading up to the clubhouse.  Her tee shot was to the middle of the fairway in good position.
Her second shot got away from her and landed in the bunker right of the huge green.  After carefully reviewing her options with the difficult pin placement, Lopez blasted out of the sand onto the green where most of the spectators thought she would be lucky to make a bogey.
But Lopez had something else in mind.  The Mexico City, Mexico, native, had a perfect read on a 33-foot uphill putt and drained it for par.  It was one of the highlights of the day for Lopez.
After the great shot on No. 18, Lopez stumbled with a bogey on No. 1.  She said after the round that her adrenaline was so high after the long putt that she was a bit too pumped up and three-putted her next hole.  That was the wakeup call she needed as she settled into five consecutive par holes.
Lopez finished her day with seven pars and a birdie in her final eight holes.
Teammate Regina Plasencia finished with a first-day 77, followed by freshman Alana Uriell who posted an 80.  Summar Roachell opened with an 83 and Samantha Marks rounds out the Arkansas scored with an 85.
@RAZORBACKWGOLF LINEUP
T22           Arkansas                                          310                     +22
T3              Gaby Lopez (1)                                70                       -2
T77           Regina Plasencia (3)                      77                       +5
T107         Alana Uriell (2)                                 80                       +8
T122         Summar Roachell (5)                     83                       +11
T129         Samantha Marks (4)                       85                       +11
FROM HEAD COACH SHAUNA ESTES-TAYLOR
It was an amazing round by Gaby (Lopez) and I'm not surprised one bit.  It's a golf course that demands all of the tools that she has in her toolbox and she displayed those very well today with a ton on patience.  That is what you get out of a player like her.  We just need some consistency out of the rest of the team.  This is a big golf course and you can't let frustration win.  You have to stay patient.  You have to hit one shot at a time and the Blessings prepares us so well for this golf course.  We have to learn from today and go out and give it all we've got.
FROM GABRIELA LOPEZ
I learned that you have to stay patient out there today.  The course is tough enough so don't make it tougher with a bad attitude and bad positions.  That was one of my goals for today.  I came to the first tee knowing that I was going to commit to every shot.  I feel proud of myself for getting up and down from some tough spots.  I knew that I would make some mistakes out there so I didn't get mad at myself.  I was able to forgive myself and move on.
Tomorrow is a new round.  I need to do the same things I did today…just give myself a chance to make every shot.  I feel prepared and ready to go.
For more information on Arkansas women's golf, follow @RazorbackWGolf on Twitter.