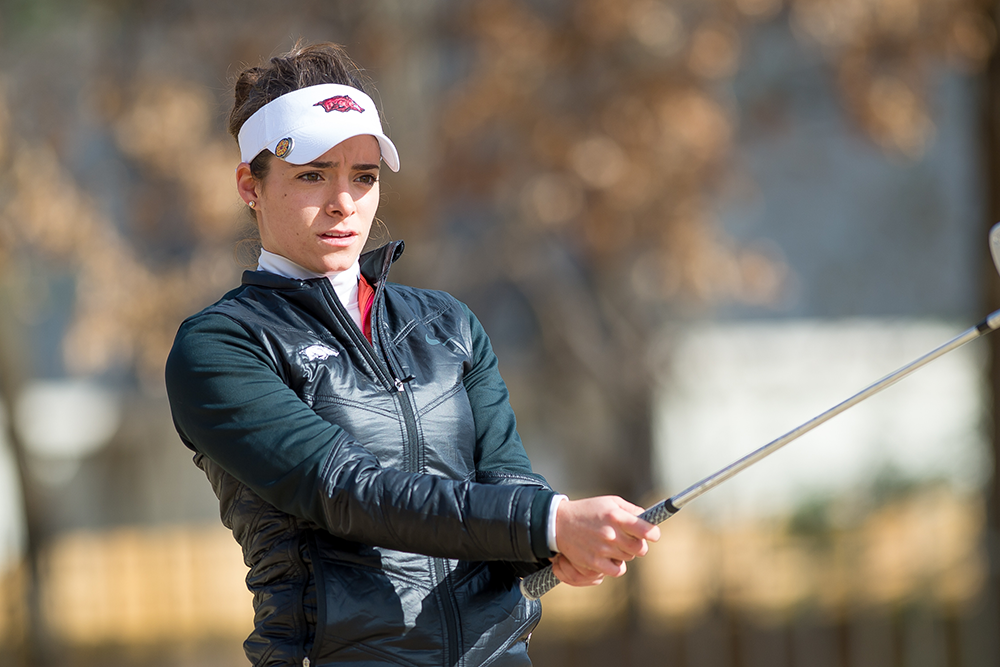 Lopez in Fifth After Second Round
HOOVER, Ala. – University of Arkansas junior Gabriela Lopez fired a two-under 70 and is in fifth place after second round action at the 2015 Southeastern Conference Women's Golf Championship on the Legacy Course at Greystone Golf and Country Club in Hoover, Ala., Saturday.
Lopez helped the ninth-ranked Razorbacks shave seven strokes off the team total with Arkansas shooting 293 in the second round. The Razorbacks are tied for seventh place with a 593.
The heavy rains that plagued the first round gave way to wet conditions, higher temperatures and more humidity in the second round. Lopez used that to her advantage with a three birdie, one bogey round, including a birdie on her final hole of the day.
The Mexico City, Mexico, native is five strokes back of the leader shooting 71-70=141.
Freshman Alana Uriell continued to play well in her second round. The Carlsbad, Calif., native opened play with a 73 and paired it with a74 Saturday for 147. She is tied for 21st. Sophomore Samantha Marks also made a big improvement shooting 73 in round two. Marks opened with an 81 and is tied for 47th overall with 154.
Sophomore Summar Roachell is tied with Marks in 47th place shooting 77-77=147. Junior Regina Plasencia rounds out the Razorback scoring. Plasencia is tied for 50th with 79-76=155.
Heavy rains are again expected in the overnight hours and officials have set a 10 a.m. shotgun start for the final round Sunday.
Inside The Ropes With Shauna Estes-Taylor
We definitely had some good stuff out of Gaby (Gabriela Lopez) today. To shoot two-under her is a solid round of golf. We also had another solid round out of Alana (Uriell). That was great stuff out of a freshman. I think Samantha (Marks) rebounded today with a 73 which is good. Our leaders, Summar (Roachell) and Regina (Plasencia) struggled a little bit. It is uncharacteristic of them in this type of environment. I think they will both learn from that and rebound from it and give themselves a chance to go out and play some good golf tomorrow.
We are going to put on our boots and go climb. That is all that we can do. Texas A&M shot 11-under today so we know that it is getable. The course is soft and the ball stops exactly where it is supposed to. We need to get some birdies and some putts to fall. We haven't all struck at the same time and we're due.
@RazorbackWGolf Lineup
7 Arkansas 300 293 593
5 Gaby Lopez (1)
71 70 141
T21 Alana Uriell (5)
73 74 147
T47 Summar Roachell (3)
77 77 154
T47 Samantha Marks (4)
81 73 154
T50 Regina Plasencia (2)
79 76 155
Team Results
1 No. 13 Texas A&M 293-277=570 -6
2 No. 2 South Carolina 299-280=579 +3
3 No. 14 Tennessee 293-291=584 +8
4 No. 17 Vanderbilt 293-292=585 +9
5 No. 30 Alabama 300-288=588 +12
6 No. 4 LSU 299-293==592 +16
7 No. 9 Arkansas 300-293=593 +17
8 No. 19 Florida 299-295=594 +18
9 Georgia 306-289=595 +19
10 No. 8 Mississippi State 308-291=599 +23
11 No. 35 Auburn 307-297=602 +26
12 Kentucky 307-297=604 +28
13 Missouri 307-302=609 +33
14 Ole Miss 310-307=617 +41
For more information on Arkansas women's golf, follow @RazorbackWGolf on Twitter.