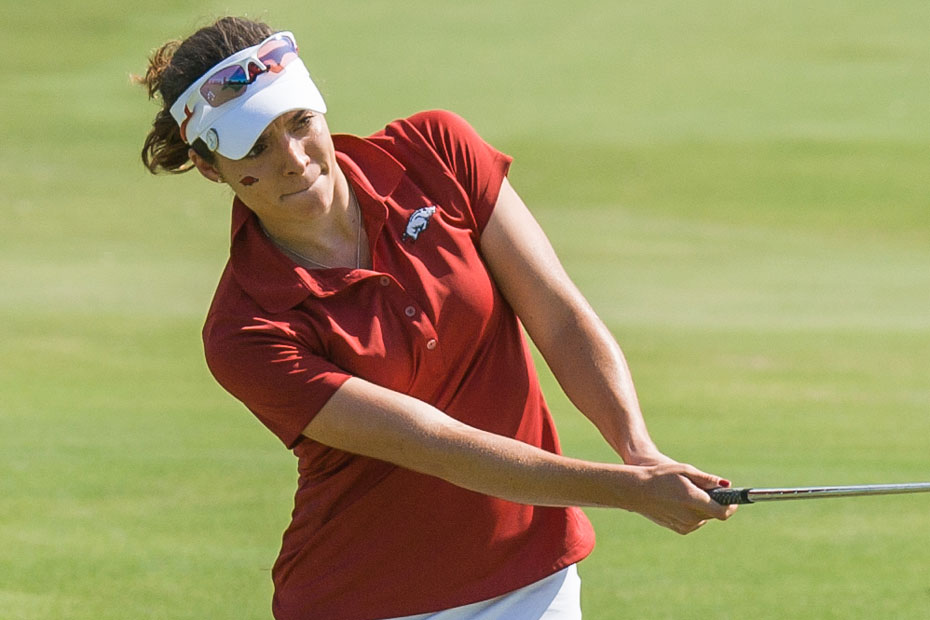 Lopez Named To WGCA All-American Scholars List
FAYETTEVILLE, Ark. – University of Arkansas women's golf coach Shauna Estes-Taylor knew she had something special when she signed Gabriela Lopez and Lopez has lived up to that billing her entire career.
This week, Lopez adds her third selection to the Women's Golf Coaches Association All-American Scholars list, joining 757 collegiate golfers on one of the most stringent academic teams in the country.  The Mexico City native was also selected in 2013 and 2014.
To be selected student-athletes must have at least a 3.50 cumulative grade point average and compete in a minimum number of events for their team.
Lopez's selection is the 23rd overall by the 10th Razorback student-athlete in the program's history.
Several other Razorback women's golf student-athletes were also successful in the classroom this season.  Kayli Quinton and Shawn Rennegarbe were both named to the Razorbacks Athletics Department Academic Champions list with perfect 4.0 GPAs in the fall of 2014, with Rennegarbe repeating in the spring of 2015.
Olivia Lavy earned selection to the Razorbacks Athletics Department Athletic Director's List with a GPA in the 3.5-3.99 range in the fall of 2014, while Lopez, Regina Plasencia and Quinton were on the AD's List in the spring of 2015.
Freshman Jordy LaBarbera, Lopez, Samantha Marks, Plasencia, Summar Roachell and Alana Uriell earned selection to the Razorbacks Athletics Department Honor Roll with grades in the 3.00-3.49 range for the fall of 2014, with LaBarbera, Lavy, Marks and Roachell back on the list for the spring of 2015.
The Razorbacks women's golf team also had several selections to the SEC Academic Honor Roll.  Lavy, Lopez, Plasencia, Quinton and Roachell represented Arkansas while Marks, LaBarbera and Rennegarbe were all named to the SEC First-Year Academic Honor Roll.
Lopez is in Lancaster, Pa., this week taking part in the U.S. Women's Open along with teammate Plasencia.  The duo qualified in a pair of sectional qualifiers earlier this year.  #ProHogs Stacy Lewis is also in the field as one of the headliners this week.
For more information on Arkansas women's golf, follow @RazorbackWGolf on Twitter.