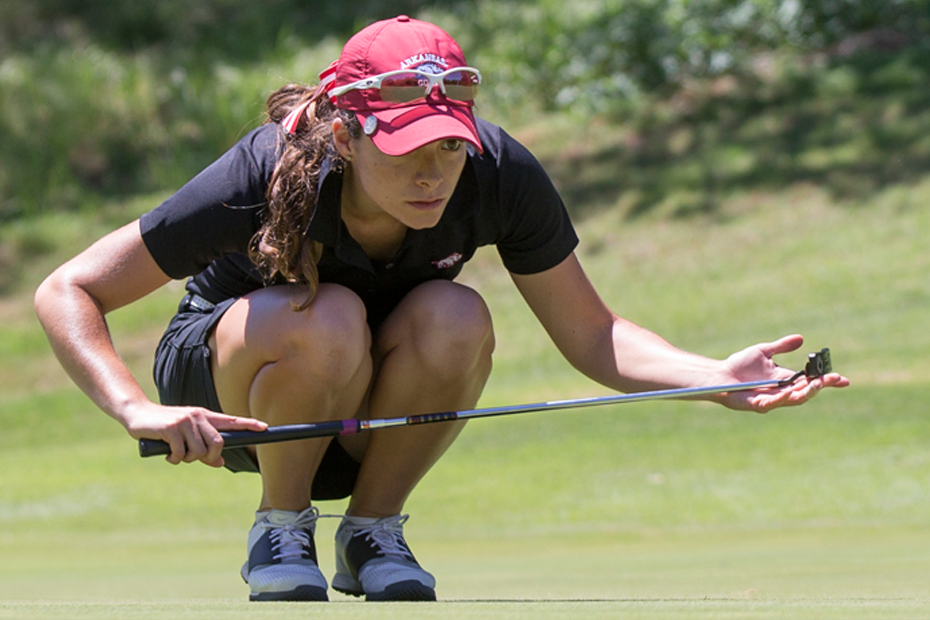 Lopez, No. 4 Arkansas In The Lead
CHARLESTON, S.C. – University of Arkansas senior Gabriela Lopez posted a four-under 68 and is tied for the lead guiding the fourth-ranked Razorbacks to a first-round lead at the Powerade Cougar Classic in Charleston, S.C., Sunday.
Lopez and the Razorbacks have a six-shot lead over No. 31 UCF with three of the five players in the top 10 to start the tournament.  Senior Regina Plasencia is tied for fifth shooting two-under 70 and junior Summar Roachell is tied for eighth with a one-under 71.  Sophomore Alana Uriell is tied for 24th with 73 followed by junior Samantha Marks who shot 75 and is tied for 47th overall.
Lopez opened strong at the Yeamans Hall course with a birdie on the first hole.  She added two more on holes six and seven before counting a double on eight to turn one-under for the first nine.  Lopez picked up her fourth birdie on the 10th hole and finished strong with two more on the 15th and 17th holes.
Plasencia was equally solid with birdies on the fourth and seventh holes.  She would bogey 16 but got it back with a birdie on the 18th hole.  Roachell turned plus-one and played the back nine two-under with birdies on the 17th and 18th holes.
Arkansas returns to the course playing with SEC rivals No. 24 Florida and No. 37 Auburn with tee times beginning at 11:55 a.m.
From Shauna Estes-Taylor
Obviously we are off to a solid start.  We want to continue to put ourselves in a position to challenge ourselves.  Being on top gives us a chance to accomplish our goals but we have to go out and take care of business.  We have to prepare and continue to do the things we need to do to be successful on this golf course.  We have to control our emotions and commit to golf shots.
I'm really proud of Gaby (Lopez).  Coming back after a bit of a break and she is in the lead.  Regina (Plesencia) was solid and I can't say enough about Summar (Roachell) who birdied her last two holes.  It was a total group effort and we have two more days to work hard and accomplish our goals.
The Field
| | | |
| --- | --- | --- |
| No. 4 Arkansas | -6 | 282 |
| No. 31 UCF | E | 288 |
| No. 10 Wake Forest | +1 | 289 |
| No. 66 Georgia | +2 | 290 |
| No. 24 Florida | +2 | 290 |
| No. 15 Virginia | +5 | 293 |
| No. 39 NC State | +6 | 294 |
| No. 82 Indiana | +6 | 294 |
| No. 80 Michigan | +9 | 297 |
| No. 98 Clemson | +9 | 297 |
| No. 32 Furman | +10 | 298 |
| No. 37 Auburn | +10 | 298 |
| No. 52 North Carolina | +11 | 299 |
| No. 17 Mississippi State | +14 | 302 |
| College of Charleston | +15 | 303 |
| No. 55 Wisconsin | +15 | 303 |
| No. 104 Penn State | +16 | 304 |
| No. 110 Maryland | +20 | 3008 |
| No. 119 Charleston Southern | +31 | 319 |
| No. 176 UNCG | +32 | 320 |
Arkansas Individuals
1 Arkansas
282
T1
Gaby Lopez (1)
68
T5
Regina Plasencia (2)
70
T8
Summar Roachell (3)
71
T24
Alana Uriell (5)
73
T47
Samantha Marks (4)
75