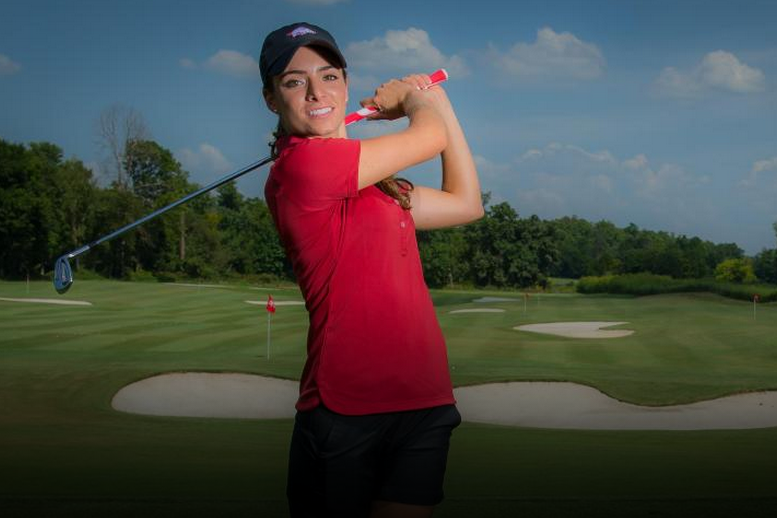 Lopez posts solid second round
TEMPE, Ariz. – University of Arkansas junior Gabriela Lopez fired a second round 70 and is tied for seventh place after two rounds at the PING/ASU Invitational in Tempe, Ariz., Saturday.
Lopez carded back-to-back 70's and is in the clubhouse with a four-under 140, just two strokes off the lead in the final regular season event of the year for the Razorbacks.
The seventh-ranked Razorbacks struggled in the second round on the par 72, 6,223 yard Karsten Golf Course, falling nine spots into a tie for 10th place. Arkansas opened with a 284 and battled to a 298 Saturday for 582, 16 shots off the lead.
Lopez was the only Razorback under par Saturday. The Mexico City, Mexico, native was solid on the more challenging front nine turning even with a birdie and a bogey. She was cruising on the back nine as well with four consecutive bogeys on holes 11, 12, 13, and 14 moving to four under. A double on the 16th hole moved her back to two-under where she finished the day.
Junior Regina Plasencia moved into a tie for 23th with a second-round 75. Plasencia is in the clubhouse with a 69-76=144, with one round remaining.
Sophomores Samantha Marks and Summar Roachell are tied for 52nd overall. Marks shot 72-77=149, while Roachell counted 73-76=149. Freshman Alana Uriell rounds out the Razorback scores with a 78-77=155 and is tied for 82nd.
Inside The Ropes With Shauna Estes-Taylor
It was obviously a little bit of a struggle today. I know that the team is disappointed. We counted some big numbers and we didn't do that yesterday. It is a game that you have to bring it every day and we didn't do that. Fortunately, this is a golf course that is get-able. We tidied up a couple things in our practice round today and we look forward to the opportunity to get better tomorrow. We can do some damage tomorrow with a good round of golf and we want to get some momentum as we head to SECs next week.