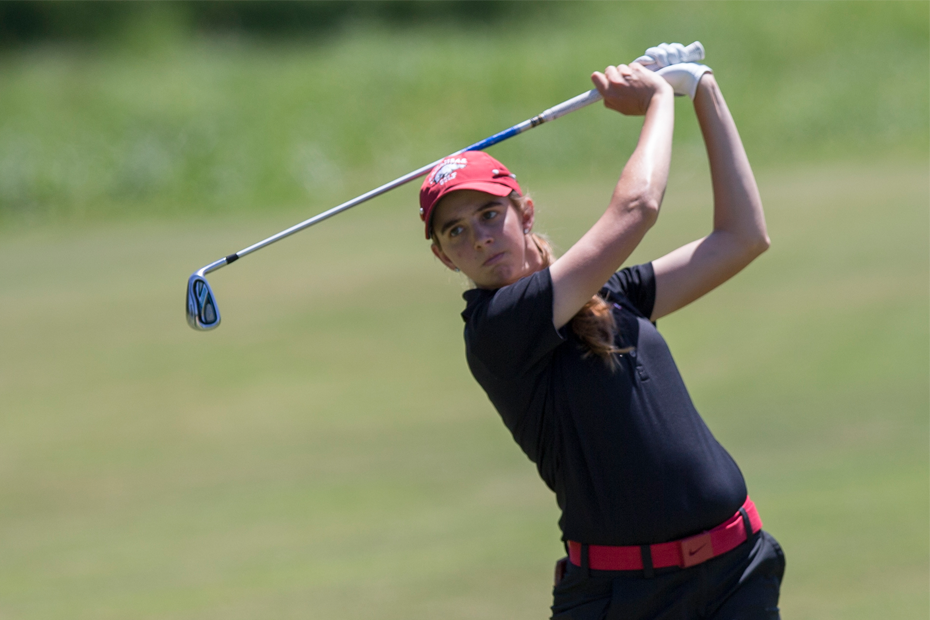 Lopez, Roachell Winners At Liz Murphey
ATHENS, Ga. – The University of Arkansas women's golf team dropped its final match Sunday but junior Gabriela Lopez and sophomore Summar Roachell picked up individual wins at the Liz Murphey Intercollegiate Classic in Athens, Ga.
The Razorbacks fell to Northwestern, 4&1, and to South Carolina, 3.5-1.5, Saturday, and fell to UCLA, 3-2, in the final match. Friday's format for the Liz Murphey schedule featured 18 holes of stroke play where the Razorbacks finished third overall. Those results determined the individual medalist and the seedings for match play competition.
Junior Regina Plasencia had a solid weekend. She won her first collegiate title shooting 71 in stroke play action Friday.  She was the only Razorback to win both of her matches Saturday.  Plasencia dropped her match to Erynne Lee of UCLA, 4&3.
Lopez finished her second match against South Carolina square and carried that momentum over to Sunday defeating Louise Ridderstrom 2-up.
Roachell defeated Lydia Choi 1-up for her win.
@ESTES-TAYLOR
Overall, our Friday play put us in a good spot and that is really what mattered for us.  I saw some weak spots in the match play format that we have to come home and work on as it has become a big part of our postseason now.  These match play opportunities are so good, so beneficial.  Every time we compete, this team learns and they were challenged and it was good to see them preserve.  We are going to come home and get ready for Arizona next week.
The Field (Golfstat.com rankings)
Round One Stroke Play Friday
| | | |
| --- | --- | --- |
| No. 4 UCLA | 391 | +13 |
| No. 3 South Carolina | 308 | +20 |
| No. 7 Arkansas | 309 | +21 |
| No. 5 Duke | 310 | +22 |
| No. 34 Baylor | 311 | +23 |
| No. 9 Northwestern | 315 | +27 |
| No. 73 Georgia | 317 | +29 |
| No. 1 Southern California | 317 | +29 |
| No. 38 Purdue | 318 | +30 |
| No. 16 Stanford | 319 | +31 |
| No. 20 Alabama | 320 | +22 |
| No. 29 Auburn | 323 | +35 |
Match Play Schedule
Red Bracket-Saturday Morning
Northwestern 4, Arkansas 1
Hana Lee, Northwestern, def. Summer Roachell, Arkansas, 6-and-4
Kaitlin Park, Northwestern, def. Jordy LaBarbera, Arkansas, 2-and-1
Kacie Komoto, Northwestern, def. Samantha Marks, Arkansas, 3-and-2
Regina Plasencia, Arkansas, def. Hannah Kim, Northwestern, 4-and-3
Suchaya Tangkamolprasert, Northwestern, def. Gabriela Lopez, Arkansas, 2-up
Red Bracket-Saturday Afternoon
South Carolina 3.5, Arkansas 1.5
Regina Plasencia, Arkansas, def. Sarah Schmelzel, S. Carolina, 3-and-2
Justine Dreher, S. Carolina, vs. Gaby Lopez, Arkansas, All square
Katelyn Dambaugh, S. Carolina, def. Samantha Marks, Arkansas, 6-and-5
Ainhoa Olarra, S. Carolina, def. Jordy LaBarbera, Arkansas, 2-up
Jiaxin Yang, S. Carolina, def. Summer Roachell, Arkansas, 3-and-2
Red Bracket – Sunday Morning
UCLA 3, Arkansas2
Erynne Lee, UCLA def. Regina Plasencia, Arkansas, 4-and-3
Gabriela Lopez, Arkansas def. Lousie Ridderstrom, UCLA, 2-up
Summar Roachell, Arkansas def. Lydia Choi, UCLA, 1-up
Erin Choi, UCLA def. Jordy LaBarbera, Arkansas, 5-and-4
Bronte Law, UCLA def. Samantha Marks, Arkansas, 3-up