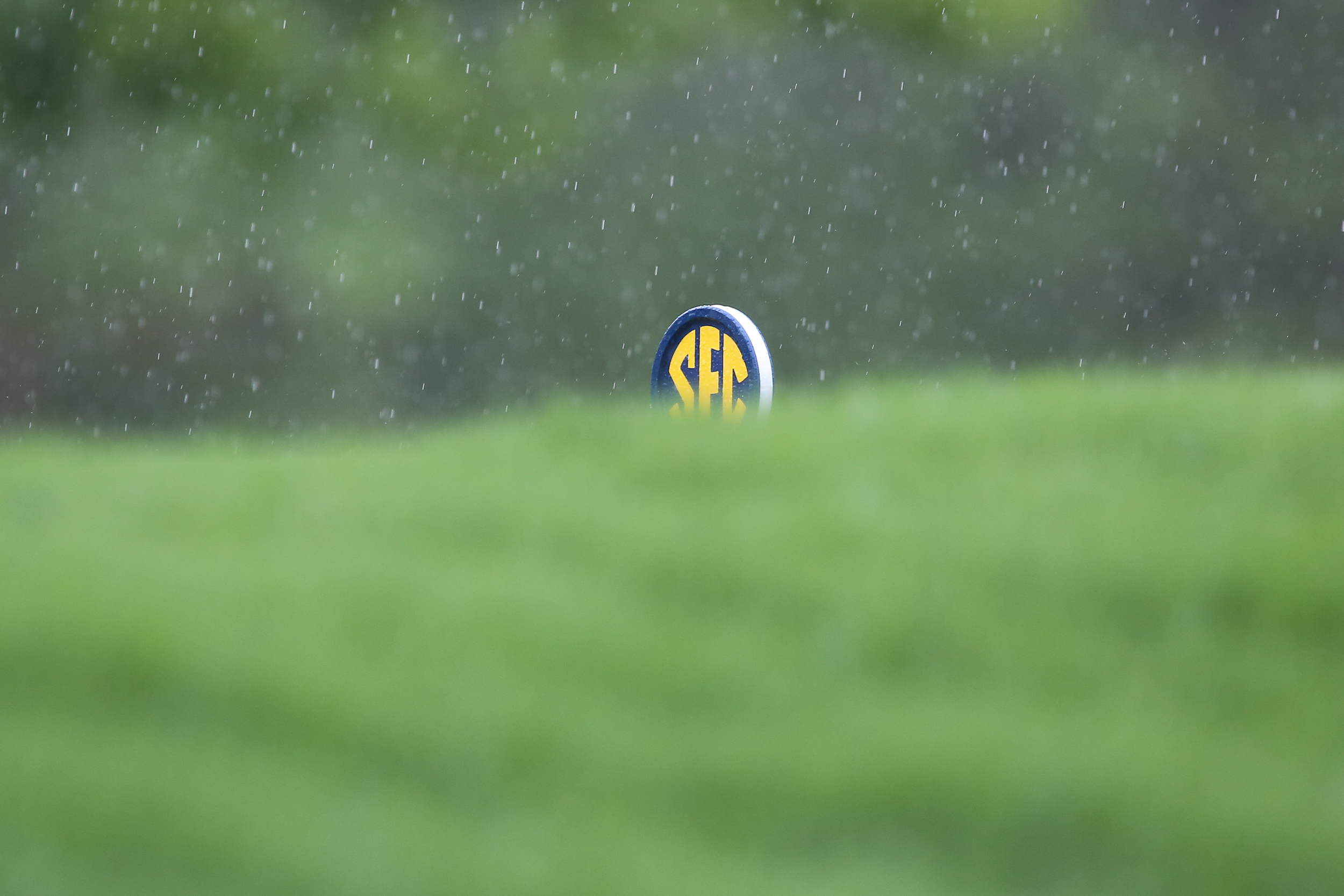 Lopez, Uriell Lead @RazorbackWGolf At SEC Championship
HOOVER, Ala. – Junior Gabriela Lopez posted a one-under 71 leading the ninth-ranked University of Arkansas women's golf team into a tie for seventh place after round one of the 2015 Southeastern Conference Women's Golf Championship on the Legacy Course at Greystone Golf and Country Club in Hoover, Ala., Friday.
Freshman Alana Uriell is in the clubhouse with a one-over 73 and is tied for 11th overall in her first SEC Championship as Arkansas rallied late in tough conditions.
Heavy rains forced the cancelation of Thursday's practice round after just five start-and-stop holes. The rains and cooler temperatures continued through the round on Friday with many of the fairways holding several inches of standing water.
Lopez's 71 was one of just eight subpar rounds on the day and she is tied for sixth place overall. She paced the Razorbacks to a first-day 300, just seven strokes off the lead after one round.
The Mexico City, Mexico, native started her day on the fourth hole as the rain forced a 10 a.m. shotgun start Friday. She bogeyed five but got the stroke back with a birdie on the par four seventh hole as her round continued. Lopez picked up a bogey on 13 and moved back to even with a great putt on the 18th hole. She followed up with another birdie on hole one to round out her day.
Uriell had three birdies and four bogeys for the day.
Sophomore Summar Roachell finished the round shooting five-over 77 and is tied for 36th overall. Junior Regina Plasencia posted a 79 and is tied for 46th while sophomore Samantha Marks is tied for 60th with a first round 81.
Arkansas is just seven strokes off the three-way tie for the lead. The thirteenth-ranked Texas A&M Aggies are tied with No. 14 Tennessee and No. 17 Vanderbilt with 293. Florida, ranked No. 19, No. 4 LSU and No. 2 South Carolina are all tied fourth at 299. The Razorbacks, along with No. 30 Alabama, are just one shot back with 300.
The rest of the field includes Georgia in ninth with 306, No. 35 Auburn, Missouri and Kentucky tied for 10th with 307, No. 8 Mississippi State is 13th with 308 and Ole Miss is 14th at 310.
Play continues with a 10 a.m. shotgun start on Saturday. Rain is again predicted to move into the area around 3 p.m.
INSIDE THE ROPES WITH SHAUNA ESTES-TAYLOR
It was about attrition today. You just have to commit and be a bit of a mud Hog out there if you will. We kinda climbed a bit there at the end and we're not too far back and we didn't play our best golf. I'm really proud of Alana who came out and did a fantastic job of shooting one over for us. And then Gaby's one-under was just tremendous fight. It shows her leadership on the golf course. Summar grinded for us out there today. She made a 15-footer on the last hole for par and she did some things to keep herself in it. We are just praying for two more days for a chance to play and catch up.
@RazorbackWGolf Lineup
| | | | |
| --- | --- | --- | --- |
| T6 | Gabriela Lopez | 71 | -1 |
| T11 | Alana Uriell | 73 | +1 |
| T36 | Summar Roachell | 77 | +5 |
| T46 | Regina Plasencia | 79 | +7 |
| T60 | Samantha Marks | 81 | +9 |
Team Results
| | | | |
| --- | --- | --- | --- |
| T1 | No. 13 Texas A&M | 293 | +5 |
| T1 | No. 14 Tennessee | 293 | +5 |
| T1 | No. 17 Vanderbilt | 294 | +5 |
| T4 | No. 19 Florida | 299 | +11 |
| T4 | No. 2 South Carolina | 299 | +11 |
| T7 | NO. 9 ARKANSAS | 300 | +12 |
| T7 | No. 30 Alabama | 300 | +12 |
| 9 | Georgia | 306 | +18 |
| T10 | No. 35 Auburn | 307 | +19 |
| T10 | Kentucky | 307 | +19 |
| T10 | Missouri | 307 | +19 |
| 13 | No. 8 Mississippi State | 308 | +20 |
| 14 | Ole Miss | 310 | +22 |