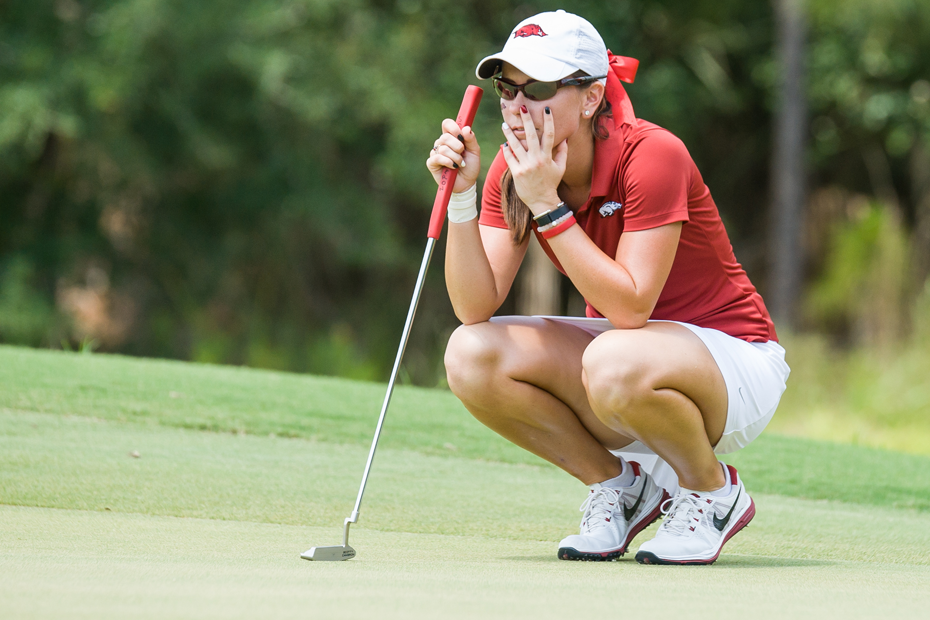 Marks Eliminated In 19 Holes
PLACIDA, Fla. – University of Arkansas sophomore Samantha Marks battled to the end but fell in 19 holes in the quarterfinal match of the 86th Women's Amateur at the Coral Creek Club in Placida, Fla., Tuesday.
Tuesday's match was a back-and-forth battle for 19 holes.  Eventual winner Emily Rymer took the lead first winning the third hole but Marks squared the match winning the fourth hole.
Rymer won the fifth hole but again Marks rallied winning the seventh hole squaring the match for the second time.  The players halved the holes until Marks grabbed the lead winning the 11th hole.  She hung on to the advantage until the 14th hole when Rymer evened the match for third time.
Marks took the lead on No. 15 and held on for two more holes but Rymer squared the match on 18 forcing extra golf. Rymer won the 19th hole, winning the match.
Marks posted rounds of 69-75=144 on the opening days of stroke play Saturday and Sunday.  Her first-round, two-under 69 featured for birdies.  She finished stroke play with five total birdies and 25 pars.
She opened match play in the round of 32 Monday morning taking on Alexa Pano and winning 3 and 2.  Marks grabbed the lead on the third hole but Pano squared the match winning the sixth hole.  Marks reclaimed the lead on the seventh hole and would never trail in the match.
The win moved Marks on to the round of 16 where she defeated Navika Kuchakulla 6 and 4.  Marks dominated the match winning the first hole and never trailing.  She went on to win holes seven, eight, nine and 10 moving to four up and finished strong winning the 13th and 14th holes to seal the victory.
For more information on Arkansas women's golf, follow @RazorbackWGolf on Twitter.