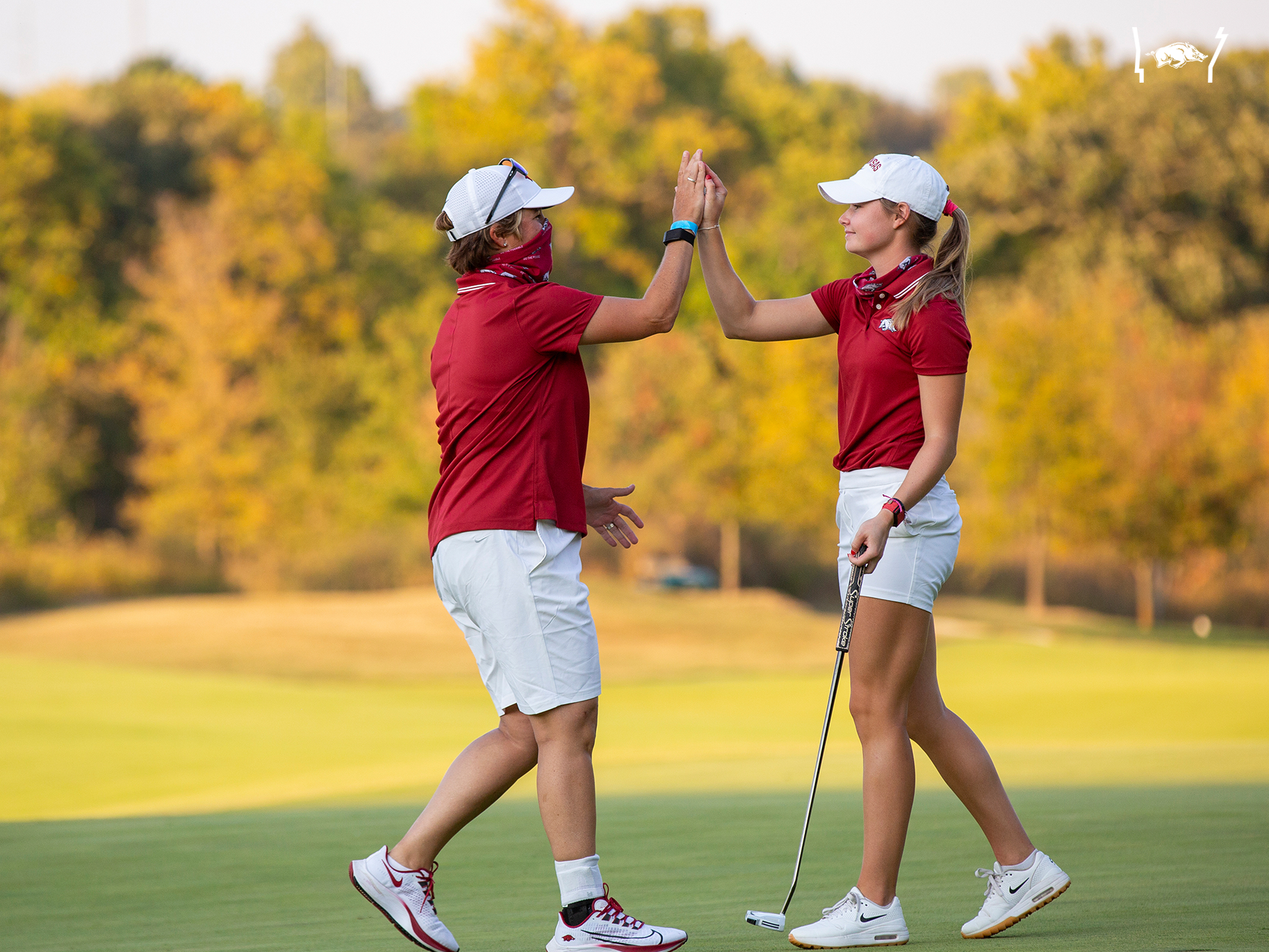 Matthews Finishes Second, Arkansas Ties for Ninth at The Ally
WEST POINT, Miss. – Arkansas Women's Golf held steady on the leaderboard on day three at The Ally, as Head Coach Shauna Taylor's Hogs finished tied for ninth at the 54-hole event (294-289-296 – 879). Redshirt junior Brooke Matthews finished as the event's runner-up (71-70-68 – 209), trailing only Pauline Roussin-Bouchard (71-66-65 – 202) of South Carolina, who guided the Gamecocks to the team title as well (287-281-284 – 852).
The story for Razorbacks continues to be Matthews, as the redshirt junior from Rogers continues to deliver. Her runner-up finish at The Ally comes on the heels of her dominant performance at the Blessings Collegiate Invitational, where she won the individual title by five strokes. Matthews got better every day at the Ally, using a third-round 68 to ascend the leaderboard, moving up from seventh all the way to second during the final round. Her scorecard was clean on day three, as she birdied four times while avoiding any bogeys. After six rounds this season, Matthews has played just one round over par. Additionally, both of Matthews best 54-hole scores (206 & 209) have come over her last two events played.
Sophomore Ela Anacona finished second on the leaderboard among Hog participants, firing a 222 (+6) over the three-day event. She fired a 77 on the final day, good enough for a share of 38th place.
In the third slot for Taylor's Hogs was Kajal Mistry, who played another solid round, carding a two-over 74 on day three of The Ally. The sophomore finished tied for 45th, courtesy of her three-round 223.
Freshman Cory Lopez and sophomore Julia Gregg both fired 77s during the final round. For Lopez, that was good enough to give her a share of 49th. Gregg, meanwhile, finished 67th.
The Razorbacks have one event left during the fall season, as they will head to Athens, Georgia, for the Liz Murphey Fall Collegiate Classic. That tournament will start on Nov. 6 and will run through Nov. 8.
More Information
Keep up with all of the latest news and information and get behind the scenes looks into our program on our social media accounts. Follow us on Twitter at @RazorbackWGolf and check out our Facebook page "Razorback Women's Golf." Stats, news and player information can be found at ArkansasRazorbacks.com.