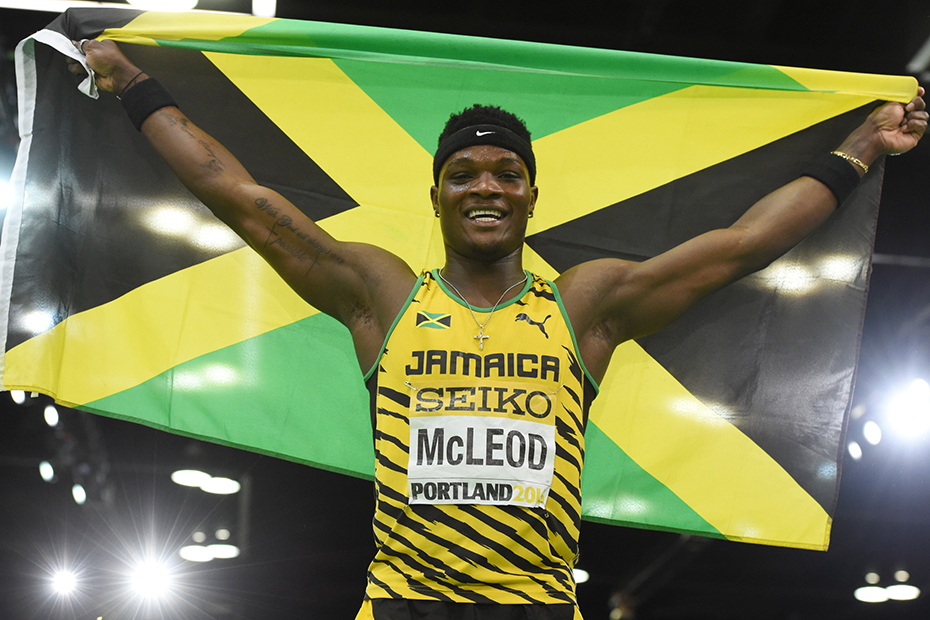 McLeod on Top of the World
PORTLAND, Ore. — Four-time NCAA champion, Omar McLeod added another gold medal to his collection on Sunday afternoon with a victory in the 60-meter hurdles at the 2016 IAAF World Indoor Track and Field Championships.
Coasting through to the finals off heat victories in the preliminary and semifinal rounds McLeod proved he had much more left in the tank with an outstanding showing in his last performance of the weekend. The sprint hurdle phenom raced to a new personal best time of 7.41 in the event besting French hurdle duo Pascal Martinot-LaGarde and Dimitri Bascou. McLeod's new PR matched Bascou's world leading mark propelling the new professional to the top of the 60 hurdles leader board for 2016.
"It's a great feeling," said McLeod. "Never in a million years did I think that I'd be a world champion at the age of 21, but it was a great race. I knew I had a lot of competition. Hats off to these two amazing competitors. I knew they were going to get out. The goal was for me get out. My coach said that if I wanted to win the race I needed to get out from the start and use tunnel vision right through and I did just that and I'm grateful."
Successfully capping his first professional indoor season undefeated in the 60-meter , McLeod will return to Fayetteville, Arkansas to continue his training in preparation for outdoor competition.
60-Meter Hurdles Results
1. Omar McLeod (7.41)
2. Pascal Martinot-LaGarde (7.46)
3. Dimitri Bascou (7.48)
4. Jarret Eaton (7.50)
5. Spencer Adams (7.64)
6. Balazs Baji (7.65)
7. Eddie Lovett (7.75)
8. Shane Brathwaite (7.88)