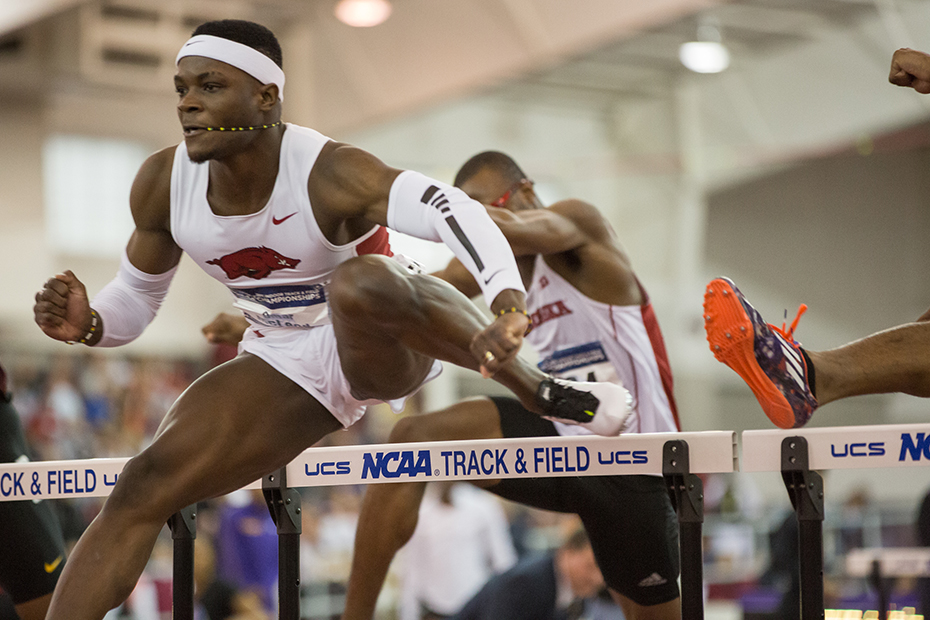 McLeod Selected as Bowerman Trophy Semifinalist
EUGENE, Ore. – Three-time NCAA champion in 2015, Arkansas sophomore Omar McLeod has been selected as one of 10 Bowerman Trophy semifinalists, announced Monday afternoon by the USTFCCCA. Prior being named a semifinalist, McLeod appeared on the Bowerman Watch List six consecutive weeks. The Kingston, Jamaica native is the first student-athlete in program history to appear in the award's semifinal round.
The field of 10 will be narrowed down to three finalists on July 8. Fan voting will begin on July 27, after the three finalists have been named and will run through August 11. The top vote-getter for the The Bowerman will receive three points towards his final total. The winner will announced in December at the annual USTFCCCA Convention.
McLeod, a five-time All-American in 2015, produced an impressive sophomore campaign highlighted by his three national titles, two SEC crowns, NCAA 60-meter hurdles record, world-leading time in all-conditions in the 110-meter hurdles and an undefeated season in his signature hurdles event.
In route to defending his 60-meter hurdles national title, McLeod broke the SEC meet record set in 2002 by Ron Bramlett of Alabama, to claim first place with a collegiate-leading time 7.49. He improved on the time two weeks later in the final of the 2015 NCAA Indoor Championships, successfully defending his title in an NCAA record-setting 7.45, the No. 1 time in the world.
The Razorback standout burst onto the outdoor scene with three titles – 110-meter hurdles, 4×100- and 4×200-meter relays – at the Drake Relays. Further exerting his dominance at high hurdles, McLeod became the fifth-best performer in collegiate history in the 110-meter hurdles, sealing his victory with a school- and meet-record time of 13.21. He was recognized along with 2012 Olympic champion Kirani James as the most outstanding performer of the meet claiming a share of the Maury White Award.
In his last outing at the 2015 NCAA Outdoor Championships, McLeod maintained his undefeated status by winning his first national title in the 110-meter hurdles in a wind-aided time of 13.01, the fastest all-conditions collegiate performance since 1979. He's the first to sweep NCAA hurdles titles since 2009. McLeod was also a part of both the NCAA-championship winning 4×100-meter relay team with Jarrion Lawson, Kenzo Cotton and Marqueze Washington who combined to run a school- and stadium-record time of 38.47 and the 4×400-meter relay returning with the same three to add three more points to the team total.
For more information on Arkansas track and field including in-meet updates, follow @RazorbackTF on Twitter.