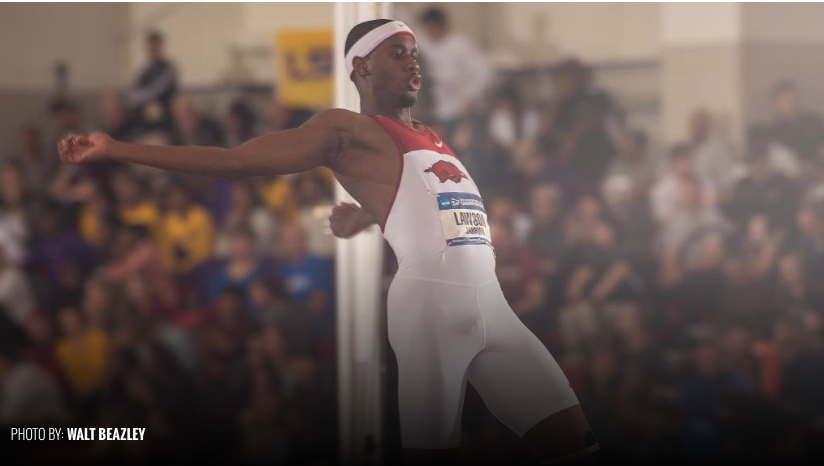 Men's @RazorbackTF Geopfert and Lawson Invited to USATF/USOC Jumps Camp
FAYETTEVILLE, Ark. – The USA Track & Field (USATF) and the US Olympic Committee (USOC) have invited Arkansas men's track and field assistant coach Travis J. Geopfert and junior Jarrion Lawson to participate in a Jumps Initiative Camp at the Chula Vista Olympic Training Center in Chula Vista, Calif. on December 5-7, 2014.
"We appreciate USATF and the US Olympic committee taking the time to host such an event," said Geopfert. "It's a tremendous compliment to Jarrion and our program to be part of this jumps initiative. We pride ourselves here at Arkansas in developing world class athletes. It's great to be recognized by our national governing body that we are in fact developing our student-athletes at the highest level."
The USATF Jumps Initiative is designed to help top collegiate horizontal jumps athletes and coaches by identifying physical, biomechanical, and technical components that are related to performance outcomes and injury prevention. The camp includes the following specific testing items:
• Performance movement and orthopedic assessment with Dr. Todd Arnold, St Vincent Sport Performance Center
• Sprint / runway biomechanical analysis with Dr. Ralph Mann
• Jump biomechanical analysis with Dr. Mel Ramey and Dr. Jill McNitt-Gray
• Nutritional advice from Alicia Kendig, USOC nutritionist
• Mental skills training from Dr. Traci Statler
The USATF and the USOC hope that the information received from this camp will help with training design for this season, plus introduce student-athletes to the range of USATF and USOC sport science resources that will be available to them as a post-collegian.
Lawson is coming off a stellar 2014 indoor/outdoor track season. He finished 2nd at the Outdoor USA National Championships won the 2014 NCAA Indoor title after dominating the field with a world-leading 27-6.5 jump, a huge final leap that took him a foot further than his competitors. With his mark, Lawson ranks No. 4 all-time in NCAA history and No. 7 in all-time U.S. history. Lawson's jump just missed the NCAA Championship meet record of 8.48 set by the legendary Carl Lewis in 1981.
For more information on Arkansas men's track and field, follow @RazorbackTF on Twitter.