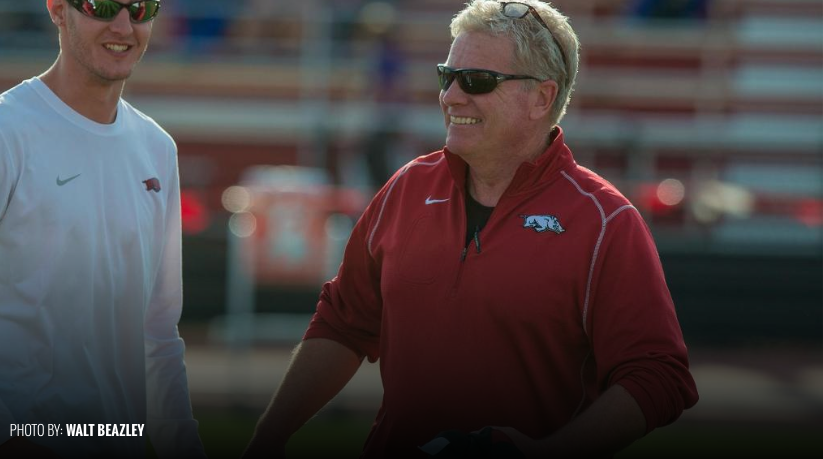 Men's @RazorbackTF Signs Six in the Early Signing Period
FAYETTEVILLE, Ark. – With the early signing period coming back for the first time in many years, the Arkansas men's track and field coaching staff Chris Bucknam, Doug Case and Travis Geopfert have put together a great start for the 2015-16 class, as they announced the signing of six outstanding prep student-athletes.
This is the sixth recruiting class for Bucknam and his staff. The last three signing Arkansas track and field signing classes have ranked inside the top 10 in the nation.
The initial wave of future Razorbacks includes Stephen Mugeche (Blue Springs, Mo./Blue Springs HS), Laquan Nairn (Nassau, Bahamas/St. Johns College HS), Carlton Orange Jr. (Memphis, Tenn./Memphis University HS), Brendon Rivera (Edinburg, Texas/Robert Vela HS), Frankline Tonui (Nakuru, Kenya/Iowa Central Community College) and Joshua Washington Jr. (Woodbridge, Va./Richard Bland College).
"We feel this is a tremendous start to our recruiting season, but our work certainly isn't done," said Bucknam. "It's interesting with the early signing period as all of these recruits have another full season to develop before they even join us as Razorbacks. We have stream-lined our recruiting efforts and have signed some of the best talent that the United States and the world has to offer in these six student-athletes. We feel this is a very talented group of young men that will add immediate fire power to our already talented squad. It's our goal to have depth in every event and this class certainly is keeping us in line with that goal."
Coach Bucknam credits the track and field culture at Arkansas to help land these six athletes and believes this early signing class will help add to the program's long-standing history.
"Arkansas is a track and field community like no other in the world. We have a passionate fan base and a history and tradition in track and field that is unmatched. It takes a special talent to come to Arkansas and help us continue this fine tradition of winning SEC and NCAA Championships. The student-athletes that we have signed are eager to help add to the legacy that is Arkansas track and field."
While the head coach is pleased with his early signing class, he stresses that his staff is nowhere near done with the recruiting process this season.
"This is a great start to our recruiting year, but we are not done. Recruiting is a team-effort that includes a lot of people. We have a great team here at Arkansas. Recruits want to be around our guys because they are driven and motivated to be great both on and off the track. Success breeds success and we are looking forward to adding these six talented young men and more to our program."
For more information on the Arkansas men's track and field team, follow @RazorbackTF on Twitter.