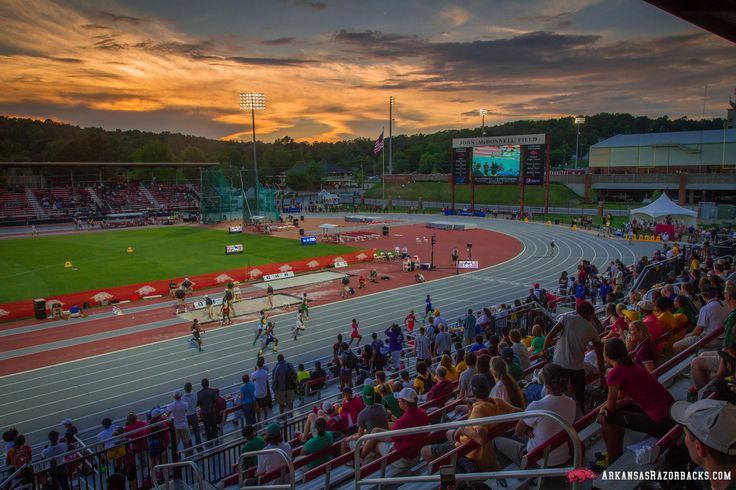 Men's Track & Field adds more firepower to roster
FAYETTEVILLE, Ark. – The Arkansas men's track & field program has added eight to bolster this year's squad, head coach Chris Bucknam announced on Tuesday afternoon. Four of the eight are transfers, while two come to Fayetteville from the Natural State.
Five of this year's group joined the squad in the fall: Andrew Kibet, Johnathan Baker, Rhett Nelson, Brayden Hodgest and Cade Clark. In addition to the fall enrollees, three newcomers transferred to Arkansas at the mid-year: Amon Kemboi, Emmanuel Cheboson and Lesley Mahlakoane.
Amon Kemboi (Campbell University / Kabote Adventist Secondary School | Kapsabet, Kenya)
At Campbell University: A 6-time All-American ranging from cross country to the 3,000m and 5,000 meters on the track. In three appearances at the NCAA Cross Country Championship placed 29th (2017), 7th (2018) and 8th (2019). Before redshirting the 2019 outdoor season, qualified in both the 3,000 and 5,000 meters to the 2019 NCAA Indoor Championships placing 13th in the 3k and 6th in the 5k. 2018-19 indoor 5,000 meters seasonal best of 13:33.64 was the fastest time in the NCAA that season. Other appearances at the NCAA Championships include a 8th place finish in the 5000 meters at the 2018 NCAA Indoor Championship and 5th place finish in the 5000 meters at the 2018 NCAA Outdoor Championship.  An 11-time Big South Conference Champion, including an impressive sweep of the Mile, 3000 meters, 5000 meters and Distance Medley Relay at the 2019 Big South Indoor Championships.
Personal Bests: 1500m – 3:39.72; Mile – 3:59.52; 3000m – 7:44.77; 5000m – 13:33.64; 10,000m – 28:55.46              
Emmanuel Cheboson (University of Louisville / Moiben Educational Centre| Eldoret, Kenya)
At Louisville: Finished in the top-15 at both the 2018 (9th) and 2019 (12th) NCAA Southeast Region Cross Country Championships. 2019 outdoor seasonal best in the 10,000 meters set at the Raleigh Relays (28:42.13) was the 14th fastest 10,000m in  the NCAA in 2019 and qualified him for the NCAA East Preliminary Rounds. Finished 8th in the 5k at the 2019 ACC Indoor Championships.
Personal Bests: 3000m – 8:20.04; 5000m – 14:17.81; 10,000m – 28:42.13
Lesley Mahlakoane (Cloud County CC | South Africa)
At Cloud County: A six-time National Junior College All-American and member of Cloud County's National Championship winning 2018 Distance Medley Relay Team. Placed fourth overall in the 400m at the 2019 NJCAA Outdoor Track and Field Championships with a personal best of 46.41 that helped lead Cloud County to a National Team Title. At the 2019 Indoor Track and Field Championships had 3 All-American performances which included the 400m, 4x400m, and DMR to help lead Cloud County to a third place finish overall.
Personal Bests: 200m – 21.56; 400m – 46.41; LJ – 7.08m
Andrew Kibet (Hutchinson CC / Kitany Secondary School | Eldoret, Kenya)
At Hutchinson: A National Junior College National Cross Country Champion and 4-time NJCAA All-American. In 2018 was a National Champion as a freshman at the NJCAA Cross Country National Championships, winning in a time of 25:25.4. Placed fourth overall at the 2019 NJCAA Div. I Cross Country National Championships. During the 2019 outdoor season, placed second in the 1500m final and third in the 5000m at the Junior College National Championships. Also was the top finisher in the region in the 800m and the 1500m.
Personal Bests: 800m – 1:51.22; 1500m – 3:47.89; 5000m – 14:42.58
Johnathon Baker (Katy Paetow | Katy, TX)
Texas 5A State Champion in the long jump and triple jump in 2019. Wind-aided long jump seasonal best of 24-10 was the second best all-conditions mark in the country in 2019. Triple jump seasonal best of 46-11. 2019 UIL 5A-6A District Champion in the Long Jump and Triple Jump.
Personal Bests: LJ – 24-10 (wind-aided); TJ – 46-11
Rhett Nelson (Trinity Christian School | Texarkana, AR)
5-time Arkansas State Champion in the Pole Vault. Placed second at the Arkansas Meet of Champions and jumped to a fourth place overall finish at New Balance Nationals Outdoor in 2019. During the indoor season, jumped 17-2.75 to place runner-up at the 112th NYRR Millrose Games Junior Pole Vault Finals.
Personal Bests: PV – 17-2.75
Braydon Hodgest (Mansfield Legacy High School| Mansfield, TX)
2-time Texas State Championship Runner-Up in the Shot Put. 2017 AAU Junior Olympic Games Runner-up, 4-time AAU Region champion. Placed first overall at the Texas Tech Under Armor High School Classic as well as the FasTrak High School Invitational during the 2019 indoor season.
Personal Bests: Shot Put – 57-9; Discus – 169-6
Cade Clark (Benton High School | Benton, AR)
3-time Arkansas 6A Conference Champion, 2-time Arkansas 5A/6A State Champion. Silver and Bronze Medalist at the USATF Arkansas Junior Olympic Association Championships. 3-time Bronze Medalist in the Arkansas 6A State Championships across the 100m and 200m.
Personal Bests: 60m – 6.99; 100m – 10.50; 200m – 21.83
For more information on Razorback Track & Field, follow @RazorbackTF on Twitter.