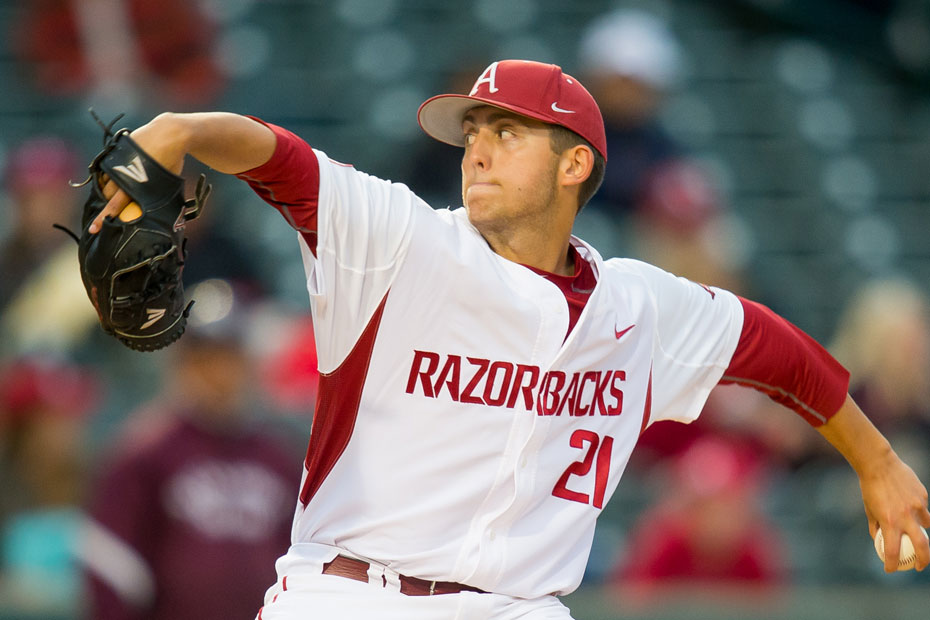 Midweek Road Test At Missouri State For Razorbacks
FAYETTEVILLE, Ark. – The 15th-ranked Razorbacks go on the road Tuesday for a single midweek game against a familiar foe as they will take on Missouri State at Hammons Field in Springfield, Missouri, starting at 6:35 p.m. The Hogs and Bears both have 20 or more wins on the season and will be playing for the seventh time in the last three seasons.
Follow Live
The game will be available on ESPN3 via the WatchESPN app or WatchESPN.com. Phil Elson (PXP) will also call the game for the Razorback Sports Network on the radio.
Probable Starters
Tue. | 6:35 p.m. | (ARK) LHP Kacey Murphy (3-0, 3.57 ERA, 30/9 K/BB) vs. (MSU) LHP Nate Witherspoon (1-2, 4.42 ERA, 21/7 K/BB)
We Meet Again
Arkansas heads to Missouri State for a single midweek game on Tuesday at 6:35 p.m. in Springfield, Mo. The two teams have played each other quite frequently over the last four seasons, most recently a home-and-home series last year, with MSU winning both by a combined 22-8. However, the Hogs and Bears faced off in the 2015 Fayetteville Super Regional with the Razorbacks earning the trip to Omaha after winning the three game series 2-1. Arkansas holds the advantage in the all-time series 51-24, but the Bears have been winners of three of the last four.
Kacey Murphy Mid-Week All-Star
Sophomore Kacey Murphy has been one of the bright spots in Arkansas' recent play in midweek games. Having started in four of his last six appearances, with all four starts coming in midweek games, Murphy has built up a 3.60 ERA, allowing no more than three runs in any of those last six appearances. In his last start, against Grand Canyon (April 5), Murphy struck out a career-high 10 batters over four innings, without allowing a run or a walk. It's the second time this year he's struck out nine or more batters and is one of four Razorbacks with at least one 10+ strikeout performance this year.
Spanberger Hitting Berger Bomb
Since conference play began, junior Chad Spanberger has been hitting on a different level. Leading the team with a .340 batting average in 12 conference games, Spanberger is slugging a ridiculous .585 and leads the team with 18 hits, four home runs, 19 RBIs, and 11 runs scored. His RBI total is second to only Brent Rooker (20) of Mississippi State, and his home run total is tied for third. Last weekend against LSU, Spanberger had five hits, eight RBIs and two homers, including a career-high five-RBI night in game two against the Tigers.
Rankings Check
Even with the tough series loss to LSU over the weekend, Arkansas still remained in the top 15 in all but one national poll, dropping in both the Baseball America and Perfect Game polls. Most notably, the Razorbacks remained No. 15 in the nation according to D1Baseball.com and the USA Today/Coaches' Poll and will hold that ranking into this weekend's slate of games against Missouri State and Georgia. The Hogs have been in the national rankings five out of eight weeks this year, reaching as high as No. 10 in the Perfect Game poll.
K-zorbacks
Like their offensive counterparts, the Razorback pitching staff has been nearly lights out this season. Coming off an 18-strikeout performance against Grand Canyon during the midweek, Arkansas struck out seven or more batters in all three games against No. 13 LSU. The Hogs now have 341 strikeouts as a staff, which leads the SEC. The 18 strikeouts against Grand Canyon tied the school record (2009, Missouri State) for most strikeouts in a game and this year's Hogs have notched 18 games with 10 or more strikeouts.
For more information on Razorback Baseball, follow @RazorbackBSB on Twitter.