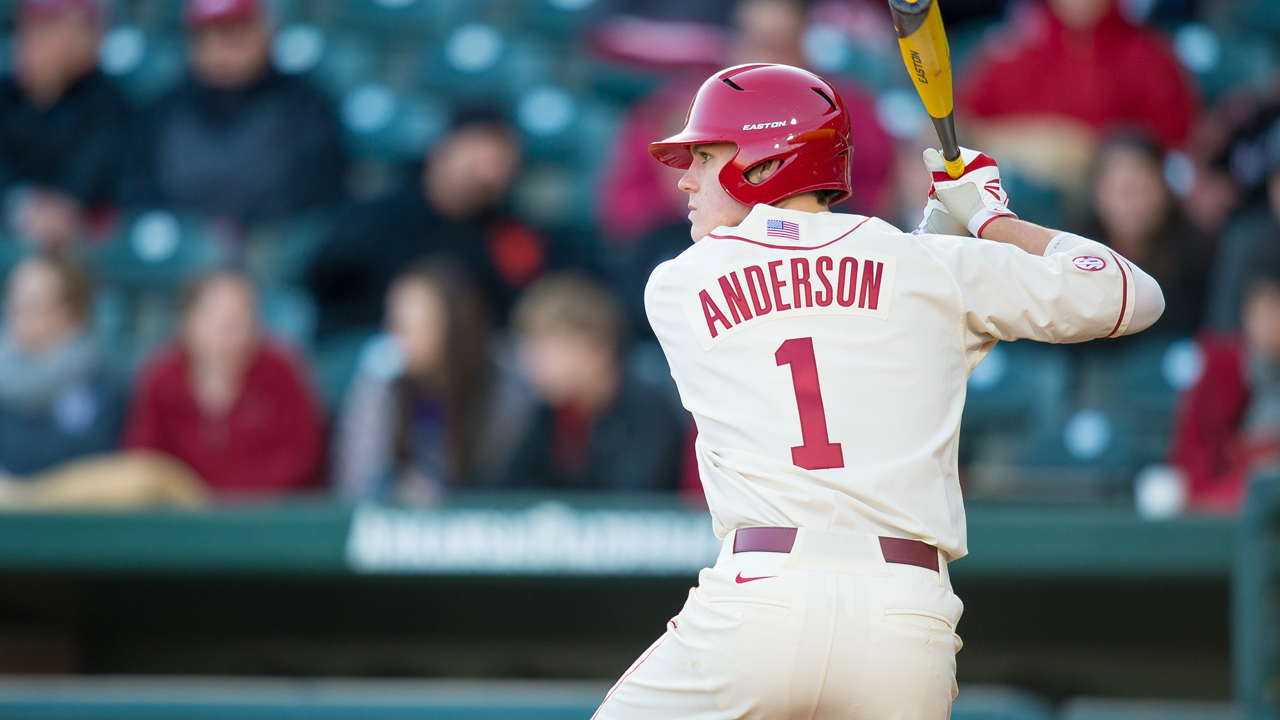 MLB Draft Rewind: 2014
In 2014, head coach Dave Van Horn led the Razorbacks to their 13th consecutive NCAA Tournament, making the program one of seven teams in the country to advance to the NCAA Tournament each of the last 13 seasons. Arkansas surged into the SEC Tournament as the No. 7 seed after winning six of its final seven regular season games. The Razorbacks made plenty of noise in Hoover, defeating Texas A&M in the opening round, before knocking off No. 10 Ole Miss twice and advancing to the semifinals against LSU.
Arkansas then received an at-large bid to the NCAA Charlottesville Regional as the No. 2 seed and defeated Liberty and Bucknell to advance to the program's sixth-straight regional final, but the Razorbacks saw their season come to an end against Virginia, who finished as the National Runner-up in Omaha.
Arkansas continued to push its best talent to the next level following the season, as six players were taken in the 2014 Major League Baseball First-Year Player Draft, with five of those signing professional deals.
2014 MLB DRAFT
Brian Anderson (INF) – Miami Marlins – 3rd Round (76)
Chris Oliver (RHP) – Philadelphia Phillies – 4th Round (112)
Jalen Beeks (LHP) – Boston Red Sox – 12th Round (374)
Michael Gunn (RHP) – Boston Red Sox – 16th Round (494)
Eric Fisher (1B) – Miami Marlins – 17th Round (497)
Tyler Spoon (OF) – Oakland Athletics – 36th Round (1,092)
Anderson, from Edmond, Oklahoma, turned down a 20th round selection out of high school to come join Van Horn's Razorbacks, spending three years playing third base for the club (2012-14). As a freshman, he played in 47 games, recording 34 hits, 11 RBIs and 23 runs for a .283 clip at the plate. His numbers got better each year of his collegiate career, putting together a .325 average in 2013, with 68 hits, 12 doubles, five triples and four homers, to go with 36 RBIs and 47 runs scored, earning Second Team All-SEC accolades. His junior campaign saw him play 65 games, producing 79 knocks, 24 for extra bases, with 14 doubles, three triples and seven dingers, as well as 51 RBIs and 39 runs scored in his final year with the Hogs. Anderson has spent all six years of his pro career in the Miami organization, reaching the Bigs in his fourth year with the club. He joined the team in 2017, playing 25 games at the MLB level that year, producing 22 hits. He moved into a starting role with the team in 2018 playing both third base and right field, seeing 156 games of action, racking up a career-best 161 hits, 34 doubles, four triples and 11 home runs, as well as 65 RBIs and 87 runs scored. He played 30 fewer games in 2019, but produced 120 knocks, 33 doubles, a triple and 20 homers, including 66 RBIs and 57 runs for another strong year. He is set for his fourth year in the Major Leagues in 2020.
Oliver, an Arkansan from Farmington, played three years for the Hogs from 2012-14, also turning down a high school draft selection from the 27th round of the 2011 draft to play for the Razorbacks. He pitched in 11 games as a freshman, starting once, winning one game while putting together a 3.86 ERA in 16.1 innings of work, striking out 14. He saw 14 appearances in 2013 and another start, going 2-2 with 2.25 earned run average over 20 innings, punching out 21. Oliver moved into the starting role in 2014, with 16 outings, going 9-4 with a 2.51 ERA, totaling 93.1 frames and 59 strikeouts during the season. He wrapped his collegiate career with the ninth-best ERA in school history at 2.64. From there, Oliver went on to play two years of pro ball in the Phillies organization, playing part of his last season in the Arizona system as well. He totaled 39 games on the mound, 21 starts, with six wins and 54 strikeouts over 126.1 innings of work.
Beeks, another Arkansan from Prairie Grove, joined the Hogs after a year at Crowder College, pitching for Arkansas from 2013-14. He pitched 29 games, all in relief, as a sophomore in 2013, working a 6-2 record with two saves and a 2.20 ERA over 41.0 innings, striking out 28. He moved into the starting role as a junior, with 13 outings, going 6-4, including two complete games, with a 1.98 earned run average and 68 strikeouts over 81.2 frames. His two-year ERA of 2.05 ranks third all-time at Arkansas and is the lowest min. 100 IP since Phillip Stidham's 1.62 (1989-91). Beeks spent the first five years of his professional career with the Red Sox, making his way to the Bigs in 2018. He became the 59th and most recent Hog to make his MLB debut after becoming one of Boston's top pitching prospects from Triple-A Pawtucket. After two outings, he was traded to Tampa Bay and found his groove, going 5-0 with a 4.47 ERA in 12 relief appearances, striking out 37. Last season, Beeks pitched in 33 games, with three starts, putting together a 6-3 record with a save over 104.1 innings, ringing up 89 batters. He is poised for his third year with the Rays in 2020.
Gunn, also from Arkansas from Wilson, pitched there years for the Razorbacks from 2012-14 and was dominant nearly ever time he stepped on the mound. He relieved 14 games as a freshman, winning one game while putting together a 2.57 ERA over 14.0 innings with 19 strikeouts. In 2013, he pitched in 18 games, going 1-1 with a save, a 1.21 earned run average and 35 K's over 29.2 frames. As a junior, he pitched in 10 more games than the year before and was even better, winning four games, picking up seven saves, striking out 35 while putting together a 0.74 ERA over 36.2 innings in relief. He allowed just four runs in 2014, three earned, both school records for pitchers with at least 30 IP, leaving college with a whopping 1.24 earned run average in 60 games and 80.1 frames on the mound. Gunn went on to pitch two years in the Red Sox system, working 27 games in relief with 48 strikeouts in 51.2 innings. For the last four years, Gunn has pitched in Independent ball, working 86 games, 41 starts, with 16 wins and 238 K's over 269.2 frames.
Fisher returned for his junior season and put together his best year as a Hog, playing in 65 games between first base and the outfield. He racked up 63 hits, including 16 doubles and nine homers, with 45 RBIs and 35 runs for a .268 clip. He improved his draft stock from a 30th-round pick to a selection in the 17th round, heading to Miami for two years of Low-A Batavia Single-A Greensboro. He totaled 85 minor league games with 72 hits, 30 RBIs and 20 runs scored over his two years of pro ball.
Spoon, another Arkansan from Van Buren, played three years for the Hogs from 2013-15 in the outfield. As a freshman, he tacked up 68 hits in 61 games, with seven doubles and four homers, as well as 49 RBIs and 28 runs for a .288 average as a redshirt, earning Freshman All-America honors and SEC All-Tournament team accolades. He tallied 60 hits in 2014 with 12 doubles, two triples and three homers, including 37 RBIs and 39 runs over 64 games, electing to try his hand in the 2014 draft. He would return to the Hogs in 2015 as a redshirt-junior…
On June 5, we'll take a look at the 2015 draft, which featured four draft picks, including a future World Series Champion.