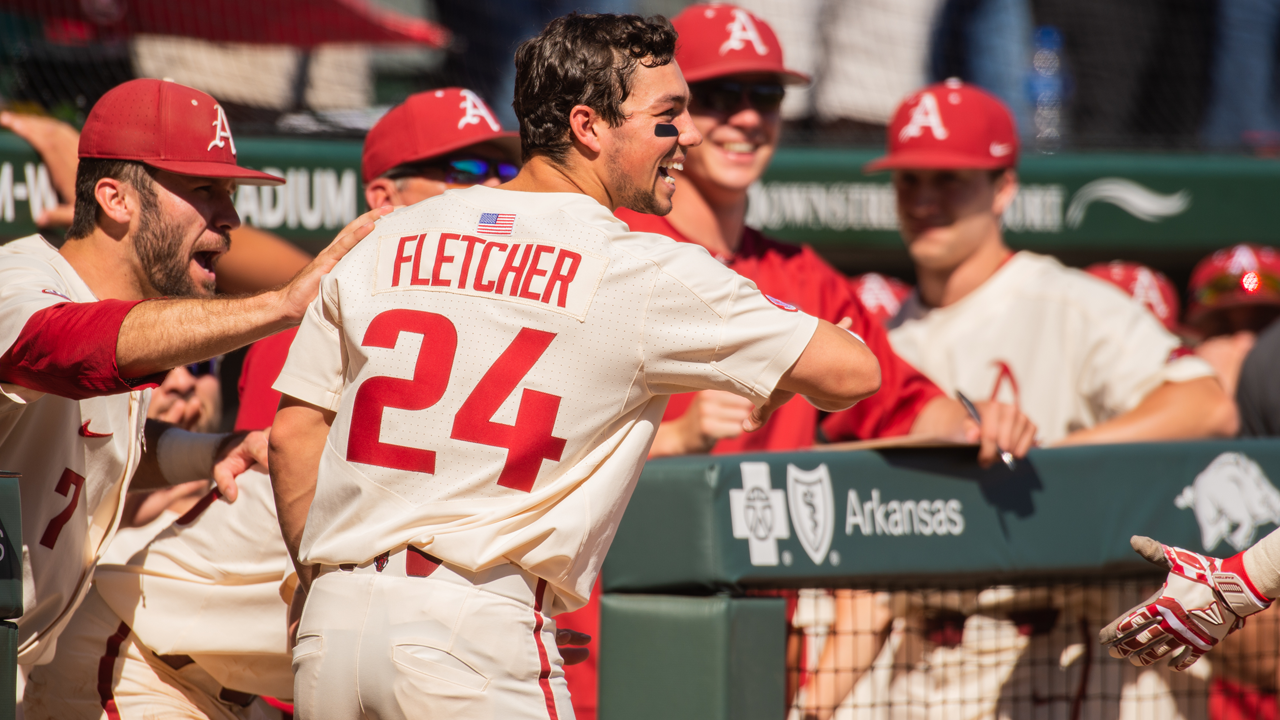 MLB Draft Rewind: 2019
In 2019, head coach Dave Van Horn's Hogs put together another stellar campaign, ending in a 46-20 overall record, with a whopping 33 wins coming at Baum-Walker Stadium. The Razorbacks went 20-10 in conference action, claiming a share of the SEC West Division title and the No. 2 overall seed in the SEC Tournament.
Arkansas was selected as one of eight national seeds to host throughout the NCAA Regionals and NCAA Super Regionals, slotted at fifth for the second consecutive season. It was the eighth time Baum Stadium was selected as a postseason host site and first time in program history to do so in three-straight seasons.
The Razorbacks blew through regional action with an 11-5 win over Central Connecticut, followed by a pair of 3-1 & 6-0 victories over TCU for a sweep of opening weekend of postseason play.
Arkansas faced a familiar foe in the Super Regional round, taking on Ole Miss in Fayetteville, rolling in game one, 11-2. After falling, 13-5, in game two, the Razorbacks pounced on the Rebels early in the winner-take-all contest and made Baum-Walker Stadium party central, finishing off Ole Miss, 14-1, to clinch a berth to the College World Series.
Van Horn made his eighth overall appearance in Omaha, sixth with the Hogs, giving Arkansas 10 trips in its illustrious history. It was the first time Arkansas had made the College World Series in back-to-back years.
The 2019 squad was a special group, as a program-high nine All-SEC honorees, with six earning second team honors: Trevor Ezell (1B), Casey Martin (SS), Dominic Fletcher (OF), Heston Kjerstad (OF), Matt Goodheart (DH) & Matt Cronin (RP), three on the all-freshman team: Patrick Wicklander (SP), Connor Noland (SP) & Christian Franklin (OF), with Ezell and Fletcher also landing on the SEC All-Defensive Team. Senior starting pitcher Isaiah Campbell was a consensus All-American, earning first team honors from the ABCA to go with his five second team accolades. He was joined by Matt Cronin with five All-America awards, one for Jack Kenley and a Freshman All-America nod for Connor Noland.
The 2019 draft class featured seven Razorbacks drafted, two who improved their spot from the year before.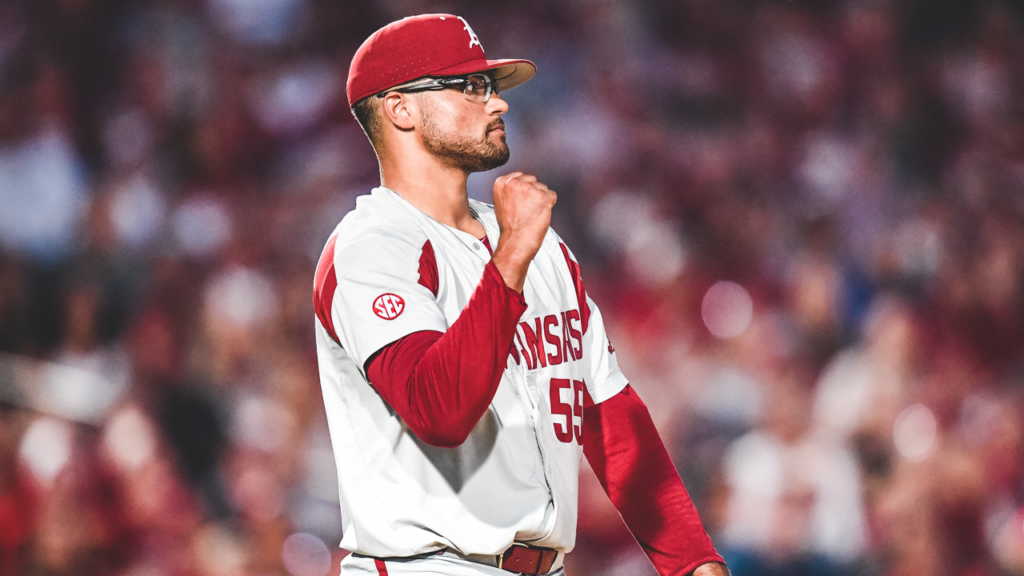 2019 MLB DRAFT
Dominic Fletcher (OF) – Arizona Diamondbacks – 2nd Round CBB (75)
Isaiah Campbell (RHP) – Seattle Mariners – 2nd Round CBB (76)
Matt Cronin (RHP) – Washington Nationals – 4th Round (123)
Jack Kenley (INF) – Detroit Tigers – 8th Round (232)
Jacob Kostyshock (RHP) – Colorado Rockies – 8th Round (249)
Cody Scroggins (RHP) – Boston Red Sox – 9th Round (287)
Zack Plunkett (RHP) – Los Angeles Dodgers – 20th Round (611)
Fletcher, from Cypress, California, played three years for the Hogs from 2017-19, patrolling the outfield for Van Horn's clubs. He played in 59 games as a freshman, recording 64 hits, with seven doubles, a triple and 12 homers, along with 37 RBIs and 44 runs for a .291 clip at the plate, earning Freshman All-America status for his performance. In 2018, he played in 69 games, rattling off 77 hits, 27 for extra bases with 16 doubles, a triple and 10 homers, as well as 49 RBIs and 43 runs scored, picking up SEC All-Defensive accolades. He would earn the defensive award, as well as All-SEC Second Team honors in 2019 after posting 82 hits, including 24 doubles and 11 homers, with 61 RBIs and 55 runs for a .317 average. His 24 doubles ranked ninth in a single-season, while his 33 career homers put him at 10th all-time at Arkansas in the category. He has played one year of pro ball so far, spending 2019 at Single-A Kane County, hitting .318 with 68 hits in 55 games last year.
Campbell returned to school in 2019 and filled the "Blaine Knight" role from 2018 exquisitely. Campbell went 12-1 in 17 starts, putting together a 2.26 ERA over 118.1 innings, striking out 125 batters. His name can be found all over the Arkansas record books thanks to his 2019 season. He found the single-season top 10 marks in victories (12) in fourth, strikeouts (125) in fifth, starts (18) in sixth, innings pitched (118.1) in sixth, while also cracking the top 10 for career strikeouts with 224, wrapping up his collegiate career with First Team All-America honors. He will join back in rookie league with the Mariners when minor league action resumes.
Cronin, a native of Navarre, Florida, pitched three years for the Razorbacks from 2017-19, all in relief, mostly as the school's closer. As a freshman, he appeared in 15 games, putting together a 3-1 record with one save and a 2.00 ERA, striking out 31 over 18 innings of work. In 25 games in 2018, he recorded 14 saves and won two games, ringing up 59 batters over 48.1 frames for a 3.54 earned run average, setting the school record for saves in a season. He would produce 12 more in 2019, giving him 27 during his collegiate career, good for second at Arkansas. It was part of a 24-outing season where Cronin struck out 41 in 28.0 innings and recorded an impressive 1.93 ERA on the mound, earning All-SEC and All-America accolades. He spent his first year in pro ball with the Hagerstown Suns in Single-A for Washington, putting up even strong numbers with a 0.82 earned run average and 41 K's in 22 innings.
Kenley, from Germantown, Tennessee, played three years in the infield for the Hogs, seeing limited action during his first two years of college ball, tallying 16 hits, three doubles, 12 RBIs and 18 runs in 77 games of the 2017-18 seasons. He became an everyday starter in 2019 and flourished in the role, racking up 73 hits in 64 games, with 10 doubles, four triples and 13 homers, as well as 53 RBIs and 55 runs scored for a .319 batting average as a junior. After getting drafted in the eighth round by the Tigers, he played for three teams during his rookie pro season, finishing the year with the West Michigan Whitecaps in Single-A. He posted 31 hits in 43 games as a pro in 2019, with 16 RBIs and 18 runs scored.
Kostyshock, a native of O'Fallon, Missouri, spent three years on the mound for the Razorbacks, totaling 36 appearances during the 2017-19 seasons. He pitched in six games as a freshman, totaling six strikeouts and one win over 5.1 innings. He worked 14 frames in 2018 over nine games, recording one save and 10 strikeouts before enjoying his best season as a Hog in 2019. Kostyshock's junior year featured 21 games on the mound, with one win and one save, but a 2.70 ERA and 29 K's in 30 innings, before heading to pro ball. In his first year in the Rockies organization, he tossed 16.1 innings, striking out 17 in 14 games, recording a 2-1 record with a 1.65 ERA with the Grand Junction Rockies in rookie league.
Scroggins, a local kid from Bentonville, was a four-year player for the Razorbacks from 2016-19, pitching in a total of 40 games at Arkansas. He pitched in seven games during his first two years before working 16 contests in 2018, racking up 18 strikeouts in 15.2 innings. As a redshirt-junior in 2019, Scroggins put together a 3-0 record and a 3.80 ERA in 17 games, seven starts, with 61 strikeouts in 47.1 innings of work. He spent his first year of pro ball with the Lowell Spinners in Boston's organization, pitching nine games with 15 strikeouts over 12.1 innings.
Plunkett, from Hurst, Texas, spent his first two years of college ball at TCU, recording 12 hits in 39 games, while also pitching in one game. He played two years for the Hogs from 2018-19, appearing in 33 games, with 15 hits, five doubles, three homers, 11 RBIs and 13 runs scored. Plunkett's first year of pro ball was spent on the mound instead of behind the plate, pitching in 10 games, with one start, putting together a 0.84 ERA with 18 K's in 10.2 innings.
On June 10-11, we'll find out the next group of Hogs selected by pro teams when the 2020 MLB Draft gets underway.