MLB Draft Rewind: 2020
On the heels of back-to-back trips to the College World Series for the first time in program history, the 2020 season was poised to be a memorable one for the Arkansas Razorbacks and head coach Dave Van Horn.
Entering his 18th season at the helm of his alma mater, Van Horn and his staff had put together a strong mix of veterans and rising underclassmen set to defend the SEC Western Division crown and make another run at a trip to Omaha. His squad earned a bevy of preseason individual honors, selected as the preseason favorite to win its division, as well as a top-five ranking to begin the year.
A preseason vote by the team saw pitcher Kevin Kopps and catcher Casey Opitz earn recognition as captains for the 2020 campaign, but the leadership extended far beyond just that junior battery duo. The clubhouse also featured returning All-Americans in right fielder Heston Kjerstad and shortstop Casey Martin, another junior pair who had put up big numbers while donning the Cardinal & White, along with junior designated hitter Matt Goodheart and reliever Zebulon Vermillion. A strong mix from the returning sophomore class filled in several spots on the field in third baseman Jacob Nesbit, center fielder Christian Franklin, the top two starting pitching roles in Connor Noland & Patrick Wicklander and relievers Jacob Burton, Elijah Trest and several more.
Every year, a new crop of freshmen and transfers come to the Hill to build on an impressive core of talent, and 2020 was no exception. Left field featured JUCO transfer Brayden Webb, first baseman Cole Austin was set to be the oldest player on the team after coming to Arkansas as a grad transfer from Arizona State and he would be paired with the youngest player on the roster in 17-year-old mid-year enrollee Robert Moore.
The 2020 season began as good as Arkansas fans had hoped, sweeping both of the first two series against Eastern Illinois and Gonzaga for a 7-0 start. The Razorbacks picked up three wins over the Panthers on opening weekend, with Kjerstad turning in a monster performance, racking up seven hits in the series, five for extra bases, including a pair of two-homer games in the opener and finale, earning him SEC Co-Player of the Week and Collegiate Baseball National Player of the Week. It overshadowed a dominant showing on the mound by Noland in the season opener, which featured 6.2 innings of two-hit, one-run (unearned) ball with one walk and 11 strikeouts, making him one of six Razorbacks with 11 K's or more since 2011, giving him SEC Pitcher of the Week accolades.
The following week was Moore's time to shine and earn a couple awards. After recording one hit in the opening series against EIU, he returned to go 8-for-12 with a double, a homer, nine RBIs, four runs scored, four walks and two stolen bases against Gonzaga. He earned SEC Co-Player of the Week and Perfect Game National Player of the Week honors for his performance, helping the Hogs to a 4-0 sweep of the Bulldogs and a 7-0 record heading into the first road trip of the year.
Arkansas hit a little turbulence over the next five games, dropping all three games of the Shiners College Classic in Houston and five in-a-row, including three one-run contests. The Hogs rallied in game two against South Alabama with a 15-2 rout of the Jags, followed by a walk-off in the rubber match thanks to a two-run homer from Kjerstad in the bottom of the ninth to take the series. It was the first walk-off home run by a Razorback in exactly seven years.
The season wrapped up with a double midweek against Grand Canyon, with Arkansas controlling the opener, 6-1, thanks to freshman Will McEntire's first start on the mound, going 6.0 innings with one run and no walks. The finale was a wild one, resulting in a 10-9 victory for the Hogs and featured six frames with crooked numbers on the scoreboard, as Arkansas built up a 10-5 lead and held off a four-run seventh with two scoreless innings at the end to head into SEC play at 11-5.
The March 11 finale was also a special one for Van Horn, as it signaled his 700th as head coach of the Razorbacks. It was the fastest his clubs had reached a 100-win milestone during his time at Arkansas. His club finished with a consensus top-15 ranking to end the shortened campaign, sending two to the draft in Heston Kjerstad (second overall) and Casey Martin (87th overall) via the Baltimore Orioles and Philadelphia Phillies, respectively. Kjerstad's pick is the second-highest in program history, behind Jeff King's No.1 selection in 1986.
The 2020 MLB Draft was shortened to five rounds, limiting the number of Hogs available to pro clubs.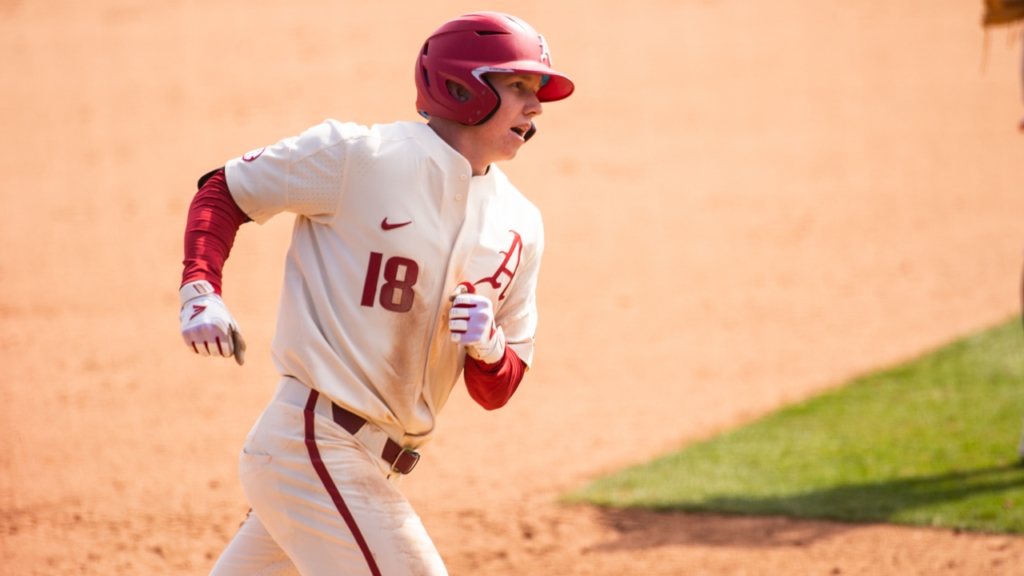 2020 MLB DRAFT
Heston Kjerstad (OF) – Baltimore Orioles – 1st Round (2nd overall)
Casey Martin (SS) – Philadelphia Phillies – 3rd Round (87th overall)
Kjerstad, from Amarillo, Texas, recorded 204 hits during his time as a Razorback, with 34 doubles, a triple and 37 home runs for a .343/.590/.421 slash line. He also tallied 129 runs driven in, 137 runs scored and walked 54 times. His 37 homers ranks seventh in school history, while his slugging percentage (.590) is also good for seventh at Arkansas, his 54 walks stands at eighth and his batting average (.343) is tied for 10th all-time by a Hog. He enjoyed one of the best freshman seasons in Arkansas history, claiming SEC Freshman of the Year, All-SEC Second Team, SEC All-Freshman squad and two Freshman All-America honors (NCBWA & Collegiate Baseball) in 2018. He was just the third Razorback to win SEC Freshman of the Year after tallying 87 hits, setting the Arkansas freshman single-season record with Casey Martin. His 65 runs scored & 14 homers led the team and were good for fourth & ninth in the SEC, respectively, as his 14 dingers also set a freshman mark by a Razorback, along with his 145 total bases. His sophomore season was equally as impressive, matching his hit total from his freshman year with 87, along with 13 doubles, a triple and 17 homers, which was good for second-most in the conference and 10th in a single-season by a Razorback. He notched 51 RBIs, becoming the first Hog to have 50 or more runs driven in in his first two seasons since Rodney Nye (1998-99), finishing the year with the third-highest batting average on the team at .327. The preseason hype landed him on the Golden Spikes Watch List and he backed it up with another round of All-SEC Second Team accolades to finish out the year. Kjerstad was surrounded by the hype heading into his junior campaign. The recreation and sport management major began the year on the USA Baseball Golden Spikes Award watch list for the second-straight season, while also earning Preseason First Team All-SEC status from the league's coaches. The accolades did not stop there, with Kjerstad gaining recognition from five outlets en route to unanimous first team preseason All-America honors. Just like he did before, Kjerstad backed up the praise, putting up video-game numbers in 2020, finishing the year with a .448/.791/.513 clip at the plate over 67 at-bats. He recorded 30 hits, five doubles and six homers, with 20 RBIs and 19 runs scored. He became the 28th All-America recipient in school history after being named to the Collegiate Baseball Newspaper First Team after the shortened season, the first since earning freshman All-America status in 2018. As the season came to a close quicker than anyone imagined, the constants that everyone on the Hill anticipated and hoped for remained the same. Kjerstad led the team in seven offensive categories, pacing the conference in hits (30), total bases (53) and slugging percentage (.791), as well as a close second in batting average (.448), while getting recognized by D1 Baseball as the best hitter in the SEC in the outlet's wrap-up of the year.
Martin, an Arkansan from Lonoke, racked up 184 hits during his time as a Razorback, with 40 doubles, four triples and 30 home runs for a .310/.549/.390 slash line. He also posted 116 RBIs and scored 130 runs, with 67 walks and 24 stolen bases in 27 attempts. Martin put together one of the best freshman seasons in Arkansas history in 2018, earning NCBWA & Collegiate Baseball Freshman All-America honors, while also landing on the SEC All-Freshman and All-SEC Second Team squads after his first year on the Hill. He recorded a team-best .345 batting average with 87 hits, 14 doubles, 13 homers and 49 RBIs, also leading all Razorbacks with a .556 slugging clip, finishing fourth in OBP at .418. His 87 knocks tied freshman teammate Heston Kjerstad for second-most on the team and setting an Arkansas freshman single-season record. He picked up Preseason All-SEC First Team honors, as well as nomination to the Golden Spikes Award Watch List heading into the 2019 campaign. He went on to hit .286 with 81 hits, tallying career-highs in doubles (21), home runs (15) and RBIs (57). His 155 total bases during year ranked third in the SEC and was the 15th-most in the country. Martin finished the season as an All-SEC Second Team member for the second consecutive year. The 2020 season kicked off with another litany of preseason honors for Martin, entering the year as a unanimous preseason All-America honoree. He was also rated as the No. 3 shortstop in D1 Baseball's Position Power Rankings, earned Preseason All-SEC First Team honors and landed on the Golden Spikes Watch List for the second consecutive year. He started all 15 games he played in 2020, recording 16 hits, seven for extra bases, with five doubles and two homers. He brought in 10 runs and scored seven, walking a team-high 10 times.