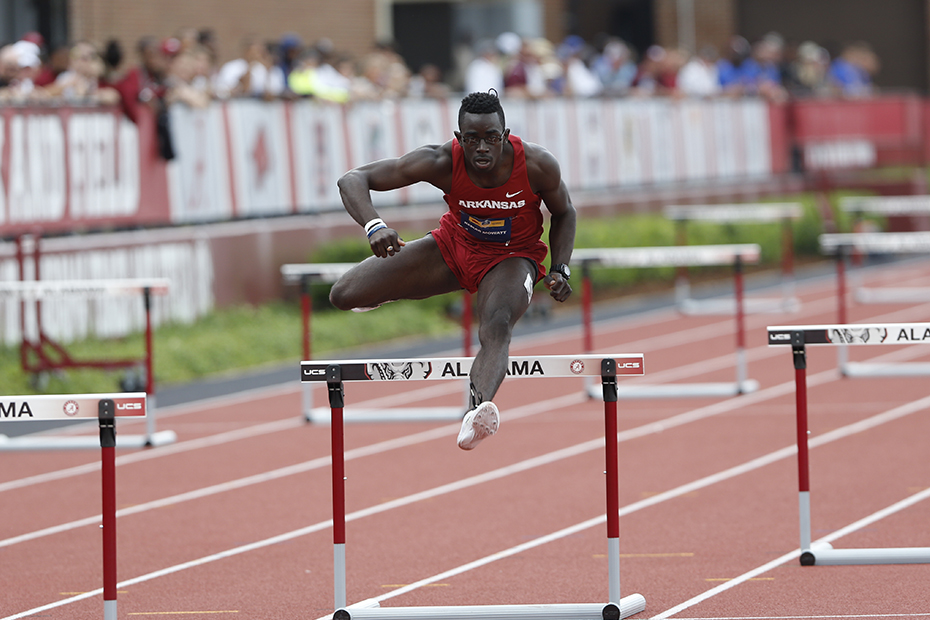 Mowatt Runs NCAA No. 3 Time In 400mH On Day One Of National Relay Championships
FAYETTEVILLE, Ark. – The No. 11 Arkansas men's track and field team kicked off the inaugural National Relay Championships at John McDonnell Field as the Razorbacks took first in the opening relay of the event.
"We had some good performances today," said head coach Chris Bucknam.
"I was very pleased, we had unbelievable weather, great competition. It's great to have all these schools from around the country here. I think the athletes from the other schools got a lot accomplished as well. We had a good day, Obviously Kenzo [Cotton] in the 100-meters and Kemar [Mowatt] in the 400-meter hurdles. That was a stellar field that [Kemar] beat. I know coach Case has him being really aggressive in the front half of the race so I feel that will pay off at the end of the year. Kemar really took it out the first seven or eight hurdles and he looked strong, that was outstanding. The 4-x-1500-meters was a very competitive race. We got good legs from all four athletes, and obviously Cameron [Griffith] beat a pretty good Kentucky kid, Kentucky showed up today and did a great job, that was a tough win but I'm glad we got it. All-in-all it was a good day, we got a lot accomplished. We got some [First-Round] qualifiers in Laquan [Narin] and Trae [Carey] in the long jump, I'm looking forward to a good day two."
Reminiscent of the DMR win at the 2018 Southeastern Conference Indoor Championship, Arkansas trailed Kentucky the first three legs of the 4-x-1500 meter relay as Cameron Griffith began the final leg. As Griffith made the final turn, he overtook the big Wildcat lead as the Razorbacks took the first relay victory at the National Relay Championships. The time was the No. 19 time in collegiate history.
Obi Igbokwe ran his season-opener in the 400-meters that saw him cross the finish line in 45.91 seconds taking fourth-place.
Kenzo Cotton gave all in attendance a show in the men's 100-meters. The senior shot out of the blocks like a bullet in a first-place finish, covering the distance in 10.19 seconds – his second-fastest wind-legal time of the season.
In the 400-meter hurdles, Kemar Mowatt attacked the backstretch with authority breaking the stagger on the field after only two hurdles and never looking back. Mowatt finished with a time of 49.80 that is a season-best and currently the third-fastest time in the NCAA.
In the men's 1,500-meters, Gilbert Boit (3:47.67) and Kyle Levermore (3:47.76) finished second and third, respectively, each posting personal-bests in the race.
Day two of the National Relays field events begin at 10:45 a.m. with the hammer throw. Running events begin at 7 p.m. The relays will be televised live on the SEC Network beginning at 7 p.m.
National Relay Championships
Friday Results
Men's 1500-meter
2. Gilbert Boit – 3:47.67 PR
3. Kyle Levermore – 3:47.76 PR
12. Colin O'Mara – 3:57.83
Men's 400-meter hurdles
1. Kemar Mowatt – 49.80
7. Travius Chambers – 51.67
Men's 100-meter
1. Kenzo Cotton – 10.19
10. Roy Ejiakuekwu – 10.48
Men's 110-meter hurdles
4. Larry Donald – 13.98
19. Travius Chambers -14.85 (+2.4) PR
Men's 400 meters
4. Obi Igbokwe- 45.91
Men's 4-x-1,500-meter relay
1. Hosting, Bruce, Dalquist, Griffith – 15:14.18
Men's High Jump Invitational
5. Brendon Rivera – 2.03m (6′-8″)
Men's Long Jump
5. Trae Carey – 7.45m (24′-5.50″) +2.1
Men's Discus
14. Erich Sullins – 49.12m (161′-2″)
20. Gabe Moore – 43.32m (142′-1″)
Men's Sprint Medley
3. Arkansas – 3:20.81
Men's Javelin
7. Alex Springer – 60.25m (197′-8″)
11. Andrew Henn – 54.43m (178′-7″)
Men's Long Jump Invitational
8. Rubin Owens – 7.57m (24′-10″)
9. Laquan Nairn – 7.55m (24′-9.25″)
10. Harrison Schrage – 7.52m (24′-8.25″) +2.8
For more information on Arkansas track and field, including in-meet updates, follow @RazorbackTF on Twitter.