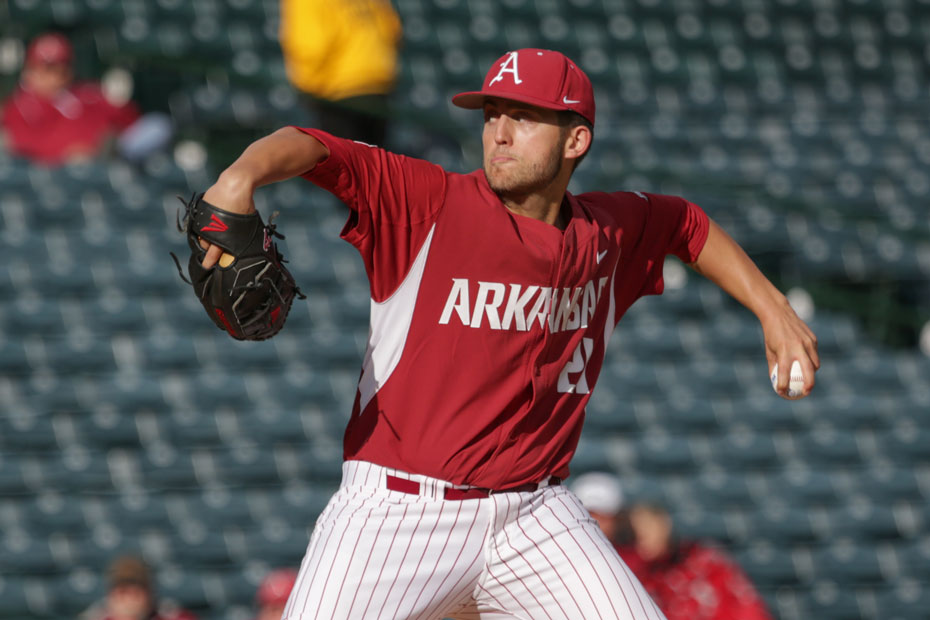 Murphy's 10 Strikeouts Lead Arkansas To Sweep
FAYETTEVILLE, Ark. – Sophomore left-hander Kacey Murphy was seemingly unhittable Wednesday afternoon as he struck out a career-high 10 batters over four innings in 14th-ranked Arkansas' 6-1 win over Grand Canyon, completing the two-game sweep at Baum Stadium.
Murphy struck out the side in the second, third, and fourth innings and only had two outs recorded in the field, a double play that ended the first inning.
The 10-strikeout day is his third appearance this season with six or more strikeouts and most since recording nine against ULM in his first career start on March 8.
Arkansas won the first game of the double-header earlier in the day, winning 11-2 after resuming what was Tuesday's weather suspended game in the second inning. The Hogs pounded out 13 hits in the game, three off the bat of designated hitter Evan Lee, which is a season-high for the freshman. Lee has four multi-hit games this year, his last coming against ULM on March 7.
With the win the Razorbacks sit at 24-6 heading into this weekend's series with LSU and it is their best 30-game start since going an identical 24-6 to start the 2010 season. That year, the Hogs won 33 of their first 39 games.
Game 1: Arkansas 11, Grand Canyon 2 (Box Score)
The first game between the Razorbacks and Antelopes actually began Tuesday evening, but the severe weather that moved through the Northwest Arkansas area forced the game to be suspended in the second inning and resumed on Wednesday.
The Hogs had already scored two runs before the suspension on four walks. Once resuming today, Arkansas added a run in the second and three more in the third on home runs by Jared Gates and Eric Cole. Gates' long ball was his first of the year and came in leadoff fashion. Cole followed two batters later with a two-run shot into the right field bullpen, his second of the year.
Grand Canyon wasn't able to do much against Arkansas' pitching as Weston Rogers began the resumed game in the third inning. He only gave up a run on two hits over three innings, while striking out three.
Jacob Kostyshock, Jake Reindl, and Angus Denton all followed to combine for just one run allowed and three hits. Both Reindl and Denton held the Antelopes hitless in the final 3.1 innings. For Reindl, the sophomore hasn't given up a run in 7.2 straight innings over three appearances with five of those innings coming against conference opponents.
Offensively, the Razorbacks got production up and down their lineup as eight of the starting nine recorded at least one hit in the game. After Lee's three-hit performance, Gates, Cole, and Chad Spanberger all turned in multi-hit games.
Game 2: Arkansas 6, Grand Canyon 1 (Box Score)
The pitching was the story for game two against the Antelopes. After Murphy set the table with his 10 strikeouts over four innings, Lee, Josh Alberius, Matt Cronin, and Brenden Heiss all fell in line as the quartet combined for two strikeouts each, giving the team 18 strikeouts as a staff, tying the school record.
Arkansas' previous season high was 15 strikeouts against Rhode Island on March 10, but surpassed that when Cronin ended the eighth inning with a punch out of Grand Canyon's Kona Quiggle.
The last time a Razorback pitching staff recorded 18 strikeouts in a game came against Missouri State on March 25, 2009.
At the plate, the Hogs scored six runs on nine hits with Luke Bonfield, Jordan McFarland, and Alex Gosser totaling two hits each. Gosser came away with two RBIs in the game, one off a double in the second that helped Arkansas build an early lead.
Earlier in the second inning, redshirt junior Carson Shaddy hit his seventh home run of the year over the right field bullpen. Shaddy now sits alone in second place on the team in home runs and stays in the top five in the SEC.
As a team, Arkansas has 40 home runs this year, which continues to lead the conference and is good for 10th-most in the nation.
Razorback Quotables
"I thought they did a tremendous job all day. You go into a double-header two days before we're playing a huge series in league play, you're concerned about using guys too much and trying to win games. You want to win, but you don't want it to cost you a game on the weekend. To go out and throw the ball like we did up and down was great. In the second game, I didn't realize we struck out 18 batters until the game was over. I knew it was up there, I figured it was 15, max. It was good for some of those guys to come in a pitch well for us." – Dave Van Horn on his pitching staff totaling 18 strikeouts in a single game against Grand Canyon
"We're over that stretch where we found a lot of different ways to win, whether it's been hitting the ball out of the park. There's been some games where we've pitched well or made plays defensively. That's kind of what it's all about. You have to be able to do a little bit of everything to go on a run like this. The team's confident and they seem to pick each other up well." – Dave Van Horn on the team's confidence heading into the LSU series
"It's my job, I go out there and I'm told to throw strikes. It's my first priority and things just happen the way they do. Fill it up, get ahead, and strikeouts are just a plus." – Kacey Murphy on his 10-strikeout performance
"It's huge, today was obviously a long day. I think we were here for probably 8-10 hours so we were pretty excited to get the sweep. Grand Canyon is a really good team. They had some guys that can go out and pitch on the weekends for us. It was great. Rolling out the confidence is good heading into the weekend." – Carson Shaddy on sweeping Grand Canyon
Up Next
Arkansas stays home this weekend for a top 15 matchup with No. 13 LSU starting on Friday at Baum Stadium. First pitch on Friday is set for 6:30 p.m., followed by Saturday's game two at 6 p.m. Sunday's series finale will be at 1 p.m. All games will be broadcast on SEC Network+.
For more information on Razorback Baseball, follow @RazorbackBSB on Twitter.