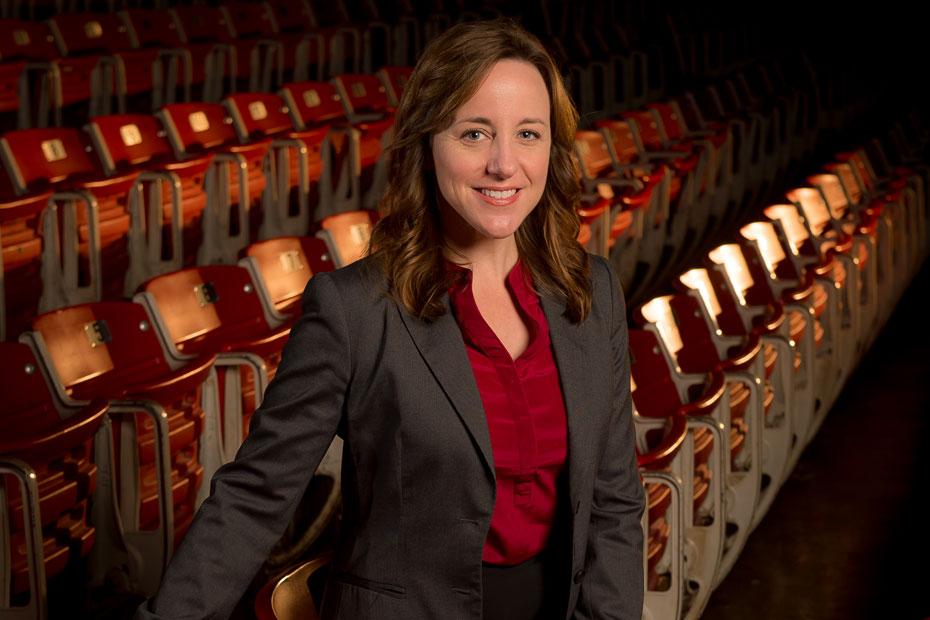 NACWAA Honors Cromer Peoples
FAYETTEVILLE, Ark. – The National Association of Collegiate Women Athletics Administrators (NACWAA) announced its 2015 Administrator of the Yard Award recipients, and University of Arkansas senior associate athletic director and senior administrator Julie Cromer Peoples has earned the Nell Jackson Award. The Nell Jackson Award is bestowed annually to an athletics administrator who exemplifies the personal qualities and professional accomplishments of Dr. Nell Jackson, which are courage, conviction and perseverance.
Cromer Peoples was nominated by her peers and selected by the NACWAA Awards Committee for her service during the 2014-15 year. She and the other six honorees will be recognized Oct. 13 in Tampa, Fla., at the 2015 Administrator of the Year Luncheon presented by KP Sports, in conjunction with the 36th Annual NACWAA National Convention.
"There is nothing more rewarding than being recognized by your peers and Julie is richly deserving of this prestigious honor," Vice Chancellor and Director of Athletics Jeff Long said. "Julie is well respected throughout the country for her tenure within intercollegiate athletics. She has been a tremendous addition to our program and cares deeply about the welfare and growth of our more than 460 Razorback student-athletes. Julie embodies the qualities of the namesake of this award, Dr. Nell Jackson, and, as this honor reaffirms, is considered among the top athletics administrators in the nation."
Throughout collegiate athletics, Cromer Peoples is known as a passionate and empathetic leader, and someone who embodies all the aspects that encompass the qualities of Dr. Jackson. She instituted a leadership speaker series for women at Arkansas that included top professionals in the field of women's athletics. Her nominator added that Cromer sees value in all and not just exposing women, but also men, to the seamless opportunities to support gender equity and diversity.
Since being hired in April 2014, Cromer Peoples has chaired the sport administrator group responsible for day-to-day administrative support for each of the Razorbacks' 19 sports. She also serves as liaison to the Chancellor's Administrative Policy Council, the Faculty Senate and the Faculty Athletics Committee, and provides strategic direction for departmental initiatives focused on student-athlete welfare, sports performance, gender equity and Title IX compliance.
Celebrating its 36th year, the NACWAA National Convention is the premier leadership summit for women working in intercollegiate athletics and beyond. Attended by professionals from all divisions of intercollegiate athletics as well as sports-minded corporate leaders, this annual gathering provides three days of unparalleled education, leadership training and networking.
The NACWAA champions women leaders. A leadership organization, NACWAA takes a pro-active role in advancing women into positions of influence and powerfully shapes the landscape of women leaders.
Learn more at www.nacwaa.org.