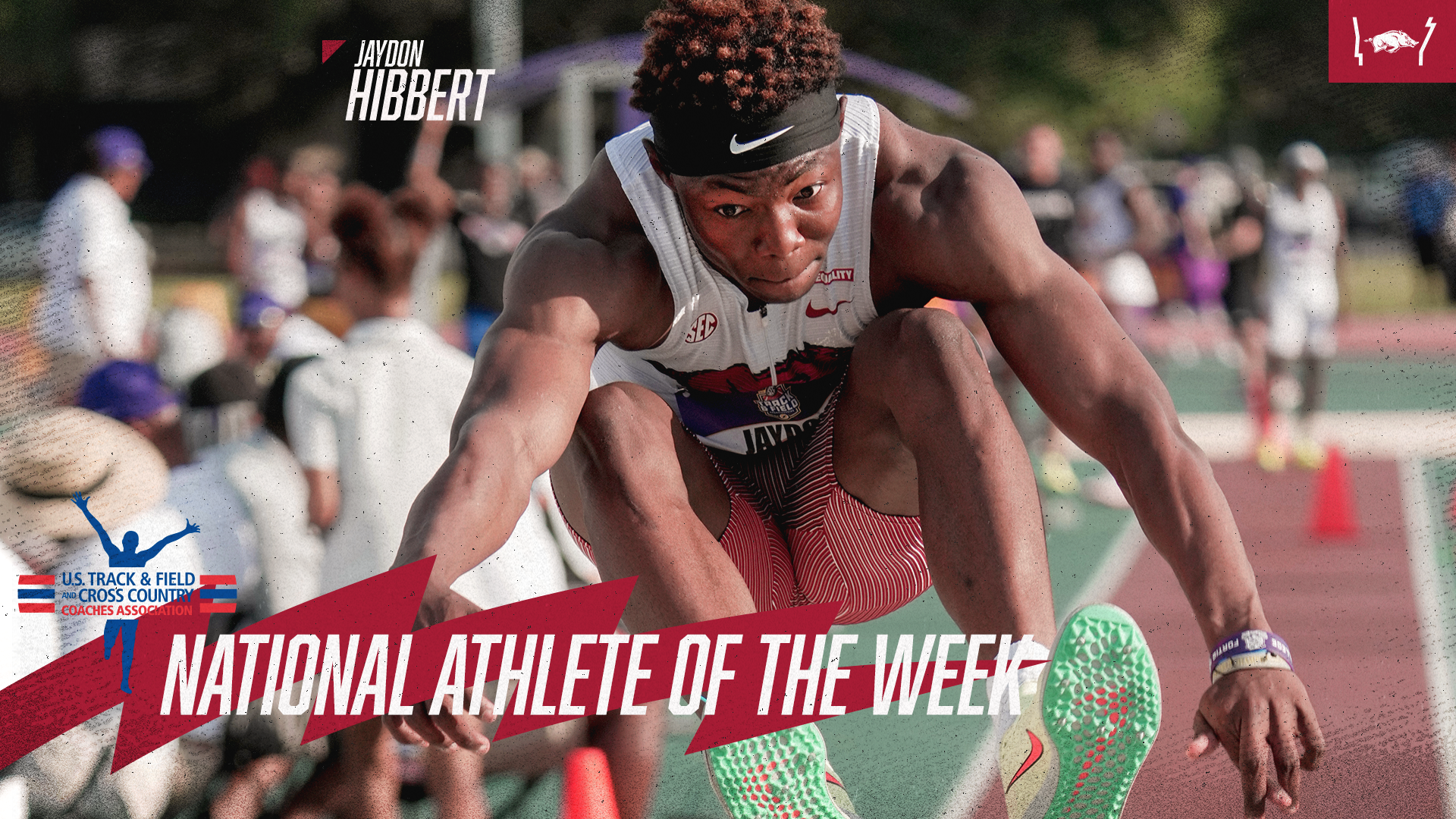 National Athlete of the Week honor for Jaydon Hibbert
NEW ORLEANS – In adding nearly a full foot to the previous collegiate triple jump record, Razorback freshman Jaydon Hibbert earned the USTFCCCA National Athlete of the Week honor for his world-leading mark of 58-7.5 (17.87) in winning the SEC Outdoor triple jump title this past weekend and breaking a 41-year-old collegiate record.
The 18-year-old Hibbert, the 2022 World U20 Champion, continues to amaze with each performance, particularly in a championship setting. His second-round leap from a 12-step approach brought gasps from the crowd watching at LSU's Bernie Moore Stadium on Saturday.
Hibbert completed a sweep of the SEC indoor and outdoor titles this season, claiming the outdoor version by four-plus feet over teammate Ryan Brown, who set a career best of 53-11 (16.43). Hibbert's first round attempt of 55-10.25 (17.02) also would have won the competition.
In addition to breaking multiple records, four of which were set in the 1980s, Hibbert moves to =13th on the all-time world list, matching the career best mark by Mike Conley from 1987.
Hibbert is the No. 2 performer with the No. 2 performance on the Jamaican all-time list, trailing only the 58-9.5 (17.92) by James Beckford from the 1995 NJCAA Championships in Odessa, Texas. Beckford's best effort in Baton Rouge was 56-9.25 (17.30) from 1995, which is now the No. 3 performance on the Jamaica all-time list.
SMU's Keith Connor, from Great Britain, set the previous collegiate record at the 1982 NCAA Championships, held at altitude in Provo, Utah, and defended his title in 1983 while setting the then low altitude NCAA meet record of 56-7.5 (17.25). Connor earned a bronze medal at the 1984 Olympics after finishing fourth in 1980.
Hibbert bettered the previous 2023 world-leading mark of 58-5.25 (17.81) established by Hugues Zango during the first Diamond League meet of the season in Doha the previous week.
On the Arkansas all-time list, Hibbert surpassed two of Conley's marks that were both set in winning the 1985 NCAA title in Austin, Texas. A wind-assisted 58-1.25 (17.71) and a wind-legal 57-6.5 (17.54).
Jaydon Hibbert | Previous Records Broken
| | | | |
| --- | --- | --- | --- |
| Collegiate | 17.57 A (57-7.75) | Keith Connor (SMU) | 1982 |
| World U20 Out | 17.50 (57-5) | Volker Mai (E Germany) | 1985 |
| WU20 absolute | 17.54i A (57-6.5) | Jaydon Hibbert (Arkansas) | 2023 |
| Arkansas | 17.54 (57-6.5) | Mike Conley (Arkansas) | 1985 |
| UA all-conditions | 17.71 (58-1.25) | Mike Conley (Arkansas) | 1985 |
| SEC Outdoor | 17.18 (56-4.5) | Latario Collie (TxA&M) | 2015 |
| SEC Outdoor all-cond. | 17.35 (56-11.25) | Marquis Dendy (Florida) | 2015 |
| Stadium | 17.34 (56-10.75) | Walter Davis (LSU) | 2002 |