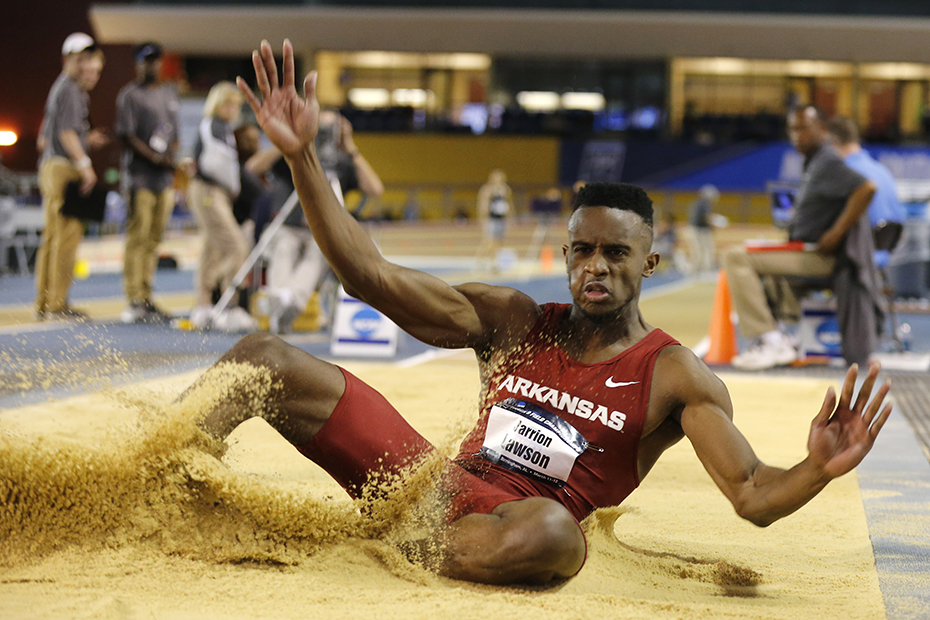 National Title Highlights Day One of NCAAs
Friday Results
Saturday Start Lists
BIRMINGHAM, Ala. – Many student-athletes compete four year at the collegiate level and never even see the podium. Arkansas senior Jarrion Lawson has made it to the top on three occasions during his exceptional career – twice as an individual and once with a relay. His performance in the long jump on day one of the 2016 NCAA Indoor Track and Field Championships underway in Birmingham, Ala. was just one of several Razorback highlights of the meet.
Not an ordinary long jump outing for the Texarkana, Texas native Lawson began the day with a leap of 7.58m/24-10.5. A contender in the 60-meter dash as well, Lawson took a brief hiatus from jumping to race the dash. Following a new PR of 6.61 at 60 meters the 12-time All-American was back in action on the runway. He improved to a mark of 7.67m/25-2 on his third jump which was good enough to place him fourth heading into the finals. Fouling two big jumps in a row, Lawson finally marked a clean attempt leaping into first off 7.95m/26-1.
Lawson's victory in the long jump places him among the ranks of Mike Conley and Erick Walder – the only two other Razorbacks to ever win more than one NCAA indoor long jump crown.
Not solo in his scoring efforts in the jumps Lawson was joined by Razorback newcomer Andreas Trajkovski who put forth a solid effort in his first NCAA DI championship. A two-time NJCAA long jump champion, Trajkovski embraced the higher level of competition and attacked the sand pit with full force on every attempt. He was rewarded for his intensity and marked 7.72m/25-4 to score four points for the Razorbacks of a fifth place finish.
Out on the track Arkansas picked up four qualifiers for tomorrow's final sections in the 60, 200 and 800.
Sophomore Kenzo Cotton led the way advancing on in both the 60 and 200-meter dashes. Cotton's semifinal time of 6.56 at 60 meters broke the previous record he shared with Lawson by six hundredth of a second. He returned to the track later in the evening and recorded the third fastest time of the day at 200 meters as the runner-up out heat four with 20.80.
Memphis, Tennessee native Carlton Orange challenged a talented field in section two of the 800-meter run. Racing up front with the lead pack, Orange's progress was impeded by Donavan Brazier of Texas A&M who exited the race for unknown reasons. Determined to finish, Orange managed to clock a 1:49.04 in spite of the mishap. A formal protest was submitted by the coaching staff on his behalf which was accepted by the officials providing the Arkansas freshman with a chance to contend for a podium finish in tomorrow's final.
Other Razorbacks in action tomorrow include Clive Pullen in the triple jump and Arkansas's 4×400-meter relay team.
Head Coach Chris Bucknam
"First of all, I thought we did a fantastic job today, coming away with a national champion is phenomenal. He did it on his last jump. We've also got Andreas, who did an excellent job as well. He's kind of the new kid on the block – he started in January and got a fifth place finish, just missing fourth by a centimeter. Looking at Kenzo [Cotton] and Jarrion [Lawson] we picked up two qualifiers for the 60 finals. It was an outstanding effort by both of those guys. Jarrion was long jumping at the same time – in the middle of the long jump he had to leave to run the 60 in what was an extremely competitive field. Kenzo came back and qualified for the 200 out of lane 3 which is the worst lane on the track. He was the only qualifier out of that lane in four heats of the event. He came away with the third fastest time of the day in the 200 just after breaking the school record in the 60. It was just a phenomenal effort by Kenzo. In the 800, the A&M runner stepped in front of Carlton [Orange] and really impeded his progress in the race. We were able to file a protest and get him into tomorrow's final. To come away with that many qualifiers is outstanding. We had some adversity as Marqueze Washington suffered a hamstring injury and Obi Igbokwe made a bit of a freshman mistake with a false start in the 400 but we're still in the mix. We are contending, there's no question."
The 2016 NCAA Indoor Track and Field Championship will be held on March 11-12 in Birmingham, Alabama at the Birmingham Crossplex. Ticket and meet information can be found at the NCAA Championship Central.
ESPN3 will stream the meet live on March 12 starting at 3:55 p.m. Central time. A re-air of the championship will take place on Sunday, March 13 starting at 6 p.m. Central time on ESPN2 and also Wednesday, March 23 starting at 9 p.m. Central time on ESPNU.
2016 NCAA Indoor Championship Day One Results
Birmingham Crossplex
Birmingham, Ala.
60m Semifinals
Kenzo Cotton – 6.56q
Jarrion Lawson – 6.61q
200m Semifinals
Kenzo Cotton – 20.80q
800m Semifinals
Carlton Orange – 1:49.04q
5,000m Finals
Gabe Gonzalez (12) – 14:01.30
High Jump Finals
Ken LeGassey (11) – 2.13m/6-11.75
Long Jump Finals
Jarrion Lawson (1) – 7.95m/26-1
Andreas Trajkovski (5) – 7.772m/25-4
MEN'S TEAM SCORES (through 6 of 17 events)
1. Oregon (25)
2. Washington (18)
3. SE Louisiana (15.50)
4. Arkansas (14)
5. Virginia Tech (13.50)
6. NC State (12)
7. Texas Tech (10)
8. Colorado (9)
9. South Alabama (8)
9. Air Force (8)
9. Purdue (8)
9. Mississippi (8)
13. Southern Illinois (7.50)
14. Florda State (6)
14. Tennessee (6)
16. Kansas State (5.50)
16. BYU (5.50)
18. Northern Arizona (5)
18. Texas A&M (5)
18. Stanford (5)
18. Florida (5)
2016 NCAA Indoor Championship Day Two
Birmingham Crossplex
Birmingham, Ala.
3:30 p.m. – Triple Jump – Clive Pullen
4:45 p.m. – 60m – Kenzo Cotton, Jarrion Lawson
5:30 p.m. – 800m – Carlton Orange
5:50 p.m. – 200m – Kenzo Cotton
6:40 p.m. – 4x400m – Arkansas A
For more information on Arkansas track and field including in-meet updates, follow @RazorbackTF on Twitter.